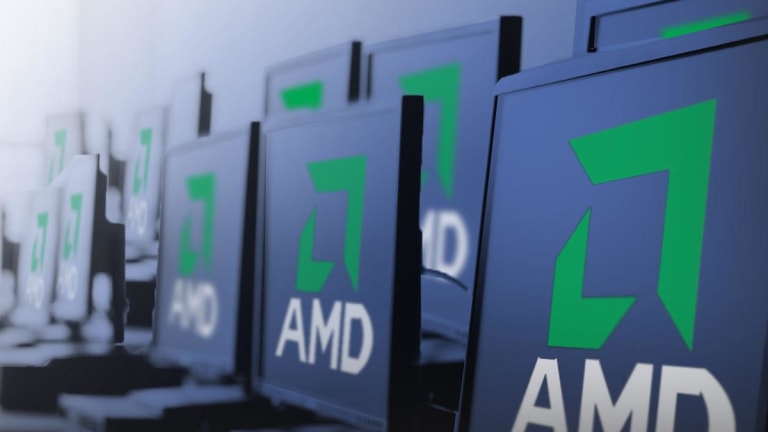 20 Realistic Tech Predictions for 2019 -- Part Two
What the new year could have in store for Amazon, Facebook, AMD, Uber and other tech companies.
Here's the second half of Eric Jhonsa's two-part column on tech predictions for 2019. The first half can be found here.
11. Amazon's Offline Retail Efforts Swell, While Its Online Dominance Attracts More Scrutiny
With the first cashier-less Amazon Go stores performing well, and with no rival apparently close to launching something similar, look for Amazon.com (AMZN) exploit its lead by starting a major expansion of its Go footprint (including, maybe, by bringing Go stores to airports. Also look for Amazon to keep growing the number of metro areas where it provides Whole Foods delivery via its Prime Now rapid-delivery service, and to push ahead with its plans to grow Whole Foods' store count (and in doing so, make Prime Now delivery available to more customers and lower delivery times/costs for those already covered).
That's the low-hanging fruit. Expect a more head-turning move or two involving offline retail as well, as Amazon looks for ways to grab a bigger share of those areas of retail spending that aren't likely to rapidly move online. Maybe Amazon follows up on the PillPack acquisition by setting up pharmacies within Whole Foods stores, or maybe it buys a dollar store chain or a gas station/convenience store chain. There are plenty of possibilities.
But as Amazon extends its reach into the bricks-and-mortar realm, its online retail empire -- and in particular, the ties between Amazon's direct retail business and its retail marketplaces -- is likely to see greater regulatory scrutiny. Already, EU regulators are probing Amazon's possible use of merchant sales data to bolster its direct retail business. The company's attempts to control how certain goods are sold on its platforms could also draw the attention of regulators.
12. 3 of Facebook's 4 Main Platforms See Major Changes
As usage of Facebook's (FB) core app remains under pressure in many of its most lucrative markets, look for Facebook to start thinking outside of the box more to boost engagement and foster social interactions. A recent report about Facebook wanting to support video subscription services through its app (presumably through its Watch video platform) is likely a sign of things to come. In addition, with many users unwilling to share much with all 700 of their "friends," Facebook might try harder to encourage news feed sharing that's restricted to close friends and family.
Separately, with Facebook now seeing greater pressure to monetize Messenger and WhatsApp, and with the company having recently seen leadership changes for both messaging apps, count on the company to unveil at least a few offerings that help it monetize the apps, or at least pave the way for new revenue streams to emerge in the future.
Facebook has already started charging businesses for messaging WhatsApp users in certain situations, and plans to start running ads against WhatsApp's popular stories service (known as Status) next year. Other steps towards monetizing the messaging apps could include launching new payments services, offering Snapchat-like sponsored lenses for photos and videos and supporting embedded apps (monetized via ads and other services) in a manner similar to Tencent's Mini Programs platform.
13. Facebook's Other Main Platform -- Instagram -- Loses a Bit of Its Luster
Instagram's image was largely unscathed by its parent company's various political and data-privacy controversies this year, and (from all indications) it also continued to see healthy user and revenue growth. But the going could get rougher next year.
While Instagram's photo/video-centric nature and the runaway success of Instagram Stories make it a unique animal among social platforms, it's still vulnerable to the broader slowdown in social feed sharing and passive content consumption that appears to be happening. Meanwhile, both media criticism and pop-culture mockery of Instagram -- whether related to the behavior of "influencers" on Instagram, the platform's potential effects on self-esteem or its tendency to show an artificially clean-scrubbed and idyllic view of reality -- have begun to grow.
None of this changes the fact that Instagram remains incredibly valuable to Facebook. But it does make it likely that Instagram won't be seen as Facebook's golden boy a year from now the way it is today.
14. AMD Gains Mindshare Among PC Buyers
AMD's (AMD) historical struggles in its fight against Intel  (INTC) haven't simply boiled down to things like performance and battery life (though admittedly, those have often been issues as well). The company's image among many PC buyers -- both consumers and businesses -- as a cut-rate CPU brand has frequently been a serious handicap.
AMD's 2017 and 2018 Ryzen PC CPU launches have helped change those perceptions a bit, particularly in the desktop and workstation markets. And with the company expected to soon launch next-gen Ryzen CPUs that (with the help of a more advanced manufacturing process and revamped CPU core architecture) are likely to have meaningful price/performance advantages over comparable Intel parts in the near-term, the stage looks set for bigger changes in how AMD's CPUs are perceived.
15. Chinese Tech Stocks Outperform*
I'm attaching an asterisk to this prediction, since it could be blown up if 2019 ends without trade tensions cooling at least somewhat. With that said, the risk-reward ratio for Chinese tech names looks especially favorable right now. A long list of names -- from Alibaba (BABA)  to Sina (SINA) to Momo (MOMO)  to YY (YY)  -- trade at reasonable valuations even as they continue delivering healthy double-digit growth.
Throw in the fact that China's GDP growth (though having slowed a bit recently) remains above 6%, that its middle class continues to swell and that it possesses among the world's most advanced mobile, e-commerce, payments, gaming and digital content ecosystems, and it's not hard to see why investor sentiment towards Chinese tech stocks could look much better in 12 months' time.
16. Uber Struggles to Live Up to Its Pre-IPO Valuation
Though public and private valuations for growth-stage U.S. tech companies don't differ as much as they once did, Uber feels like an exception to the rule. This is a company that VCs and other private tech investors have bid up to a $70 billion-plus valuation on expectations that the company will be not just a ride-hailing giant, but a firm that will more broadly help revolutionize transportation services in the U.S. and a number of other locales. And along the way, they've largely been unworried about the considerable losses Uber has racked up.
Public investors might be less forgiving. It's not just that Uber is still losing a lot of money -- excluding one-time investment gains, net loss totaled about $2.9 billion over the first three quarters of 2018 -- it's that the company's expense growth raises questions about just how profitable it will be in a few years' time, assuming it continues battling rivals such as Lyft, Gett and Ola. While Uber's gross bookings rose 40.8% annually in Q2, its various costs and expenses grew 34%, with operating expenses, cost of revenue and partner earnings (i.e., payments to drivers) each growing over 30%.
Throw in the fact that bookings growth has been slowing (it was 34% in Q3) in spite of the rapid growth of the Uber Eats food delivery service, and public investors are likely to demand they see stronger margin expansion before granting Uber the kind of valuation that private investors have afforded it.
17. AR Makes More Noise Than VR
Virtual reality should continue taking baby steps in 2019, as hardware keeps getting better and more apps are developed. But with VR display resolutions still arguably too low, and with questions about how comfortable most consumers are about wearing a device that isolates them from their physical surroundings for extended periods of time still unresolved, don't count on VR demand taking off next year.
Augmented reality won't necessarily blow up next year either, but it does look poised to make greater headway with consumers and businesses. The fact that AR (unlike VR) allows users to engage with their physical surroundings and lends itself to smartphone integration likely spells a larger addressable market in the near-term. In addition, while AR headsets still have much room to improve as well, the display improvements needed to deliver a quality user experience don't seem to be as massive.
Microsoft (MSFT) is expected to launch a second-gen HoloLens headset that's expected to be much cheaper than the original version, which has only been available through a $3,000 developer kit. Alphabet/Google, meanwhile, is reportedly working on a Qualcomm-powered (QCOM) AR headset. And with plenty of developers building mobile apps that support Apple's (AAPL) ARKit and/or Google's ARCore platforms, it's likely just a matter of time before one of them delivers a Pokemon Go-like hit.
Amazon.com, Facebook, Microsoft, Alphabet and Apple are holdings in Jim Cramer's Action Alerts PLUS member club. Want to be alerted before Jim Cramer buys or sells AMZN, FB, MSFT, GOOGL or AAPL? Learn more now.
18. Enterprise and Telecom Hardware Spending Go in Opposite Directions
2018 was a pretty good year for enterprise hardware spending with an Intel server CPU upgrade cycle, improved business PC spending and a general uptick in corporate capital spending all helping out. Even if macro conditions remain healthy, 2019 will probably be a more challenging year, as the effects of recent upgrade cycles weaken and cloud infrastructure adoption continues weighing on demand for on-premise server and storage systems.
On the flip side, telecom capital spending, which has been depressed for quite a while, should improve in 2019. While telcos in developed markets are unlikely to significantly grow their capex over the long run in the absence of better revenue growth, 5G network rollouts should provide a boost in the short-term -- particularly if carriers see opportunities to use 5G to launch new IoT and/or last-mile broadband services.
2019 could also see a pickup in Chinese telecom capex, which has been under pressure the last two years, thanks to both 5G rollouts and last-mile broadband investments.
19. OLEDs Move Downmarket
The 2017 iPhone X launch cemented the status of OLEDs as the display technology of choice for high-end phones. However, the relatively high cost of OLED panels has curtailed the pace at which they've been used within mid-range phones.
Look for that pace to pick up in 2019, as OLED panel production ramps by LG Display, AU Optronics and Chinese manufacturers boost supply for a market that has historically been dominated by Samsung (SSNLF) . In addition, while OLED TVs will still be high-end products in 2019 (and probably 2020 as well), the arrival of Gen 10.5 OLED plants that deliver greater economies of scale should help OLED sets hit lower price points.
20. Netflix Revamps Its Pricing -- Possibly in Both Directions
In November, Bloomberg reported that Netflix (NFLX) is thinking about launching cheaper streaming plans in some Asian markets. Not long afterwards, it was learned that the company is testing a mobile-only plan in Malaysia that costs about $4 per month. Look for Netflix to keep experimenting with cheaper plans in cost-sensitive emerging markets, as it tries to put itself on better footing relative to rivals offering low-cost plans and/or ad-supported services.
On the other hand, in developed markets, Netflix could (as signaled by a recent European test) start cracking down on password-sharing by cutting the number of streams supported by its Standard (HD) plan from two to one. Such a move, which would require those wanting a multi-stream plan to pay more, would likely boost U.S. subscription growth at a time when Netflix's domestic household penetration rate is approaching 50%. However, the pending launch of the Disney Plus streaming service could act as a near-term deterrent.
(Editor's Pick. Originally published Dec. 26.)