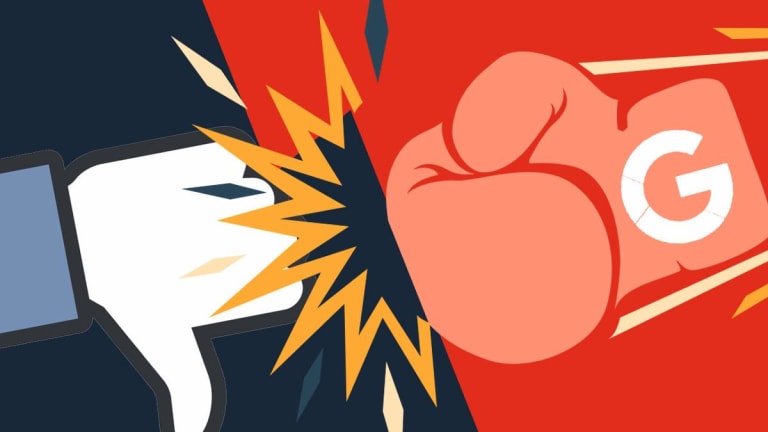 20 Realistic Tech Predictions for 2019 -- Part One
Some measured prognostications on what 2019 could have in store for Google, Facebook, Amazon and others.
Following a tumultuous 2018, what will 2019 have in store for tech companies?
Here's the first half of a set of predictions on what the new year will deliver for both tech giants and smaller peers. As a rule, I tried not to get carried away here (e.g., I'm not predicting Amazon will buy Walmart, or that Apple will snap up Disney), as well as to learn from what I got right and wrong when making predictions at the end of 2016 and the end of 2017.
1. Facebook's Pain Is Google's Gain
Though many of the doom-and-gloom predictions about Facebook  (FB) - Get Meta Platforms Inc. Report are overdone, it is fair to say that usage of its core news feed (its largest revenue source) is under pressure in developed markets that account for the lion's share of its revenue. As Facebook's management works to offset such pressures by growing ad sales for its Stories services and better monetizing its messaging apps, while also contending with regulatory probes and employee morale issues, businesses large and small aren't going to stop growing their online ad budgets.
That creates an opportunity for Alphabet/Google (GOOGL) - Get Alphabet Inc. Report to benefit from Facebook's near-term challenges. The company's bread-and-butter search ad business looks as strong as ever; investments in everything from mobile search features to Google Assistant to leveraging user data and machine learning to improve ROIs for ad campaigns have been paying off nicely. And looking broadly at Google's ad business (YouTube included), the company has done a pretty good job of positioning itself well in major online ad segments such as local commerce, online video, online travel and (though Amazon.com  (AMZN) - Get Amazon.com Inc. Report is a serious rival here) e-commerce.
2. Chip and Software Firms Remain Eager to Consolidate
If not for trade tensions, and the worries they helped stoke about Chinese approval for transactions, 2018 would have likely been another big year for semiconductor M&A. Should trade-related worries cool, that's likely to spell a pickup in semi consolidation, given that a lot of the arguments for it (i.e., greater economies of scale, better pricing power, more comprehensive product lines) are still in place and the domestic antitrust environment remains favorable.
And though valuations could act as a deterrent in some cases, enterprise software also looks like a place likely to see a healthy amount of consolidation, as bigger players try to create larger platforms for sales channels to promote and their software and services ecosystems to plug into. Recent deals such as IBM/Red Hat, SAP/Qualtrics, Adobe/Marketo and Salesforce/MuleSoft are likely a sign of things to come.
3. AWS Signs More Giant Enterprise Deals
One of the big takeaways for me from the dozens of new cloud services unveiled at November's AWS re:Invent conference was how Amazon -- aided by a massive R&D budget that AWS' superior scale helps justify -- seems eager to check off each and every cloud use case that an enterprise could conceivably be interested in. Database services? AWS now has ten of them. Serverless computing platforms? There's none out there that integrates with as many cloud services, or offers developers as many programming options, as the AWS Lambda platform. Hybrid cloud support? AWS will now let businesses run its services off of locally-installed servers, and also let them run VMware's (VMW) - Get VMware, Inc. Report virtualization software on those servers if they wish.
As others have pointed out, the breadth of AWS's offerings, together with its unmatched scale and software/services ecosystem, make it the "no-brainer" public cloud choice for major enterprises. While Microsoft (MSFT) - Get Microsoft Corporation Report  and Google have some strengths of their own and should continue seeing healthy cloud growth next year, look for AWS to extend the lead it has on smaller rivals when it comes to giant enterprise deals -- the kind that involve shutting down data centers and moving hundreds or thousands of workloads to a public cloud.
4. Snap Explores Its Options
wants to keep Snap
(SNAP) - Get Snap Inc. Class A Report
 independent, intense competition and a difficult cost structure put his company between a rock and a hard place. Instagram Stories (and to some extent, other rival Facebook services) remains a major competitive headache; claiming a larger share of social media ad budgets has proven challenging; and only slow progress has been made towards reducing Snap's considerable cash burn, thanks in part to its reliance on third parties to handle its cloud infrastructure needs.
Throw in worsening employee morale and the strong possibility that Snap will need to raise cash by 2020 (if not sooner), and it's not hard to imagine Spiegel and Snap's board exploring "strategic alternatives," such as a sale or a partnership with a larger tech or media player that involves an equity investment, before the year is over.
5. Waymo's Lead Becomes More Apparent -- And Maybe Leads to New Deals
Waymo's December launch of a commercial self-driving service in Phoenix comes with some major qualifiers -- Phoenix makes for a pretty ideal self-driving testbed, the service is only available for now to select members of Waymo's Early Rider program and there's often a "safety driver" ready to take over the wheel if necessary. Nonetheless, getting even such a limited service up and running in a major metro area is an impressive achievement, one made possible with the help of close to a decade of hardware and software R&D and over 10 million test miles on public roads.
And for the moment, it doesn't look as if any would-be rival is close to launching something similar. GM's Cruise is reportedly contending with technical issues that have put its plans for a 2019 service launch in jeopardy. Uber has scaled back its self-driving tests following a fatal crash earlier this year. And it's still unknown when Tesla (TSLA) - Get Tesla Inc. Report  will carry out an autonomous, cross-country, highway drive, after originally promising to do one by the end of 2017.
Apparently due to concerns about surrendering too much control of technology development and the user experience, automakers have been wary to date of striking deals with Waymo through which Waymo's technology would be used within cars sold by the automakers to third parties. However, assuming Waymo gradually expands its service and maintains its lead over rivals, at least some automakers are going to rethink their reluctance to team with Alphabet's self-driving arm.
6. Apple Car and Headset Rumors Heat Up
2018 saw Apple (AAPL) - Get Apple Inc. Report buy a maker of lenses for augmented reality headsets (Akonia Holographics), as well as step up its hiring of automotive talent. It also saw reports stating that Apple plans to launch an AR/VR headset in 2020, and that it showed interest in acquiring AR headset startup Leap Motion.
Look for the Apple rumor mill to deliver at least a few reports about the company's AR hardware efforts in 2019. There should also be more reports about how, outside of its disclosed autonomous driving project, the company is using the automotive talent it has built up. And though a fully-fledged Apple car would probably take several years to develop and launch, it does look as if Apple is once more at least exploring the idea of eventually launching one.
Apple, Microsoft, Facebook, Alphabet and Amazon.com are holdings in Jim Cramer's Action Alerts PLUS member club. Want to be alerted before Jim Cramer buys or sells AAPL, MSFT, FB, GOOGL or AMZN? Learn more now.
7. 5G and Foldable Phones Will Intrigue, But Also Contend with Growing Pains
Aside from Apple, which reportedly plans to wait until 2020, virtually every major phone OEM plans to launch at least one phone next year that runs on 5G networks. Thanks both to radio interface changes and the ability to leverage high-frequency mmWave spectrum, 5G will deliver major increases in download speeds and network capacity relative to 4G, while also powering fixed broadband services in some locales.
However, the first devices supporting a new mobile air interface usually bring with them some compromises in areas such as battery life and device size/thickness, and 5G is likely to be similar -- particularly the challenges involved with supporting mmWave spectrum. And in the near-term, 5G coverage will be mostly limited to major urban areas.
Much like 5G devices, foldable phones are likely to turn some heads next year and see a measure of demand from early adopters -- with 6 inch-plus displays that take up nearly the entire front of a phone now common, the arrival of foldable devices relying on bendable display panels feels like a logical progression. But also like 5G phones, the first foldable phones will probably feature some notable trade-offs. It's worth noting here that the prototype foldable phone that Samsung showed off for a fleeting moment in November looked pretty bulky.
8. Interest in 'Accelerated Computing' Hits an Inflection Point
Within the data center, accelerated computing is defined as the offloading of processing work from general-purpose server CPUs to specialized chips such as GPUs, ASICs and FPGAs, which can be more efficient at handling certain types of workloads. This isn't a new concept by any means: Nvidia's (NVDA) - Get NVIDIA Corporation Report GPUs are already widely used to power supercomputers and AI workloads, and ASICs and FPGAs are used to accelerate everything from AI to networking to storage performance.
With that said, we appear to be reaching a point where the use of accelerators is no longer treated as something that's restricted to a handful of server workloads, but rather something that's treated as the rule more than the exception. The slowing pace of CPU performance gains is contributing to this, as is the tremendous interest being shown in workloads that are good fits for acceleration. The creation of high-speed interconnect standards for accelerators, such as OpenCAPI, Gen-Z and CCIX, also helps, as does the fact that the use of accelerators is being extended to databases and analytics workloads.
In addition to Nvidia, companies benefiting from this trend include Broadcom (AVGO) - Get Broadcom Inc. Report , whose data center product line includes AI and whose networking offload ASICs also benefits, as does leading FPGA vendor Xilinx (XLNX) - Get Xilinx Inc. Report , which has made growing data center sales a priority under CEO Victor Peng.
9. Google Makes a Big Cloud Acquisition -- or Two
Though considered a top-3 public cloud provider, the Google Cloud Platform's (GCP) market share appears to be -- judging by both industry estimates and the sales data Google has provided for its broader cloud business -- well below that of No. 2 player Microsoft, and just a fraction of market leader Amazon. And judging by the leadership change just announced for Google's cloud business, the search giant isn't happy with the status quo.
Google has already made several acquisitions over the last two years to bolster GCP, the largest being a $625 million deal to buy API management software provider Apigee. The timing feels right for a bigger move or two, possibly in the open-source software space. With some developers of open-source solutions now taking steps to limit Amazon's ability to use their innovations to launch its own cloud services, a company like Google could see a lot of value in directly owning one or two of these firms.
10. SSDs Cannibalize Hard Drives at a Faster-Than-Expected Rate
Solid-state drives (SSDs) are faster, smaller, more reliable and less power-hungry than hard drives. They're also easily more expensive on a per-GB basis -- and that, in turn, has impacted the pace at which they've been adopted within everything from PCs to game consoles to enterprise and cloud storage systems.
However, SSD prices have nosedived in recent months, as production ramps for 32-layer and 64-layer 3D NAND flash memory chips have led NAND prices to tumble. And 2019 is likely to bring more of the same, as ramps for 96-layer 3D NAND chips drive additional price declines.
Look for notebook SSD penetration rates to grow meaningfully in 2019, given how much battery life and thickness/weight matter to many notebook buyers. Also look for cloud giants, who care a lot about both the performance and power consumption of their data center hardware, to significantly step up their SSD purchases. And it wouldn't be surprising to see reports that Microsoft and Sony (SNE) - Get Sony Corp. Report plan to offer SSD-based versions of their next-gen consoles, if not have them solely rely on SSDs.
Predictions 11 through 20 can be found here.
(Editor's pick. Originally published Dec. 24.)