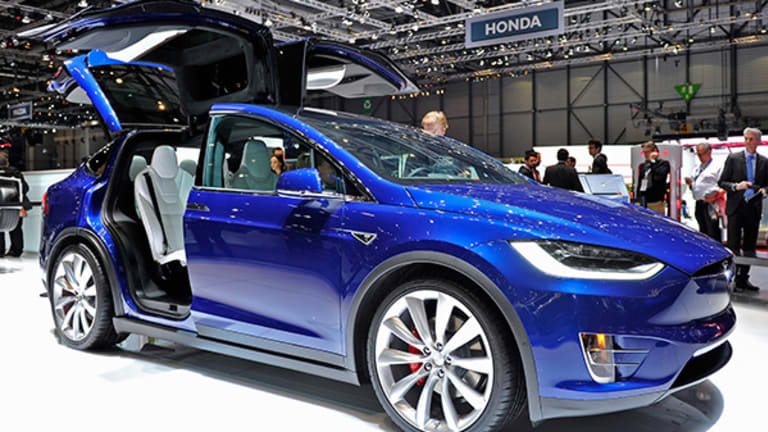 20 Cars That Are Way Better--and Cheaper--Than the Tesla Model X
Test-driving 20 cars in two days, back-to-back, from $27,000 to $147,000--and comparing them all to the Tesla Model X. How did the new SUV stack up?
Editors' pick: Originally published May 26.
For all the differences between the world's automakers, they have one thing in common: They all have engineering facilities in the broader Detroit area. Why? Because that's where U.S. emissions testing takes place, and that's where most of the U.S. automotive engineering talent resides.
I drove the following cars back-to-back over two days. Each drive was approximately 30 minutes in most cases (some a little longer) and almost all drives had the same "base component" of the first 30 minutes being on the same winding and hilly country roads, with only a few red lights and stop signs. They also included passing through a small suburban shopping mall. In most cases, I jumped from one car to the next with anywhere from a two minute to a ten minute break. Almost all of the drives took place between 9:30 a.m. and 4:00 p.m. on two weekdays.
The point? To compare them to Tesla's (TSLA) - Get Tesla Inc Report new Model X.
I have driven variants of several of these cars for much longer periods of time, in some cases both before and after these two days. What makes this compressed "20 cars in 2 days" so special, is that the immediate back-to-back experience distills the comparison in a most brutal way, not allowing the driver to be charmed by "wearing down one's objections" or forgetting about some aspect of the experience. It's about the contrast in initial driving impressions, and those are simply not as effective if not conducted back-to-back.
This year, the "odd man out" which I had in mind as the reference object was the Tesla Model X, because it's so different. Also, the Tesla Model X is much more expensive than any of the other cars in the test at over $147,000 -- compared to the others between $27,000 and $127,000, before dealer discounts (which can often be more than 10%).
Before you ask, yes I know: These are very different cars at very different prices. Some are minivans, some SUVs, and some are sedans. Some are large, some are small. Some are front wheel drive, some rear and some all-wheel drive. They are not traditional competitors, and I'm not interested in any grief from the peanut gallery pointing out the obvious.
Rather, this is indeed about getting a feel for a wide spectrum of cars -- from $27,000 to almost $150,000 -- when driven immediately back-to-back for the "gut feeling" where the differences are felt right away. One benefit of this, is that it puts to the driver a hard question: Is the extra money worth it? Is a $60,000 car twice as good as a $30,000 car? Can a car priced at $90,000 (or above) be worth it at all? And so forth.
With that out of the way, first the quick take on each car -- and then the verdict of how they all performed at the very bottom:
1. Volvo XC60
This is Volvo's smaller of its two SUVs sold in the U.S., and it starts below $40,000. It has the most comfortable seat in the industry, combined with perhaps the best seating position and an outstanding steering wheel -- which Tesla mostly copied on the Models S and X. Every time I get into a 60-series Volvo (S, V or XC), I ask myself: "Seeing as this is the most comfortable car on the market today, why would I buy anything else?"
The XC60 has entered its last two years of production before an all-new 60-series Volvo arrives. In the meantime, it continues to set the standard for sheer driver comfort, edging its larger/newer brother and the BMW X5 -- despite its considerable age. The Volvo 60 series is like that rarest 48 year old athlete who keeps winning gold medals against competition from 18 year olds.
2. Volvo XC90 T8
This is the plug-in hybrid version of Volvo's new large 3-row SUV, which starts at $69,000. The design is impeccable inside and out, as are the space and interior packaging. The drive quality -- engine/motor, steering and handling are among the very best in the industry. I didn't like the four-cylinder engine in the regular gasoline-only T6 version of the car, but in the plug-in hybrid T8 version it gets so much help from the electric motor that the powertrain shines.
The XC90 has two mysterious weaknesses compared to its smaller 60-series brother. First, the seat and attendant seating position are not as comfortable as the older car. Second, the steering wheel controls aren't as good as the older 60-series car either. 
3. Kia Sportage
The all-new 2017 Kia Sportage tops out just under $35,000 and is one of the most well-balanced vehicles in the market today. From seat comfort to overall ergonomics and ease-of-use, in combination with the right size for a two-row SUV and outstanding design, I cannot find any flaw with this car. Okay, there is one: Lousy fuel economy (20 MPG city, 23 MPG highway -- bad for this overall size and power vehicle).
The poor fuel economy is what causes this car to lose to some degree against the Toyota RAV4 hybrid. It's ahead on most other metrics.
4. Toyota (T) - Get AT&T Inc. Report Prius
Whatever conceptions you had of the previous Toyota Prius, you need to shed them immediately -- then burn them and dispose of the ashes. The all-new Prius that arrived in U.S. dealerships in January doesn't drive like old Prius at all. It starts at $25,000 and tops out at well over $30,000 with all options.
In the old Prius, you had a dorky seating position and an overall driving experience that was anything but dynamic. Serviceable and reliable to be sure -- but about as exciting as a diet of rice cakes and tofu. It was generally out-of-date too, in terms of its ancient interior.
The all-new Prius has outstanding driving dynamics, with fantastic steering and handling. You sit down low, like in a sports car, and the drivetrain is silkier than ever. I flogged the car as hard as I could, and had a wide smile on my face while doing it. That has never been said about a Prius before.
I still don't like the instrument panel, which has all the stuff in the center -- and with many shiny and reflective parts. The Prius also doesn't have Alphabet's Android Auto and Apple's CarPlay. But other than that, the new Prius is a big winner.
Alphabet and Apple are holdings in Jim Cramer's Action Alerts PLUS Charitable Trust Portfolio. See how Cramer rates the stock here. Want to be alerted before Cramer buys or sells GOOGL or AAPL? Learn more now.
5. Toyota RAV4 hybrid
The rationale for the Toyota RAV4 hybrid is as simple as it gets: It's the SUV with the best fuel economy of any SUV near its price that's not a diesel and doesn't have a plug. It clocks in at 31 MPG highway, 34 MPG city -- and considering Toyota's conservative numbers it was no surprise that I beat these numbers to get 36 MPG even with a somewhat heavy foot.
The Kia Sportage is a better car overall, and the Ford Escape has outstanding driving dynamics, but none of those cars can match the RAV4 hybrid in the fuel economy department. It's easily 50% better than most competitors in city driving. That's a really big deal.
What's not so big is the price premium, which is only $700 over the non-hybrid version. I'm struggling to not recommend the RAV4 hybrid, because it lacks Android Auto and Apple CarPlay -- but this superior drivetrain must make it at least tied for best in its class. Still, the RAV4 hybrid is at the top of my list for almost any kind of car in the market today, because it's so unique, bullet-proof reliable and doesn't require a premium price for its thrifty engine.
It's under $37,000 with essentially every option included. This may be the "safest" vehicle purchase in the market today -- the sweet spot to which the largest group of buyers ought to gravitate.
6. Honda (HMC) - Get Honda Motor Co. Ltd. Report Pilot
Pilot is Honda's 3-row SUV that starts just over $30,000 and tops a bit below $50,000. It emerged in all-new form in the middle of 2015 as a 2016 model. It's spacious and practical.
For the driver, however, I didn't like it at all. The infotainment system -- unlike in the 2016 Honda Accord -- is a mess. There is no Android Auto, no Apple CarPlay -- and no round knobs for volume or tuning the radio (SiriusXM). For example, how do you jump from channel 19 to 116 in SiriusXM the first time you use it? A lot of clicks. 
The other problem I found immediately, is that the powertrain seemed glitchy. Floor the accelerator, and there is a delay -- sometimes. Maybe it was unique to this car, but it was bad. I really didn't like it for this quick first impression.
7. Honda Civic
MSRP little over $27,000 as tested, which is to say 100% loaded. The driving dynamics of this car are simply fantastic -- steering, handling, seating position, and the gutsy 1.5 liter turbo engine. It's also the first good-looking Civic in memory. It's a thrill to drive this car, and I was encouraged to do so as aggressively as possible.
On the downside, while the 2016 Civic has both Android Auto and Apple CarPlay, I found Android Auto to be glitchy and didn't work at all with USB-C. The lack of traditional round knobs for volume and tuning is infuriating.
If Honda could just fix the remaining faults on its infotainment system, the Civic would be in a class by itself. As it stands, it's "only" on par with the best in its class -- Hyundai Elantra and Chevrolet Cruze.
8. Range Rover Sport diesel
The new diesel version of the Range Rover Sport starts around $67,000, but the one I drove was just over $80,000. Considering that the basic "four corners" of the proposition are largely similar to the Jeep Grand Cherokee diesel, which starts around $41,000, it's expensive.
Now of course, the Range Rover Sport introduces a whole other level of refinement -- and I'm not talking about the leather interior and steering feel, as I am about the powertrain itself. It may be the single most capable pure internal combustion engine on the market. It's insanely smooth, and yet returns stunning fuel economy in a heavy 4x4 SUV. I got 25 MPG while driving it aggressively. This hugely capable SUV will yield at least 29-to-32 MPG in careful 75 MPH freeway driving.
Steering and handling are sharp and crisp. It's expensive, but it's worth it. At least you're getting the best engine of its kind, in a beautiful SUV that screams "premium." If you have the money, and you want to spend it -- look no further.
9. Cadillac CTS-V
This is among the fastest and most sophisticated four door sedans of any kind. GM (GM) - Get General Motors Company Report took the 640 horsepower engine from the Corvette Z06 and stuck it into a midsize Cadillac sedan. Top speed is a whopping 200 MPH.
The problem is that nobody needs even half of this power. Driving the CTS-V in almost setting other than on a race track is total overkill, and in fact detracts from the driving comfort. The throttle is nervous as a cat, and the suspension is stiff. I like a car that handles well, and more power is typically always appreciated. But this is total overkill for anyone whose life resides outside the race track.
I would spend my $85,000 differently. As would 99.9999% of the rest of the population. It's a curiosity for most people, sort of like the Tesla Model X.
10. Chevrolet Malibu
The all-new Chevy Malibu is a very beautiful entry into the largest midsize sedan segment of the U.S. car market. It looks like the Audi A7 and the new Honda Civic -- making all of these three cars exceptionally beautiful.
Like all of its peers, the Malibu starts close to $22,000 and tops close to the mid $30,000s. The interior is matched only by the loaded Kia Optima as the new midsize sedan class leader.
Seating position, seat overall ergonomics are all approximately on par with the best peers from Kia, Hyundai and Honda right now. Likewise, the engine and handling are also similar to the other 3-to-4 best midsize sedans.
It sounds boring, but it's really a good verdict: The all-new Malibu is on par with the very best in its class, and this is a big class where the best-sellers are at over 400,000 units per year in the U.S. (Camry and Altima) -- but where the best cars are all the ones that sell a bit less, such as the Chevy Malibu, Hyundai Sonata and Kia Optima.
11. Mazda 6
This is Mazda's midsize sedan, which starts around $22,000 like most of its peers. The one I drove was $10,000 more.
On the plus side, the car looks great, and it's super-easy to use. The control interfaces do not need a tutorial, and it all feels very natural.
On the down side, it's just plain boring. Nothing stands out as particularly good. Sure, the handling is okay, but the engine is nothing special, and the interior is a bit dated. Features such as Android Auto, Apple CarPlay, heated steering wheel and cooled seats don't exist. It's behind on technology.
The Mazda 6 doesn't offend anyone, technology people aside, but I can't find a reason to recommend it other than to people who like something that's beautiful, easy to use, and don't care about technology features.
12. Mazda CX-3
See Mazda 6. Yes, it's almost the same story here, with this ultra-tiny "SUV" (tall small hatchback is really the word). The CX-3 is approximately $2,000 less expensive than the Mazda 6, but it's a much smaller car. Super-easy to park, and looks fantastic, but it has essentially the same strengths and weaknesses as the 6.
In the end, while it's beautiful and easy to use, you're paying a lot for a little car. Some will be fine with that, but it's not an objective value, in my opinion.
13. Lincoln MKX
This center-of-market midsize SUV starts under $40,000 but this unit had an MSRP of around $58,000. Still, far from fully loaded. Right off the bat: Not a value.
The interior is decent, but not class-leading, especially when compared with Audi, Mercedes, BMW and Lexus competitors. The center stack is different for the sake of being different. The infotainment system is Ford's old one -- not the new SYNC 3 system -- making things worse. No Android Auto or Apple CarPlay here -- at least in the car I drove, which was manufactured in late 2015. I know the Lincoln MKX will be getting the new infotainment system some time this calendar year.
The suspension is floaty and ultra-soft. I generally like that, but it somehow doesn't work so well on this car. That said, it's not like it's terrible, and something I would surely get used to after a few days behind the wheel.
Overall, the quality seems good, but as far as recommending this car with all the competent competition in this hyper-competitive segment of the market? This car is closer to the bottom quartile. The competition has simply become too good.
14. BMW X5 plug-in hybrid
$63,000 base; $73,000 as tested. Midsize SUV, a hair larger than the Lincoln MKX, and in this version of course a plug-in hybrid with 13 miles of electric range. The chocolate-brown interior with the upgraded front seats, in combination with the so-called "Fineline" matte wood trim, is second to none. Simply the most beautiful interior, and one of the best seats in the business.
From handling to the powertrain smoothness, the X5 PHEV is solid as a tank and calibrated to perfection. It's top drawer in refinement, a variant of what you experience in the Range Rover -- and at a lower price than the Range Rover Sport, I might add.
You don't get three rows of seats in this slightly larger-than-average SUV, but other than that, this is a solid competitor to the Volvo XC90. The Volvo is $6,000 more, but gets you a third row. Either one of these two is a great choice, depending on your needs and tastes.
15. BMW X1
All-new for the 2016 model year, the X1 now shares the same front-wheel drive platform as the MINI Clubman. I have also driven the MINI Clubman, and loved it for its fantastically rich interior. I also did sit in the BMW X1 not too long before driving it, and liked the interior at that time.
When I got in this particular car, however, I didn't like it at all. It had the base seats, and they were among the worst on any car in months. All other BMWs I have driven in memory have had some of the best seats in the industry. Not this one. Very strange.
Nothing else about the X1 was remarkable. The buttons/controls are standard BMW, so nothing bad there. The powertrain felt less refined than other BMWs. This all-new X1 starts at $35,000 but apparently you have to spend at least $10,000 on options to make it feel like a good BMW -- or even like the MINI Clubman.
A month after the this drive, I drove the X1 for a few days, and I liked it a lot -- except for the horrific base seats. If you option for the upgraded seats, the BMW X1 goes from near the bottom of the pack, to something near the top of the pack.
16. BMW 750
Starting at $99,000 but $127,000 as tested, this is BMW's answer to the Mercedes S550, which is a two-years-older design. As such, it should be better. And it is -- but not necessarily because it's two years newer. Rather, it's more because I find BMW's controls easier to use, as the Mercedes S-class has such a bewildering system of controls.
Equipped with the CEO back seat, this configuration is more for the back seat rider than the front seat driver. While the driver has an amazing experience, I don't find the front seat experience any better than BMW's own X5.
In fact, there is at least one dimension in which the 750 is inferior to the X5, and that's a comment on the new silver buttons -- on the center stack as well as on the steering wheel of the 750. They are shiny, reflect light, and make it hard to see what's actually "written" on the buttons. I can't imagine the collective failure at BMW approving this horrific design. Just return to plain black matte buttons, okay?
Yes, the performance, quality feeling, and overall refinement still make the BMW 750 into the "ultimate" sedan, but it could be even better. The last generation 7-series got a diesel, the new 750 will get a plug-in hybrid next year -- and please get rid of those silver buttons.
17. Chrysler (FCAU) - Get Stellantis N.V. Report Pacifica
This is the new minivan, starting at $29,000 but the one I drove was $42,000, with just the right amount of equipment. With the caveat that a minivan is a large vehicle of extraordinary capability, and therefore does not handle like a sports car, I give the overall experience here top marks.
From design to comfort to features, the all-new Chrysler Pacifica may be the closest thing to the best large car in the market today, at least if you don't need four-wheel-drive. It lacks Android Auto and Apple CarPlay -- although those features will be added perhaps already at the end of this calendar year. Other than that feature gap, this is the definition of rationality on wheels -- combined with a kind of style and refinement the minivan world has never come close to seeing before.
The new body is stiff, feels lighter than old minivans, and is lacking in any squeaks, shakes and rattles. It feels more like an expensive German luxury sedan in its quality impression.
All this for only $42,000 before dealer discounts? A major bargain, and should be on top of everyone's list. Without a doubt, the best Chrysler ever made.
18. Chrysler 300
Speaking of Chrysler, I drove the "Baby Bentley" that's the favorite of North-East limo/Uber drivers -- the 300 sedan. For starters, the latest styling refinements of this car, including new color trim combination ("everything blacked out" for example) make this arguably the most beautiful sedan on the market today.
The Chrysler 300 starts at $33,000, but is heavily discounted at retail -- at least $5,000 from what I can see in the paper every week. Loaded trim levels start under $40,000 before discounts too. Just like its minivan brand-mate, the Chrysler 300 represents a fantastic value.
Driving it is excellent too, with one exception: The driver's seat is hard, flat, and sits too high up in the vehicle. Shoulder and head support is too far back. It's not a good seat shape, and that such a sad foot-fault from a car that's otherwise excellent and fantastic value.
If you disagree with me on the seat comfort, then this should be a top pick in the sedan segment. You just can't get this kind of design, space, power and luxury feel for anywhere near these real-world transaction prices.
19. Fiat 500x
Not to be confused with Fiat 500 or 500L. Those are two totally different cars -- and vastly inferior at that. The 500x is the small SUV sister car to the Jeep Renegade, and made in Italy. It looks great, inside and out. Prices start at $22,000 and top around $32,000. Front wheel drive or all wheel drive for $1,800 more.
The ergonomics of the 500x are fantastic. Everything is not only pleasing to the eye, but also extremely easy to use -- very much like the Kia Sportage. The steering wheel feels rich, and when you put the car into "Sport" mode, the steering takes on a much heavier feeling and in fact reminds me about the Volvo XC60 and Tesla Model X. Absolutely superb.
Like all other FCA (Fiat-Chrysler) products, it so far lacks Android Auto and Apple CarPlay. Other than that, I can only find one downside, and that's the super-hard headrest. It's basically a flat hard piece of plastic, something that can only hurt your head no matter the manner in which your head comes into contact with it.
The Fiat 500x was a major upside surprise in this comparison, even though I had driven it before, when it was introduced a year ago. It's near the top of the field, but it still cannot match slightly larger SUVs that sell for the a similar price (or only $2,000 or so more), such as the Kia Sportage in particular.
20. Tesla Model X
MSRP $147,700 and unlike anything else on this list. Yes, it doesn't really compare with cars costing from $27,000 to $127,000. Still, there is something about this comparison that's instructive. Can any car at this price be worth it? Is the Tesla Model X the rare one that is?
The X looks great, and the seating position is among the better ones -- although not as good as the S. The steering wheel is like the Volvo XC60, and the steering feel like the Fiat 500x in sport mode -- excellent. Handling is very good, with low center of gravity.
The body rigidity is the lowest of the cars tested, with squeaks and creaks sort of like a 30-year-old Dodge convertible. Even though this car had the 20 inch wheels (not the 22-inchers), it's stiff as a washboard; you can feel every imperfection in the road, and not in a good way.
Acceleration is of course unmatched with "Insane Mode" and 0-60 MPH in 3.2 seconds. The problem is that if you utilize most of that power, and then let go on the regenerative brakes, you may end up with motion sickness from all the rocking forth and back.
The Tesla's infotainment system may still be the best in the market, but not by the margin it was a year ago. Competitors are now offering Android Auto and Apple CarPlay, significantly narrowing or even eliminating the previous discrepancy.
The squeaks and creaks in the Model X body, which appears not nearly as solid or well-built as even a $18,000 Nissan Sentra, should be a consideration in deciding whether to invest $147,700 in this thing. But it's fast and has outstanding steering and handling.
Now comes the fun part: grading them all. 
Conclusion: Assigning Grades
On a scale of 1-to-5 stars, it should be noted that almost all of the vehicles receiving the lowest scores are still better than almost anything that was on the market only one or two years ago. That's how fast the automotive industry is improving.
Five stars:
Volvo XC60: Ancient but still the industry's most comfortable for the driver.
Volvo XC90 T8: Has it all except minivan space at minivan prices.
Kia Sportage: Stunning and ergonomically perfect. Poor fuel economy only flaw.
Toyota Prius: From ugly duckling to superior handling and fun. Also, 52 MPG.
Toyota RAV4 hybrid: The most frugal SUV without a plug. 34 MPG easily obtainable.
Honda Civic: The best driving dynamics in its class, but issues with infotainment system.
Range Rover Sport diesel: The best engine, suspension, steering and fuel economy.
Chevrolet Malibu: All-round class-best in the midsize sedan segment.
BMW X5 plug-in hybrid: Superior refinement and driver comfort. The best BMW.
Chrysler Pacifica: The newest and best minivan. The most versatile and upscale interior.
Four stars:
Chrysler 300: Stunning good looks and superior value. Hard/flat seats sitting too high.
Fiat 500x: Ergonomic and with great steering. Hard head rests and small in the back.
Three stars:
BMW 750: Amazing rear seat comfort, but shiny buttons and it's $127,000.
Two stars:
Cadillac CTS-V: Race car power that almost nobody needs.
Mazda 6: Good-looking and easy-to-use, but otherwise unremarkable midsize sedan.
Mazda CX-3: Great-looking and easy-to-use, but tiny in the back and short on tech.
Lincoln MKX: Soft and cushy SUV that's simply overwhelmed by the competition.
One star:
Honda Pilot: Dreadful center stack controls, glitchy powertrain, boring.
BMW X1: Terrible driver's seat comfort in the base version. With optional seat, 4 stars.
Incomplete:
Tesla Model X: Unfinished build quality, squeaks and body flex. Punishing hard suspension, but fast and with sports car steering. Excellent infotainment. At over $147,000, way too expensive and premature from a build quality standpoint.
Overall test winner: Chrysler Pacifica. For approximately $42,000 before discounts, you get a well-equipped minivan that sets a new standard for minivans in all categories of vehicle performance. The design is phenomenal, with upscale materials, switches and knobs. You simply can't get anything this practical, and the price makes it the best value of any vehicle at this price.
Conclusion: It's a record-good business with record-high competition
As you can see, half the group -- 10 out of 20 -- get the highest score, five stars. On the one hand, if this comparison examined the entire spectrum of offerings available for sale today, we would see a more even distribution where the upper half consists of about as many cars as the bottom half.
On the other hand, this was a uniquely competitive peer group. It consisted mostly -- but by no means completely -- of cars that were launched or updated within the last last year. That means this group of twenty should be well above the average, for that reason alone.
Speaking of being launched in the last year, even the bottom entries in this test would as a general rule be better than 80% or 90% or whatever, of the respective peer group cars that were in the market as little as one or two years ago. That's how fast things are progressing in the auto industry, even though model cycles continue to be four-to-six years for all-new cars and two-to-three years for mid-cycle refreshes.
This article is commentary by an independent contributor. At the time of submitting this article, the author was long GOOGL and FCAU. However, positions can change at any time. FCA paid for travel logistics to a product launch event for three people. Volvo, Chrysler, Fiat, BMW, Honda, Kia, Chevrolet, Cadillac, Lincoln, Mazda, Range Rover and Toyota provided cars to test. The author regularly attends product launch events, press conferences and equivalent, hosted by most major automakers.