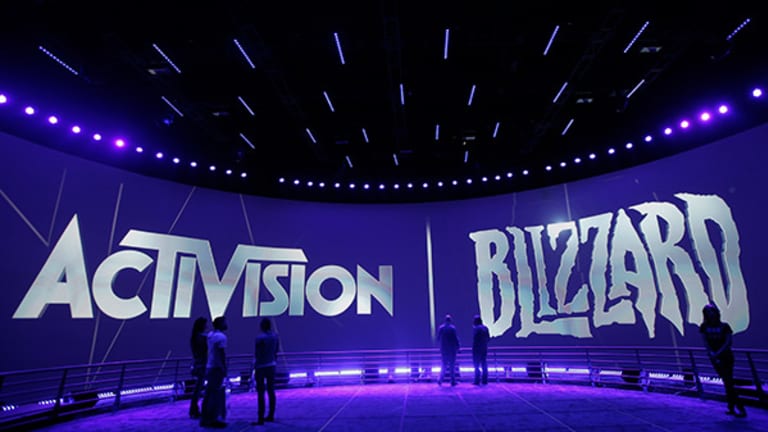 2 Video Game Stocks to Add to Your Portfolio Now
These two video game stocks deserve your immediate attention. Here's why you should consider buying them now.
The computer and video gaming industries in the U.S. reported revenue of $23.5 billion in 2015-up 5% from 2014. Software sales played a key role in the overall increase jumping 7% from the previous year. However, video game console (Microsoft's Xbox One and Sony's PS4) sales are down. But many attribute the decrease to a lack of major new game releases. With mobile gaming expected to be a $100 billion global business by 2017 and overall gaming revenue spiking in the U.S., investors might want to consider the two companies mentioned in this article. These companies appear to have both technical indicators and fundamental catalysts that combine to provide value for investors.
1. Activision Blizzard Inc. (ATVI)
Activision Blizzard is up 24% in the last month-and-a-half after testing and holding a key support level around $26.50. This area was a major resistance level during summer 2015 until broken to the upside on August 8, 2015. Activision went on to hit a high of $39.93 before pulling in to test the $26.50 support level on February 12, 2016. Support held strong and Activisionis now pushing up against a new resistance level at $33.00. The next resistance level appears to be around $38.00.
The $38.00 resistance level is right in line with the $37.57 average price target issued by the 14 analysts and research firms that issued reports on the company. Activision received a high price target of $45 and a low of $34. Barclays is very bullish on the stock issuing an Overweight rating for the stock in its March 17 report to investors. In addition, Zacks Investment Research upgraded its rating on Activision to a strong buy from a hold. 14 Wall Street firms have rated the stock a strong buy while one brokerage firm maintains a hold.
Still, investors should note that there has been insider selling activity from an officer within the company. Eric Hirshberg, CEO of Activision Publishing under the Activision Blizzard Inc. umbrella, has sold 119,148 shares at an average price of $32.44. The transaction was dated March 15, 2016 and for total proceeds of $3,865,161. Although officers selling their own stock is typically a negative event, Wall Street hasn't seemed to mind much as Activision closed at $32.58 on March 23, 2016.
2. Electronic Arts Inc. (EA)
Electronic Arts is up 22.6% in the last six weeks. EA tested a key support level around $53.50 in early February and has never looked back hitting a high of $66.25 on March 2 and closing at $65.05 on March 23. A break above $66.25 should see the next resistance level for EA between $71.50 and $73.50.
Electronic Arts has consistently beaten earnings estimates. The company raised guidance for the second consecutive quarter. EA expects $4.5 billion in revenue and $3 earnings per share by end of the fiscal year in March. In 2015, EA got a boost from their Star Wars: Battlefront first-person shooter which finished as the year's fourth-best-selling game in the U.S. The company also owns popular names such as Grand Theft Auto, Call of Duty, and Madden.

Electronic Arts recently announced a senior public offering where proceeds will be used to repurchase the 0.75% convertible senior notes due this year as well as completing a $500 million share buyback program. The company expects to complete the program over the next several months. This buyback is part of a $1 billion buyback program that, as of February 2016, had an outstanding balance of approximately $599 million to be completed over the next 14 months.
Please Remember the Following: Do not invest in any company within this article without first doing your own due diligence. The information shared in this article is from the author's independent research of the aforementioned companies, do your own research.
This article is commentary by an independent contributor.