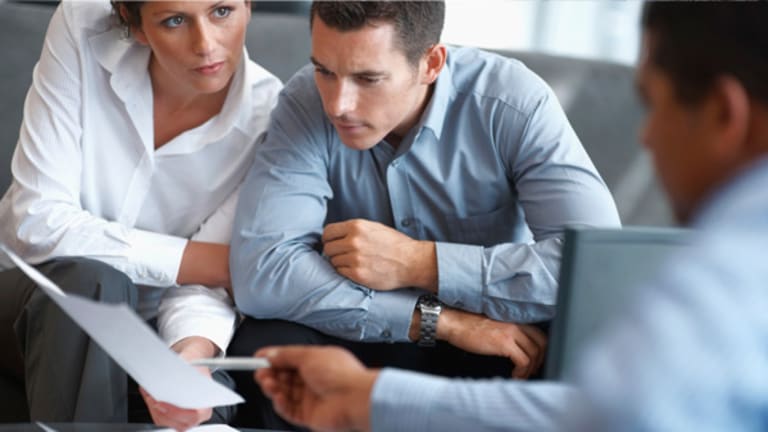 2 Turnaround Stocks to Consider; 1 to Avoid
Netflix and Best Buy, looking good. Penney's, not so much.
NEW YORK (TheStreet) -- It's difficult to say too many nice things about the turnaround they pulled off at Domino's Pizza (DPZ) - Get Domino's Pizza, Inc. Report. It doesn't get enough press. Never did.
That's understandable. People, particularly investors, cannot live in the past. Domino's weaved a spiffy, but speculative narrative. If you were lucky enough to read it right, you profited from the stock's subsequent explosion.
The big challenge: Vision the next great turnaround, while staying away from dead money.
Over the last several months, there was not a better stock to be bearish on than BBY. In desperate need of a transformation, the company laid out a feeble non-plan that contained little more than cosmetic changes.
Reducing square footage is very 2005. That's not a plan; it's something investors should have expected and demanded some time ago.
But, now, signs exist that the Best Buy board of directors found a clue and took control of the situation.
It could have very easily slapped former CEO Brian Dunn on the wrist for apparent inappropriate conduct with a female underling. Instead, the board blew him out. Maybe they did it because of his transgression, but I've got a feeling his hire was a quick and errant fix. When the opportunity presented itself to rectify that mistake, Best Buy seized it.
Now, Best Buy looks prepared to move away from the days of hiring tired, old retail slugs --company lifers like Dunn. As I noted last week,
Best Buy May Have Already Found Its New CEO
.
Even if it errs and does not promote the sub-40 year old Stephen Gillett from
Starbucks
(SBUX) - Get Starbucks Corporation Report
digital fame to CEO, Best Buy rides the right track by populating its executive office with people straight out of Silicon Valley, not big-box retail.
If Gillett or somebody like him gets the CEO gig (and he can bring in more fresh, young and innovative blood), Best Buy's turnaround stands a fighting chance. And that might make the stock a buy.
Hedge fund manager Bill Ackman
told
CNBC
he thinks JCP has hit bottom. He has confidence that CEO Ron Johnson's pricing strategy will work out. That's akin to a loyal general manager giving the head coach a vote of confidence months before firing him.
If Ackman is smart, he'll hope for a dead cat bounce and proceed to cut most of his losses.
I never thought it would be perfectly sensible to turn bullish BBY and bearish JCP, but that's exactly what has happened.
As much as I hate hearing myself say it (because he comes off as an incredibly likeable guy), Johnson might have fooled a lot of people during his time at
Apple
(AAPL) - Get Apple Inc. Report
. Relatively speaking, it's pretty "easy" to put together a killer brick-and-mortar retail strategy when you have Steve Jobs calling most of the shots and you're selling iPods, iPhones, iPads and Macs.
Take away incredible products and an open line to a genius visionary and it gets a heck of a lot more difficult. Johnson's true colors -- as a retail slug -- begin to show. Writing
for the
Harvard Business Review
, Northwestern University professor Alexander Chernev hit the nail on the head:
The real reason why consumers "don't get" jcpenney's strategy might be that its pricing is misaligned with the needs and shopping habits of its core customers, who have become accustomed to frequent sales.
Johnson sounds as stubborn as Jim Balsillie when he says J. C. Penney needs to do a better job of "educating" its customers about its "fair and square" pricing policy. That's a bit condescending and worse yet, unnecessary.
At day's end, it's all meaningless nonsense. Ron Johnson is a retail guy running a soulless department store using garden variety retail tricks. He needs to do what the new Best Buy CEO will likely set out to do: Turn his outdated retail operation into something wholly unrecognizable from itself two years from now. Frankly, I'm not sure Johnson (or very many people, for that matter) has what it takes to make something of such epic proportion happen.
If you have read my stuff for any length of time, you know that I have been the most bearish of NFLX bears.
It feels strange saying this, but, while I am not quite ready to pull the long trigger, the stock might be turning into a buy. It's certainly no longer a short.
Netflix appears to be aggressively moving away from the unsustainable model of buying loads of stale reruns and second-rate movies for its streaming service. Instead, it now places focus on original programming, cancelled shows with a considerable cult or lingering following and -- as we move forward -- specialty programming.
It flew under the radar a bit, but Netflix
a deal to stream "both contemporary and classic matches from the Ultimate Fighting Championship (UFC)" for its Canadian customers. In and of itself, this is not a big deal; however, it becomes meaningful if the company pushes forward with this type of strategy.
To be clear, I consider NFLX a tentative buy and no longer a short. It remains to be seen where things go from here.
The company still faces headwinds. It will have difficulty cracking the original programming nut, let alone producing anything on par with what
Time Warner
(TWX)
does at the legendary HBO. And it can never compete for truly premium sports programming and highly-valuable "appointment viewing," such as live sporting events.
That said, over the last several weeks, Netflix has
the notion that it is cable's "frenemy" quite well, as a recent article on CNET makes clear:
Ted Sarandos, Netflix's chief content officer, said . . . that Netflix can offer a value to its cable partners by helping them grow their audience. He used the popular AMC series "Mad Men" as an example. He said that between the long period between season 4 and season 5 of the series, millions of new viewers started watching the series for the first time on Netflix . . . And because Netflix offered all four previous seasons, these viewers could "catch up" on the series before the Season 5 debut. Now, these new viewers are able to watch the current season of the show on AMC.
I've got to call a spade a spade. That's pretty powerful stuff.
Maybe Netflix does not cause people to cut the cable cord; instead, it acts as an extension cord. If it can successfully position itself in that vein -- and do a decent job adding original and specialty programming -- it could save itself and turn things around after a few more bumps in 2012.
At the time of publication, the author was long TWX.