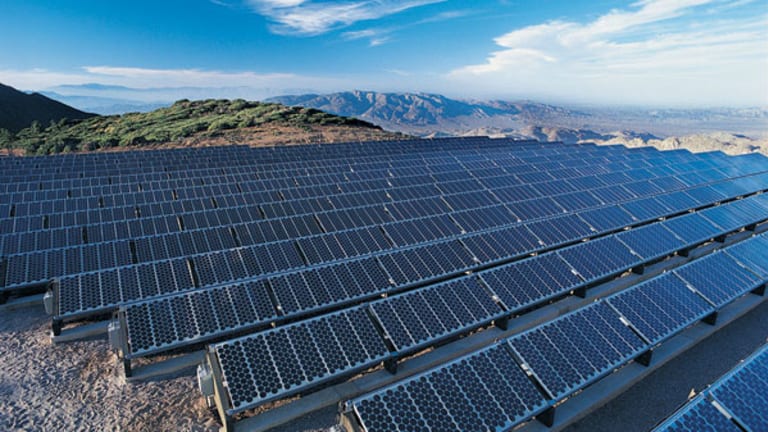 2 Sectors That May Be Past Their Peak
Solar and biotechnology stocks have had a long run, but these stocks might not be ideal for new money.
NEW YORK (FMD Capital Management) -- The majority of stocks have just barely poked their head above the flat line so far for 2014.
While the market has yet to springboard to new highs, equities have still been remarkably resilient to bounce back from a modest selloff in January. The majority of investors are trying to determine whether or not stocks can leapfrog these levels or if we will see another retest of the lows.
However, that story does not translate for every sector of the economy. Areas such as biotechnology and solar stocks have been on a remarkable run for well over a year now that has translated into triple-digit gains for investors that have stayed the course. These stocks are continuing to show amazing strength and are still breaking out to new highs this week.
So the question now becomes, is this an ideal area to add new money or should you start thinking about scaling back your position size?
The iShares NASDAQ Biotechnology ETF (IBB) - Get Free Report produced gains of 32% in 2012, 65.51% in 2013, and has already gained another 20% to start 2014. IBB has over $5 billion invested in 123 companies focused on developing new innovative pharmaceutical and medical devices.
Biotechnology stocks are known to be more volatile because of their hit-or-miss business models, which often lead to periods of strong outperformance or underperformance. Often their stocks are affected by factors such as Food and Drug Administration approval, drug trials, R&D costs, legal fees, and a host other unforeseen events. However, they can also lead to big profits when new products are developed and successfully tested.
This exchange-traded fund has truly been on a sky-high adventure that has produced excellent returns for those that got in early. I am hesitant to use the term "bubble" to describe this sector, but it does show signs of valuations becoming stretched and prices hitting extremes. Consider that IBB has a price to earnings ratio of 41.86 (as of Jan. 31) which is almost double the iShares Core S&P 500 ETF (IVV) - Get Free Report reading of 21.73.

While volume has remained quite strong this year, I am concerned those who enter this sector now are going to get stuck with the tab while those who exit are reaping big profits.
Another ETF that has been on a strong, 15-month rip higher is the Guggenheim Solar ETF (TAN) - Get Free Report, which gained 127.82% in 2013 and has already jumped out of the gate with an increase of more than 30% this year. That type of strength is almost unheard of in an unleveraged and diversified investment vehicle. It's worth noting that TAN is more concentrated than most ETFs, with exposure to just 29 global companies that are engaged in the production and installation of solar products.
Solar stocks went through a period of excessive declines from 2010-2012 that saw them lose a significant portion of their market price. However, this sector has bounced back considerably and has regained its standing as a viable contender for both consumer products and investor interest.
It's an interesting fact that the largest holding in TAN is SolarCity (SCTY) , which just recently hit new life-time highs and whose chairman is Elon Musk. Of course, Musk is most known for his role as chairman and co-founder of Tesla Motors (TSLA) - Get Free Report, which has also produced incredible returns for shareholders over the last two years. Clearly, he knows how to build solid brands in the clean-energy space.
The Bottom Line
How you play each of these sectors is largely a function of what your portfolio looks like. If you have exposure to these ETFs or some of their underlying stocks, I would recommend that you continue to hold the positions and ride the trend higher. However, you may want to consider pairing back exposure or trailing your stop losses higher to guard against any swift reversals. That way you are able to lock in gains and still continue to participate in any additional upside that these funds have to offer.
For new investors, I would strongly urge you to wait for a pullback before you enter any new holdings. Fast moving sectors like this can often times lead to very swift corrections that offer more opportunistic entry points than buying the highs after a triple digit move. I would also add that a trailing stop loss or sell discipline should be used on any new positions to guard against downside risk.
Oftentimes it's easy to look at recent performance and deceive yourself into believing that the next two years will look just like the last, but in my experience these sectors can experience cyclical price trends that make timing paramount to successful trades. Patience and discipline are two sound trading characteristics that will pay large dividends in these sectors over time.
At the time of publication the author had no position in any of the stocks mentioned.
This article represents the opinion of a contributor and not necessarily that of TheStreet or its editorial staff.