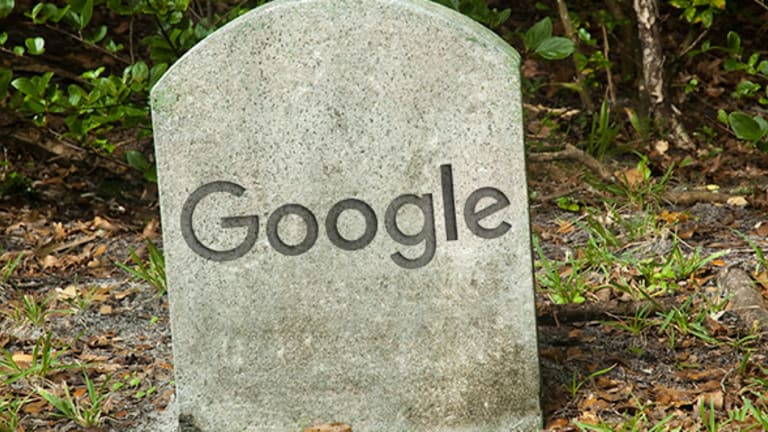 2 Reasons Google (Alphabet) Might Not Survive the Decade
Even though it's boasting big numbers, Google has two big problems, and they both begin with the letter A – Amazon and Apple.
In 2014, Google's (GOOG) - Get Alphabet Inc. Class C Report (GOOGL) - Get Alphabet Inc. Class A Report ad revenue amounted to almost $59.06 billion, with advertising accounting for 89.5% of the Internet company's total revenues. Not too shabby. But things change quickly in the world of technology, especially when it comes to seemingly invincible companies getting disrupted by competitors.
Even though it's boasting big numbers and is one of the most admired companies in the world, Google has two huge problems -- and they both begin with the letter "A": Amazon (AMZN) - Get Amazon.com, Inc. Report and Apple (AAPL) - Get Apple Inc. (AAPL) Report .

Problem No. 1: Amazon
Speaking from my own personal experience, when making a purchase, it's much more efficient go directly to Amazon versus conducting an initial Google search for the product. It's simple -- enter the wanted product, compare various attractively priced options, receive quality in-line feedback on the items with Amazon's industry-leading review system, and all with excellent shipping and customer service.
Amazon has earned the respect of millions of consumers as its dominance grows. When my starting point for a search that will certainly lead to a purchase is Amazon, that's bad news for Google. The company is obviously thinking in this direction, with a challenge to Google's online ad business.
Yes, the companies compete in many different areas (cloud, content sales, to name a few), but these two are core to both Amazon and Google. Which company do you think has the edge when it comes to dominating a field, Amazon and shopping or Google and search? 
Problem No. 2: Apple
If mobile is the future, then Apple might own the future of search.
The company has made great strides so that in just one step its smart phone users can find answers to almost any question. To find a place to eat or check the score of a game, opening Google in a mobile browser is a time-consuming process of the past for iPhone users. Now one can instead quickly ask Siri, which Apple has much improved since initial launch. Users' second option is Apple's new and improved home screen search, which includes local restaurants, where to shop, and even a review of the day's most important news. It's just one or two fewer taps, but that can make all the difference. 
It gets even worse for Google. Apple decided to allow ad-blocking in mobile Safari with iOS 9, which means that as mobile grows, Google could be cut out of mobile ad revenue from iPhone users, who are more valuable than Android users.
However, Apple has no intention of allowing apps that install root certificates to block ads in other apps.
Google's Problems Run Wide and Deep
While in the last 15 years, Google's search business has absolutely dominated, the company has since expanded into new verticals. The problem is, Google is now a big fat company (too big, even, for its original name, as it now has a new corporate structure and goes by Alphabet) and if anything happens to that primary search stream, which accounts for nearly 90% of all revenue, then all that fat may start to pull it towards its death. Without finding a new way to make money soon, I predict Google's downfall will occur in the next 10-to-20 years.
There's Hope for Google!
Google's hope for the future comes from driverless vehicles and artificial intelligence. Google is leading the autonomous vehicle charge and this bodes well for the company. Driverless vehicles will profoundly impact our society, no less than the invention of the automobile in the late 19th century. Imagine a world with 80% fewer vehicles, no traffic cops, and no parking garages -- sounds pretty good. 
Note: 12.5% of emergency room visits are motor-vehicle accidents. To be sure, recent news about self-driving car crashes means we can't really say there will be no crashes with self-driving cars.
If the company can pivot in the right directions and make some non-search business work, Google will continue to be one of the most profitable and important technology companies in the world for the next 100 years. It has the chance to lead us into a brave new chapter where machines have progressed beyond being instruments of efficiency, to being pillars of our society. If Google can't innovate out of its position, however, things might not end so well -- and soon. 
This article is commentary by an independent contributor. At the time of publication, the author held no positions in the stocks mentioned.