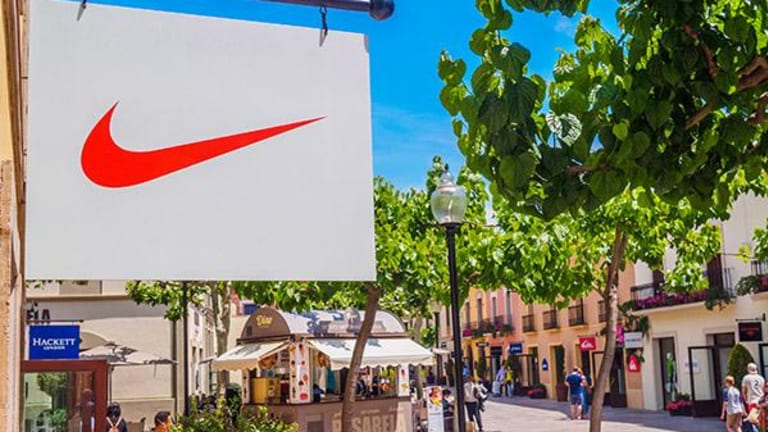 2 Options Plays on Nike (NKE), The Dog of the Dow
These options strategies can offer some upside on this downtrodden name.
Less than a week until the Christmas holiday, the macroeconomic schedule will get off to a sleepy start. In fact you will not see much at all in the macro space until Wednesday. The Fed has come and gone -- until Feb. 1. Earnings are down to a trickle this late in the season. One searching for opportunity is presented a rare gift this Tuesday. Though not many names will be reporting, Tuesday in particular, is filled with household names, and one of them, Nike (NKE) - Get Report , just screams out at me to make something happen. A Dow stock -- and not just that, but a Dow stock that has had a lousy year. Hmmm, if only there were a way to take a shot here without leaning into some guy who's squaring up to hit you right in the teeth.
What Problems?
Fundamentally, the name has problems. Margins are being squeezed, the competition has ramped up its game, and quite simply, NKE just is not a "Trump Stock."
With 52% of the firm's sales come from outside the U.S., and that 52% producing 79% of the firm's pre-tax profit, cutting corporate taxes will not have as huge a positive impact as one might think.
The fact that much of the product is made outside of the U.S. could cause problems down the road, depending on how far protectionist policies actually do go. This is starting to sound like an argument against, right? It gets worse. Consensus expectations for these Tuesday night quarterly earnings are projected to show earnings per share of $0.43, and revenue of roughly $8.109 billion. We have now seen several Wall Street analysts, like of JP Morgan, Canaccord Genuity, and Piper Jaffrey, come out and say that this could be a subpar quarter. So, you've got to ask yourself, is this name worth my time, effort, and capital?
Who Let the Dog Out?
NKE is one of three components of the Dow Jones Industrial Average still in the red for 2016, and it has a nasty lead on the other two. With the blue-chip index up 13.9% year to date, NKE is down 18.5% -- far behind the two other laggards ( Coca-Cola (KO) - Get Report  at -2.8%, and Disney (DIS) - Get Report  at -1.1%). NKE is not just among the dogs of the Dow, NKE is THE dog of the Dow.
The stock closed at $50.92 on Friday, and has traded above $53 in November, though throughout the fourth quarter, resistance has typically reared it's ugly head just short of $52.50. Is the air already out of this tire? Does NKE recognize its environment, and can it alertly adjust? I would think at least to some degree, both are true. Is this a sell the rumor, buy the news event? If I knew that, you'd never hear from me again. I'll let you know later in the week, but meantime, you can put up your fists and do something about it. The picture here is unclear, so we'll take a discount, and mitigate the risk.
If the Stock Sells Off
First, we'll start out by selling some puts. For the sake of this example, we'll use Friday's closing prices, and deal in minimum lots. We will only go out a month on the put options, so our exposure there is limited.
We sell the January 20, 2017 $50 puts for $1.13, and we sell the January 20, 2017 $47.50 puts for $0.44. By writing these two options, we now have a net credit of $1.57. If NKE sells off after the numbers hit the tape, and 100 shares are put to us at $50, we'll, have an effective price of $48.43. If things go really poorly for the stock, you'll own 200 shares at an effective price of $47.18 -- or a 7.3% discount from Friday's close. Better than stepping up to plate without a helmet.
If the Stock Takes Off
Next, we'll give ourselves some upside exposure should the stock perform well going forward. We'll give ourselves about half a year, so that we have time to become right, if at first we are not. We buy the June 16, 2017 $52.50 calls (That's the resistance line that needs to break) for $2.50, but to reduce cost, we'll sell the June 16, 2017 $60 calls for $0.53. This "bull call spread" will run us a net debit of $1.97. But don't forget, we all ready pocketed $1.57 when we wrote the puts. All of these options trades combined are going to cost us $0.40.
Possible Outcomes
1) Worst case for the name: We end up long some equity at a deep discount to where we first looked at the stock.
2) Second best case: We end up long the shares at $52.50, plus the net $0.40 debit from the options trades, and we get called away at $60 down the road, a 13.4% gain.
3) Best case scenario: We end up long the 200 shares from the puts, then end up exercising the $52.50 calls before June. We then sell two more $60 calls as the stock rises (and those calls rise), and get called away on all 300 shares. Our effective price will be under $50 after the sale of those two extra calls, and we'll be making that sale at $60 when we get called away. The gain here is more than 20%. The largest impediment to this last scenario would simply be the trader's impatience. Been there, done that -- get shaken out at some point before June in defense of an already acceptable increase.
That last one is the dream outcome, but you can see that there are several ways to profit here, and do so while cutting back on your risk. More than right or wrong, risk management is the name of our game. You can be wrong more than you are right, and be a great trader. It's how you prepare, and how you react.
What happens if the stock price stays between $50 and $52.50 through June? We lose the $0.40. I can dig it.
At the time of publication, Guilfoyle was long DIS equity and derivative products and flat NKE, although positions may change at any time.