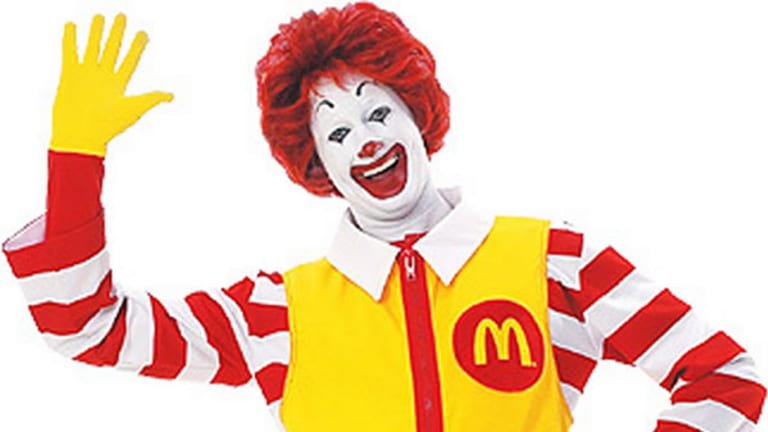 2 Industry-Leader Stocks That Prosper During Recessions and Have 3%+ Dividend Yields
As the global economy becomes increasingly unstable, turn to Wal-Mart and McDonald's.
NEW YORK (TheStreet) -- The S&P 500 has declined over 6% in the last week, despite Wednesday's 4% rally. The global economy is teetering on the verge of another recession. The Chinese stock market, as tracked by the iShares FTSE/Xinhua China 25 Index ETF (FXI) - Get iShares China Large-Cap ETF Report, is down 27.6% over the last quarter due to fears of slowing growth.
You get the idea -- we could be at the beginning of another global recession that rivals the Great Recession. It is a fool's errand to predict how and when this will happen but intelligent investors will prepare their portfolios accordingly.
Two familiar stocks did very well during the Great Recession and are market leaders that have paid increasing dividends for 39 and 42 consecutive years, respectively. This makes them both "Dividend Aristocrats." (Click here to see the 10 most recession proof Dividend Aristocrats.) Both stocks posted double-digit gains during the 2007 to 2009 recession period when the S&P 500 had total returns of -15.9%.
They are Wal-Mart Stores (WMT) - Get Walmart Inc. Report and McDonald's (MCD) - Get McDonald's Corporation (MCD) Report.
Leader #1: Wal-Mart
Wal-Mart is the industry leader in discount retail, and it's not even close. Wal-Mart generated $15.5 billion in profits over the last 12 months. Target (TGT) - Get Target Corporation Report, Costco (COST) - Get Costco Wholesale Corporation Report, and Amazon (AMZN) - Get Amazon.com, Inc. Report combined only generated profits of $5.3 billion in the same time period.
Consumers try to stretch their dollars further during recessions, and Wal-Mart is known "everyday low" prices. Take a look at Wal-Mart's earnings-per-share over the Great Recession of 2007 to 2009:
2007 earnings per share of $3.16
2008 earnings per share of $3.42
2009 earnings per share of $3.66
The company managed to grow its earnings per share each year through the Great Recession. From 2007 to 2009, Wal-Mart had total returns of 19.1%.
Wal-Mart stock, which closed Wednesday around $65, is currently on sale. The company currently has a 3% dividend yield, the highest yield Wal-Mart has offered investors over the last decade. So now is the best time to buy this stock.
Over the last decade, Wal-Mart compounded its earnings per share at 7.6% a year. The company is seeing sluggish growth currently as it invests heavily in e-commerce sales and gives its employees raises. In the long run these efforts will likely result in better customer service, boosting Wal-Mart's sales and growth.
Wal-Mart is investing heavily in long-term growth at the expense of short-term numbers. Wal-Mart has paid increasing dividends for 42 consecutive years. It has not only survived, but thrived through many recessions. I don't believe next time will be any different.
Industry Leader #2: McDonald's
McDonald's is by far the largest restaurant chain in the world. The company has a market cap of $89 billion. For comparison, the second-largest restaurant corporation -- Yum! Brands (YUM) - Get Yum! Brands, Inc. (YUM) Report -- has a market cap of $34 billion.
McDonald's is known for serving cheap food quickly. McDonald's sales and profits tend to increase during recessions as consumers substitute McDonald's for higher-priced dining experiences. The company's earnings per share through the Great Recession of 2007 to 2009 are shown below to illustrate this point:
2007 earnings per share of $2.91
2008 earnings per share of $3.67
2009 earnings per share of $3.98
Not only did earnings per share increase through the Great Recession, so did McDonald's share price. The company saw total returns of 55.6% from 2007 through 2009. This comes to a relative outperformance of 71.4 percentage points! Not bad for a cheap fast-food restaurant.
There are over 30,000 McDonald's locations around the world. When comparable-store sales rise, the company's profits rise tremendously. Counter-intuitively, a recession could be the catalyst McDonald's needs to see solid earnings-per-share growth.
McDonald's plans to grow earnings by increasing efficiency. Financially, the company is refranchising more of its store-owned stores. This will make the company less capital dependant and free more cash for expansion or share repurchases. Operationally, McDonald's is looking into streamlining its menu and focusing its advertising message.
McDonald's has long been a shareholder-friendly corporation. It has paid increasing dividends for 39 consecutive years. The company currently has a payout ratio of about 70% (using adjusted earnings) and a dividend yield of 3.6%. In addition, the company regularly engages in share repurchases, further rewarding shareholders.
The Bottom Line
Both McDonald's and Wal-Mart are industry leaders. Both have very long histories of rewarding shareholders with rising dividend income. Most importantly now, both companies have historically done very well during recessions.
This article is commentary by an independent contributor. At the time of publication, the author held positions in MCD and WMT.