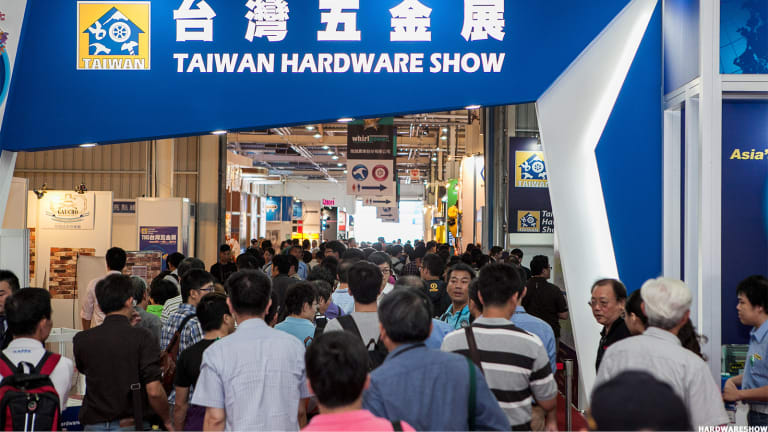 2 Hot Stocks in Taiwan's Booming Tech Sector That Deliver Both Value and Growth
Looking for new technology stock opportunities beyond the overvalued big names? Here are two Taiwan-based stars that get little press, but you'd be foolish to pass them up.
Editor's Pick: Originally published Monday, Dec. 21.
The global chipmaking industry is expected to post an output decline for 2016. However, Taiwan's semiconductor sector is projected to post a steady growth curve.
Clearly, it's a good time to delve into this largely ignored Taiwanese sector. Here are two companies to consider. These two stocks are among a group of high-tech rockets that should take off in 2016.
data by
Taiwan Semiconductor Manufacturing (TSM) - Get Report
Established in 1987, Taiwan Semiconductor Manufacturing is the one of the world's largest dedicated contract chip manufacturers. 
Taiwan Semiconductor trades at a premium valuation of 13.6 times forward earnings on account of its superior performance.
The company's three-year average revenue growth at over 21% is nearly five times the industry rate of 4.4%. Its net income growth three-year average for this period (at about 24%) is way ahead of the industry's meager 1.2% performance.
With a net margin (trailing 12 months) of 35.3%, more than double the industry, Taiwan Semiconductor also boasts of better return-on-assets and return-on-equity metrics than the industry standard.
The company is expected to grow its earnings per share by 15% a year over the next five years, nearly triple than that of the S&P 500 constituents. Taiwan Semiconductor is also planning to set up a $3 billion advanced chip plant in China. This will be a wholly owned manufacturing facility for 12-inch wafers, and a design-service center in Nanjing. Thin slices of silicon, or wafers, are a key part of chip manufacturing, with wafers of larger diameter better but harder to make.
The consensus forecast among analysts covering Taiwan Semiconductor is that the stock will outperform the market. This stock is one of several technology money-makers that are positioned for a stellar 2016.
data by
Siliconware Precision Industries (SPIL)
Siliconware Precision is another company that works in the area of backend integrated circuit packaging turnkey solutions.
This Taiwan-based company trades at 12.1 times forward earnings. The dividend yield of over 6.09% makes it very appealing, given the fact that this is one of the highest yields in the sector.
Remember, if you invest in Siliconware, you are getting the shares almost at 2014-end levels, because the stock has basically been flat in 2015. The company clocked 60 billion Taiwan dollars in revenues and about 9 billion in net income for nine months this year.
The stock is now cheaper than competitors Intel (14.4 times), Texas Instruments (17.9 times) and NXP Semiconductors (15.6 times).
After a lackluster fiscal 2015, analysts expect the company's earnings per share to grow by 12.5% for fiscal 2016.
Another factor to be considered is the possibility of a merger withAdvanced Semiconductor Engineering. Advanced Semiconductor owns about 25% of Siliconware and possesses solid cash reserves.
Siliconware has demonstrated good numbers in the recent past, and looks set to outperform in 2016.
I've found a small-cap tech stock that has the potential to surge 100% or more in the coming months. This is a growth story with major momentum, so it's important to learn the full details as soon as possible. The stock is trading under $8 a share, and its long-term prospects have never been better, making it a great value. I expect this rocket could take off soon, so be sure to click here now and learn more.
This article is commentary by an independent contributor. At the time of publication, the author held no positions in the stocks mentioned.