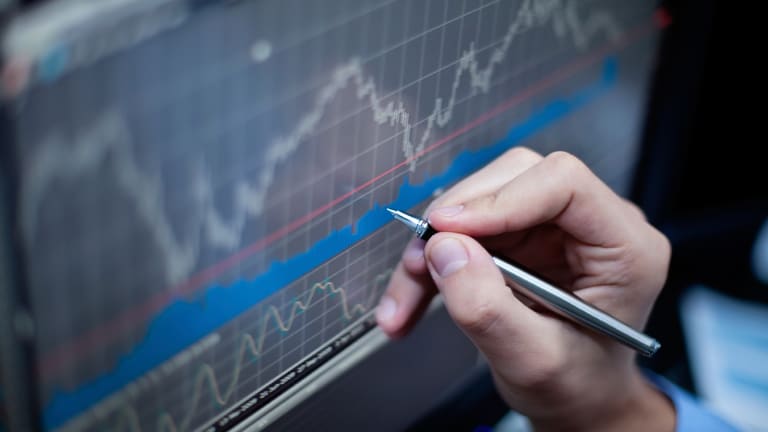 2 Health Care and 2 Tech Stocks Set to Go Higher on Continued Momentum
Many stocks we follow continue to do great. Here are two health- and two technology-related stocks, in particular, to watch for continued momentum.
NEW YORK (TheStreet) -- Here are two health care and two technology stocks to watch for continued momentum.
AMED data by YCharts
1. Amedisys
Amedisys (AMED) - Get Report, a home health and hospice care provider, has been in a rising channel since last June, when it broke out of a base. The stock wedged and broke out again several times, running to the top of the channel, and has been consolidating since the start of this year. In the last month, the stock has rallied off support and looks poised to break out of its consolidation, especially with the big day Wednesday, up $2.54, or 8.7%, to $31.67 on 674,400 shares traded on an analyst upgrade. That's the biggest volume on an up-day since October. It closed slightly above the prior high, which is important in terms of the breakaway move. The target is the top of the channel at $39-to-$39.50.
CLLS data by YCharts
2. Cellectis
Cellectis (CLLS) - Get Report, a fairly new biopharma IPO, has done extremely well in the last three days, in particular. It had an explosive pop on Monday, an inside day on Tuesday, and followed through on Wednesday, up $4.54, or 12.4%, to $40.99 on 1.5 million shares traded. The stock had gotten as high as $43.55 intraday. With the momentum here and the month-long base having been completed, the stock could run up to the mid-to-high $40's before it begins a pullback. Watch for another extension in the next day or two.
NPTN data by YCharts
3. NeoPhotonics
NeoPhotonics (NPTN) - Get Report, a swing trade pick of ours, is doing great. The semiconductor firm rallied over 100% in March, pulled back perfectly into early May, and popped again and flagged recently. On Wednesday, it rose for the third day in a row, up 44 cents, or 5.6%, to $8.28 on big volume of 1.3 million shares. Targets are $9.75 and $11.50-to-$12.
SIMO data by YCharts
4. Silicon Motion Technology
Silicon Motion Technology (SIMO) - Get Report had a big pop on Wednesday, up $2.66, or 8.4%, to $34.38 on 1.5 million shares. That's the best volume in a couple months for this semiconductor company. The move broke the stock out of a month-long wedge and through a lateral resistance level at the April highs. Short-term the stock should get to 36-36.25, and then, if it extends to the top of the channel, look for a run up to the low $40's.
See more video chart analysis on these stocks.
This article is commentary by an independent contributor. At the time of publication, the author held no positions in the stocks mentioned.