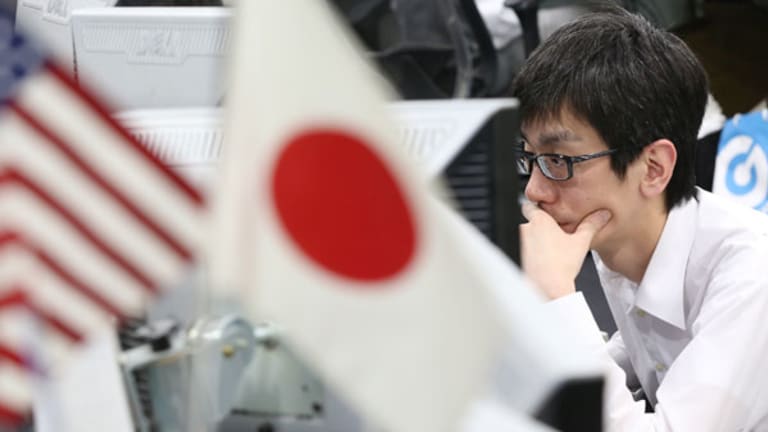 Publish date:
2 Dividend Funds to Buy for Growth in Japanese Yield
Japan is shedding its image as lagging dividend market, and two exchange-traded funds have recently been launched to help investors tap rising Japanese dividends.
Japan is shedding its image as lagging dividend market, and two exchange-traded funds have recently been launched to help investors tap rising Japanese dividends.
NEW YORK (TheStreet) -- Historically, dividend growth in Japan has lagged behind other developed markets such as the U.S., U.K. and Australia. That's changing. Bolstered by an expansive monetary policy, a weakening yen and an effort to stoke inflation, Japanese companies are boosting dividends and a pair of new exchange-traded funds are tapping into this trend.
The WisdomTree Japan Hedged Dividend Growth Fund (JHDG)  debuted in April, and was followed by the WisdomTree Japan Dividend Growth Fund (JDG)  in late May. The major difference between the two is that, as its name implies, the Hedged Dividend Growth Fund features a currency hedged kicker, meaning the ETF has the potential to outperform its unhedged counterpart when the U.S. dollar rises against the yen. The WisdomTree Japan Dividend Growth Fund is not a currency hedged product. Both ETFs charge fees of 0.43% per year.
Both offer investors exposure to rising Japanese dividends. For the year that ended Feb. 28, dividend growth for the MSCI Japan Index was 20.2%, more than 50% ahead of the S&P 500's dividend growth.
"Japanese companies are known for keeping large cash balances -- a practice well suited for deflation," WisdomTree said in a research note. "Lowering these cash balances is one way to quickly increase ROE, and a powerful avenue to accomplish this would be increasing dividends. And while U.S. dividend growth has been tough to beat over the last year, Japan's looked even better."
Both the unhedged and unhedged fund, are exposed to the weakening yen by way of their allocations into export-heavy sectors. For example, consumer discretionary and technology names combine for 34.5% of JDG's weight, and 34.6% of JHDG's weight. For the year that ended April 30, dividend growth for WisdomTree's Japan Technology, Telecom and Media Index was nearly 18% while the Capital Goods Index, which includes discretionary stocks, saw dividend growth of 9.3%.
Although Japan has just started to raise dividends, the country is one of six major developed markets where the dividend yield on the major equity benchmark is higher than that of 10-year government bonds. The U.S. is not one of those six.
There are other reasons to consider JDG or JHDG, including the room Japanese companies have to continue raising dividends. As Morgan Stanley notes, the payout ratio on Japan's Topixindex was 30% at the end of May, well below the almost 50% payout ratio on the S&P 1500 and less than half the comparable metric on Europe's Euro Stoxx 600.
Then there is cash: Japanese companies have more cash on hand than their U.S. and European counterparts. Combine that with Japan's low payout ratio and, as Morgan Stanley notes, "Japanese companies may have the strongest dividend growth over the next several years as they become more shareholder friendly and return their excess cash from existing balances and future earnings." 
This article is commentary by an independent contributor. At the time of publication, the author held no positions in the financial products mentioned.