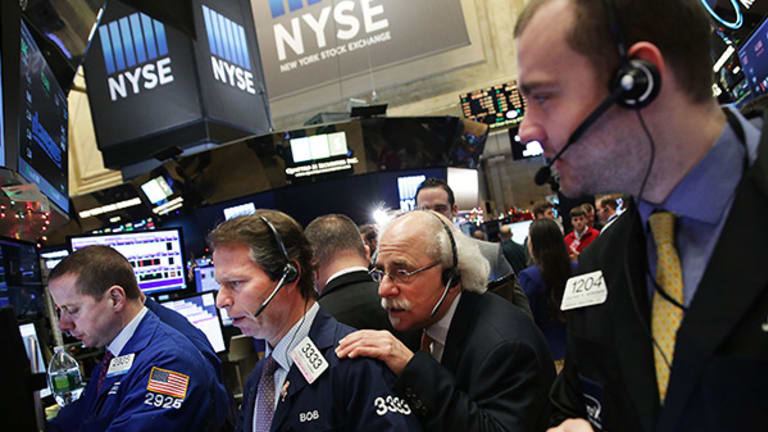 Publish date:
2 Big-Volume Stocks to Add to Your Buy List -- Plus 5 Risky Ones to Avoid
Here's a technical look at how to trade some of the most active stocks on the market right now.
Here's a technical look at how to trade some of the most active stocks on the market right now.
Put down the 10-K filings and the stock screeners. It's time to take a break from the traditional methods of generating investment ideas. Instead, let the crowd do it for you.
From hedge funds to individual investors, scores of market participants are turning to social media to figure out which stocks are worth watching. It's a concept that's known as "crowdsourcing," and it uses the masses to identify emerging trends in the market.
Crowdsourcing has long been a popular tool for the advertising industry, but it also makes a lot of sense as an investment tool. After all, the market is completely driven by the supply and demand, so it can be valuable to see what names are trending among the crowd.
While some fund managers are already trying to leverage social media resources like Twitter to find algorithmic trading opportunities, for most investors, crowdsourcing works best as a starting point for investors who want a starting point in their analysis.
Today, we'll leverage the power of the crowd to take a look at some of the most active stocks on the market.
SPDR S&P 500 ETF
Nearest Resistance: $206
Nearest Support: $200
Catalyst: Technical Setup
Topping the list of the NYSE's biggest-volume issues this afternoon is the SPDR S&P 500 ETF (SPY) - Get Report . SPY is up a little over 1% on big volume for another session, tacking onto the Brexit reaction moves that shares have been embroiled in since Friday.
Technically speaking, SPY is in a pretty vulnerable position right now. The firm violated its trend line support level with Friday's post-vote selloff, and shares are only re-testing newfound resistance at that level this week. A bounce lower off of that trend line would indicate that more downside is likely ahead for the S&P. Stay tuned.
Eclipse Resources 
Nearest Resistance: $3.75
Nearest Support: $2.75
Catalyst: Share Offering
Small-cap energy stock Eclipse Resources (ECR) - Get Report  is another big-volume NYSE issue this afternoon, selling off 16% following a share offering. Eclipse priced 37.5 million shares of its common stock at $3.50 per share, plus an option for another 5.625 million shares for the underwriters. The dilution is driving the big selloff in ECR this afternoon.
Technically speaking, ECR's uptrend looks broken following today's dilutive selloff. Shares violated their uptrend for the first time since this stock bottomed in February, indicating that the timing was pretty good for the offering in terms of netting maximum proceeds from the share sale -- but less good for investors from this point on. The next logical support level for Eclipse is down at $2.75.
Galena Biopharma
Nearest Resistance: $0.60
Nearest Support: N/A
Catalyst: Trial Ending
Galena Biopharma (GALE)  is topping the Nasdaq's most-active list this afternoon, following news that the firm is ending its phase 3 study of NeuVax due to futility. Shares are getting gutted on the news, down more than 84% as I write. Galena is ending the study based on the recommendation of an independent committee, dramatically trimming the firm's prospects. That news comes as a stark contrast to Galena's previous update on June 1, where the firm said that the FDA had fast-tracked NeuVax to prevent recurrence of breast cancer.
From a technical standpoint, Galena's chart is broken at this point. Shares violated long-term support at 60 cents, breaking to new lifetime lows this afternoon. The headline risk is huge in this stock right now. Investors should avoid it.
Diamond Resorts International
Nearest Resistance: $30.25
Nearest Support: $29.50
Catalyst: Acquisition
$2 billion timeshare resort operator Diamond Resorts International (DRII)  is up 23.6% this afternoon, following news that the firm had received a $30.25 per share cash offer from Apollo Global Management. The deal immediately gapped up this morning, erasing the premium over Tuesday's closing price for Diamond.
In other words, the money has already been made on the Diamond Resorts trade. Investors should look elsewhere for upside opportunities this summer.
Energy Transfer Equity
Nearest Resistance: $15
Nearest Support: $12.75
Catalyst: Merger Termination
Shares of $16 billion midstream energy stock Energy Transfer Equity (ETE)  are up 2.5% this afternoon on big volume, gaining following news that the company was calling off its $33 billion merger with Williams Cos.  (WMB) - Get Report . The announcement makes the deal just the latest huge merger in the energy sector to fall apart amid lower oil prices.
For their parts ETE shareholders seem relieved that the deal is off. Shares are bumping their heads on long-term resistance at $15, a price level that, if taken out, would signal a new breakout buy signal in ETE. If ETE can catch a meaningful bid above that $15 price level, consider joining the buyers.
Williams Cos.
Nearest Resistance: $23
Nearest Support: $20
Catalyst: Merger Termination
The other side of the ETE trade is Williams Cos. (WMB) - Get Report . Williams is down slightly, off 1.3% on big volume this afternoon.
From a technical perspective, this stock looks a lot less appealing than ETE does. Shares are testing long-term trend line support this afternoon on the failed merger announcement. If that trend line support level gets violated, then Williams suddenly opens up a lot more downside risk. Investors should keep a close eye on how this stock trades around that trend line this week.
Tesaro
Nearest Resistance: N/A
Nearest Support: $70
Catalyst: Trial Results
Last, but certainly not least, on our list of today's most active trades is mid-cap biotech stock Tesaro (TSRO) - Get Report . Tesaro is up more than 110% on huge volume as I write today, rocketing following news that the firm's ovarian cancer drug had hit its main goal in a final-stage trial. The news clears a major hurdle to win regulatory approval for the drug; Tesaro plans on filing for FDA and European regulatory approval by the end of the year.
The positive results are breaking Tesaro free of the downtrend that's harangued shares for the last year and change -- and this stock could be heading even higher in the near-term. For investors who aren't risk-averse (make no mistake, there's still a lot of risk baked into this stock), it could be worth taking a starter position here as momentum carries shares.
Disclosure: This article is commentary by an independent contributor. At the time of publication, the author held no positions in the stocks mentioned.