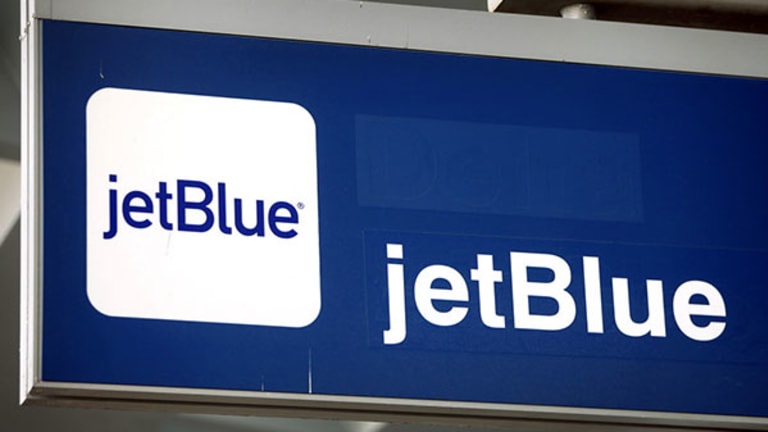 2 Airline Stocks to Buy Even as the Markets Fall
JetBlue and Ryanair feature efficient management and consumer-friendly fares.
You'd think that with depressed crude oil prices, the airline sector would see big gains because of cheaper fuel.
However, airline behemoths Delta Air Lines and United Continental Holdings missed some estimates on earnings. They suffered from a strong dollar and high labor costs. 
That said, two smaller, low-cost carriers, JetBlue Airways (JBLU) - Get JetBlue Airways Corporation Report and Ryanair Holdings (RYAAY) - Get Ryanair Holdings Plc Report are performing strongly and should continue to do so. They have been increasing passengers and revenue while keeping costs reasonable. Here is why these two names should find a spot in your long-term growth portfolio.
JetBlue Airways
Low-cost passenger service carrier JetBlue Airways caters to underserved markets and large metropolitan areas that have high average fares.
The company has almost tripled its revenues from $2.3 billion in 2006 to $6.4 billion in 2015, at a compounded annual growth rate (CAGR) of 12%. At gross margins of 64%, JetBlue is reaping handsome rewards. The airline has worked on getting its game together which is evident from the fact that it has gone from a net loss situation in 2006 to recording net earnings of $677 million last year.
All through through Great Recession, the company continued to grow its revenues and is expected to do so in the future as well. While the Zika virus scare and winter storms may have had a short-term impact, JetBlue's core business fundamentals remain strong, making it well-suited for your wealth-building strategy.
As an important indicator of a profitable business, JetBlue's free cash flow (FCF) has increased, as the company benefits from low crude oil prices that have pushed down fuel costs. After some ups and downs through the years and negative figures for three straight years during 2006-2009, FCF topped $650 million in 2015.
In January, the revenue passenger miles, which are a key measure of traffic, rose 11.7% year-over-year while capacity increased 10.8% in the same period. The load factor also climbed to 82.6% in January 2016 from 81.9% in January 2015.
With the agreement in place to restart scheduled air services between the U.S. and Cuba after a gap of over 50 years, sunny skies are ahead for JetBlue.
Analysts expect JetBlue to clock nearly $7 billion in sales in the year ending Dec. 16 and to top the $7.5 billion mark in the next 12 months. Over the next five years, JetBlue is expected to record 33.9% growth in earnings per share (EPS) compared to about 20% for the industry.
JetBlue seems to be catching up with Alaska Air (ALK) - Get Alaska Air Group, Inc. Report , which mostly has higher profitability and a better FCF track record. At a trailing 12-month EV/EBITDA of 5.6 times, JetBlue is justifiably trading at a premium to Alaska Air  (5.2 times) given the latter's slower 13.37% per year EPS growth outlook for the next five years.
As JetBlue adds incremental revenue and expands its profit margin, there is potential for long-term wealth creation.
data by
Ryanair Holdings
This low-cost European carrier holds the leading place in terms of traffic and coverage. It further expects its passenger traffic to double from 90 million in the first quarter to 180 million by 2024.
For the first half of 2016 ended September, Ryanair's profit surged 37%, accompanied by a 14% jump in revenue, 400 bps margin improvement, load factor at 93% and an increase in average fare.
While its robust free cash flow since 2013 suggests a strengthening balance sheet, its rising gross margins are proof of the capability of making higher profits.
Another positive for the carrier comes by way of its net debt free position, with cash even recording a slight surplus after covering debt.
Such has been Ryanair's reach that peers like EasyJet, Alitalia, Aer Lingus and Norwegian have had to cut capacity on their routes. Meanwhile, bigger players like Air France-KLM and Lufthansa have fought a tough price war battle with Ryanair and due to the latter's lower cost base, may have to again.
Going forward, the company, backed by an effective and efficient management team focused on growth, is expected to record close to 30% growth in EPS over the next five years, far ahead than the 19.35% figure expected for the industry.
With its dividend yield of over 3.9% and analyst expectations of a 14% spurt in stock price over the next 12 months, Ryanair offers great opportunity for superior total returns.
Are you making the right investment moves for your retirement, or are you blowing it by making all-too-common money mistakes? There are crucial steps that you should be taking now, to build wealth over the long haul. To find out whether you'll have enough money in your later years, download our free report: Your Ultimate Retirement Guide.
This article is commentary by an independent contributor. At the time of publication, the author held no positions in the stocks mentioned.