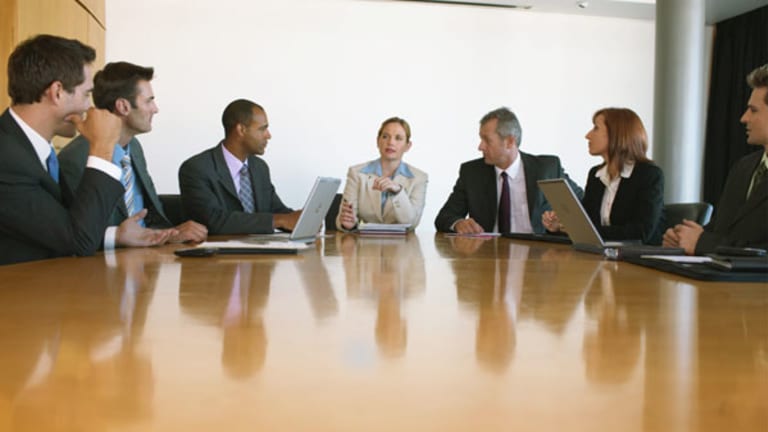 15 Must-Follow Twitter Accounts
A list to put investors, hockey fans and other humans on the path to a useful and entertaining Twitter feed.
NEW YORK (TheStreet) -- Yesterday here at TheStreet, I explained Why Twitter Will Live and Facebook Will Die.
Today, to prove
Twitter's
all-around utility, I offer an annotated list of must-follow Twitter accounts.
Some focus on the stock market and investing, others do not. The selections run the gamut from those whose tweet infrequently, but always deliver, to regular Tweeters who are clever enough to clog your feed without much annoyance.
Fred Wilson, @fredwilson
-- If nothing else, the New York City venture capitalist will alert you every time he posts to his excellent blog,
.
Recently, Wilson
defended
Peter Thiel's decision to dump his
Facebook
(FB)
shares. Agree or disagree with Wilson, he provides solid insight from the inside. You'll learn a ton following him on Twitter and reading his blog.
Behavioral Finance, @victorricciardi
-- Behavioral Finance tweets links to stories that focus primarily on the psychology of investing. Easily one of my favorite investment-related accounts.
Kara Swisher, @karaswisher
-- There's no bigger scoopster in Silicon Valley than
All Things D
co-executive editor Kara Swisher. It's tough to find somebody with a better mix of insight, snark and wit. Sometimes she makes me angry, but that's a sure sign she's doing her job well.
GS Elevator Gossip, @GSElevator
-- Everybody loves to hate
Goldman Sachs
(GS)
. And this account, which may or may not be a parody -- I really cannot be sure -- might make you hate the company's culture even more.
Among the things allegedly overhead in the Goldman Sachs elevator:
#1: I always explain diminishing marginal utility in terms of cars, watches, or women.
#1: If you want a friend, get a dog. If you want a friend with benefits, find some chick who's in PR.
#1: I'm afraid at these levels. I feel like we're approaching an inflection point. #2: I'm hedged. #1: How so? #2: Extremely rich.
Steven Carraher, @StevenCarraher
-- You've likely never heard of Carraher -- and he Tweets A LOT, at least 15 to 20 times an hour. That's usually a recipe for disaster. However, his tweets are almost always links to excellent short and long reads, often tech-related, though not always.
Use an extension such as Twitter-owned TweetDeck to follow a tweet-heavy account like this. You can add Carraher to a list of accounts, or give him his own column in TweetDeck to put his tweets in a separate feed.
Harvard Research, @HarvardResearch
-- This is a solid account to follow if you like academic research. Each day, it posts about two links to Harvard University research in several areas.
Executives You Wish Would Tweet More Often
Marissa Mayer, @marissamayer
-- Mayer is the new CEO of
Yahoo!
(YHOO)
and a former
Google
(GOOG)
executive.
Tim Westergren, @timwestergren
-- Westergren is
Pandora's
(P)
founder and chief strategy officer.
Executives Who Tweet Frequently
Jack Dorsey, @jack
-- Dorsey is Twitter's founder and CEO of
Square
.
Adam Brotman, @adambrotman
-- Brotman is senior vice president and chief digital officer at
Starbucks
(SBUX)
.
Stephen Gillett, @stephengillett
-- Gillett is president of
Best Buy's
(BBY)
digital operations and was previously Starbucks' chief information officer. Both Gillett and Brotman were instrumental in getting the recent Square-Starbucks deal done with Dorsey.
Rupert Murdoch, @rupertmurdoch
-- I'm not the biggest fan of
Fox News
, but the founder, chairman and CEO of
News Corp.
(NWSA)
has freewheeling tweet style that's refreshing, even if I rarely agree.
Hockey Accounts
There are tons of hockey writers, announcers, players and fans on Twitter. I follow quite a few.
It can be a bit annoying following the writers and TV and radio guys. Everybody wants to be first with news so you end up seeing the same goal, signing or trade tweeted, in succession, by 50 different people. They need to find a way to coordinate better. In any event, here are two of my favorite hockey-related accounts:
Dan Rosen, @drosennhl
-- Rosen is a senior writer for
NHL.com
. The beauty of Rosen's account is that it's pretty much year-round. He does not over-tweet. And, even though he's affiliated with the NHL, he's not a shill. He presents good information, but doesn't beat you over the head with "breaking news" and his opinion. Nice balance.
Paul Bissonnette, @BizNasty2point0
-- Phoenix Coyotes benchwarmer Paul Bissonnette has more than 300,000 followers, quite an accomplishment for a guy who not only plays in the desert, but rarely sees the ice. I'll create suspense by not telling you the nature of Bissonnette's tweets. Trust me, they're entertaining, sometimes informative and well worth your time. Like most hockey players, he presents as an all-around nice guy as well.
And For Good Measure
Venice 311, @venice311
-- I live in Santa Monica, which shares a border with Venice. But even if you live nowhere near Venice, Calif., this account is worth a follow.
Venice 311 follows the LAPD police scanner with a focus on Venice and surrounding areas. It not only keeps you abreast of what's happening crime-wise, it accomplishes the task with an appropriate amount of humor, sarcasm and wit.
Other '311' accounts have popped up around Los Angeles, including @CulverCity311 and @Koreatown311. I have a feeling we're on the cusp of a national phenomenon.
At the time of publication, the author was long FB and P
.
This article is commentary by an independent contributor, separate from TheStreet's regular news coverage.
Rocco Pendola is a private investor with nearly 20 years experience in various forms of media, ranging from radio to print. His work has appeared in academic journals as well as dozens of online and offline publications. He uses his broad experience to help inform his coverage of the stock market, primarily in the technology, Internet and new media spaces. He has taken a long-term approach to investing, focusing on dividend-paying stocks, since he opened his first account as a teenager. Pendola, 37, is based in Santa Monica, Calif., where he lives with his wife and child.