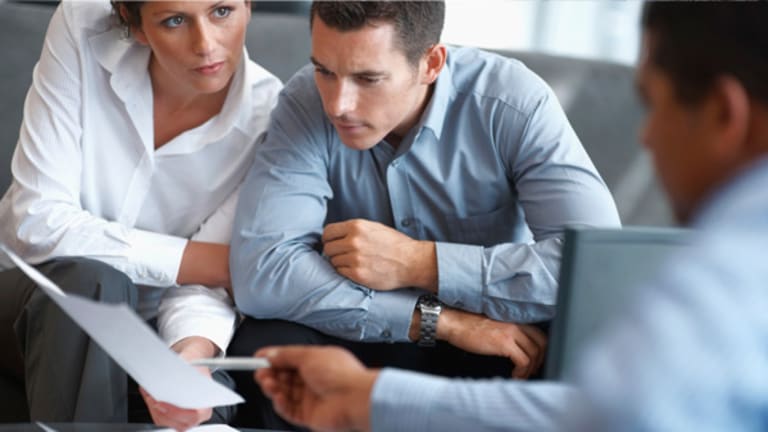 $15 Facebook: Merry Christmas, Baby
Facebook in teens may be time for longs to start fresh.
NEW YORK (
) --
Haven't read Barrons for 8 years
.
That's the meat of
from over the weekend.
Cramer posted that several hours after my Saturday morning routine commenced.
5:45 a.m.
Boom, boom, boom!
Saturday is the busiest day at my doorstep. In succession, the "paper boy" slams
The New York Times
,
The Wall Street Journal
and
Barron's
against my door. Moments later, I flick crust from the corner of my eyes, open the door, stretch, yawn, breathe in the ocean air and pick up each publication.
The front cover of
Barron's
says,
, flanked by something incredibly creative from the graphics department over there, a thumbs-down pic.
Most of the story reads like the final term paper in a freshman finance seminar:
AT ITS CURRENT QUOTE, Facebook trades at 47 times projected 2012 profit of 48 cents a share and 36 times estimated 2013 earnings of 63 cents. Compare that with Google and Apple, two proven technology growth stories, which both trade for about 16 times estimated 2012 earnings. Facebook is valued at $61 billion, or $53 billion excluding its estimated $8 billion in cash. That's more than 10 times estimated 2012 revenue of $5 billion. Google trades for half that valuation.
A wholly unoriginal argument: Investors should not value
Facebook
(FB) - Get Meta Platforms Inc. Class A Report
higher than
Apple
(AAPL) - Get Apple Inc. Report
and
Google
(GOOG) - Get Alphabet Inc. Class C Report
. Kudos to the author, Andrew Bary, though, for not making obligatory mention of
Amazon.com's
(AMZN) - Get Amazon.com, Inc. Report
P/E ratio.
Barron's
goes on to lament Facebook's practice of issuing loads of stock as compensation. The author then almost solely rests his bear case on the tired notion that there's no guarantee Facebook can figure out mobile. And, even if it does, the platform for mobile ads is too small to serve effective advertising. As such, done deal, FB is a $15 stock.
Channeling Bob Dylan, "Don't criticize what you don't understand."
On these main criticisms -- stock comp and mobile --
Barron's
gives us surface scratch reflections with zero vision and no grasp of the here and now. They fail to show even the slightest comprehension of the complex world Facebook lives in as well as the one it's helping create.
Yes, Facebook doles out stock to keep employees from moving elsewhere. Barron's pegs the cost at $500,000 per employee, projecting the company's stock-based compensation expense will account for 20 cents per share next year. (I reckon
Barron's
was fast and easy with the numbers to get that $500,000 figure. Somebody needs to let them in on concepts such as average, median and outlier).
And, it's been confirmed. Mark Zuckerberg said it himself. Facebook wasted two years on mobile. We already know this. You're not calling the company out by repeating it as if it's news.
Mobility -- it's the keyword here. And
Barron's
doesn't get it.
Mobility in the workforce. And the epic migration from desktop to mobile in social and new media.
Today's worker, particularly in tech and related sectors, doesn't take a gig with a company, stay there 35 years, collect a pension and live on a fixed income in retirement. In this world of LinkedIn profiles and hyper-networking, folks in tech are always looking for a job even if they're not.
It's so competitive that companies such as Facebook -- likely a popular target for headhunters -- have no choice but to get aggressive -- and creative -- with compensation. There's no better way to entice people than with stock. They're not sticking around for the free lunches, 401K and San Francisco rent control. That stuff means nothing to cats making $80,000 (or more) plus options straight out of college.
It's so much more complex than the
Barron's
article makes it out to be. They paint Facebook as irresponsible, yet make no mention of the type of talented high-demand worker they must attract and maintain. Of course, when an executive or other key employees leave, the bears squawk. It's a contradiction these bears are likely not even conscious of.
To dog Facebook for its slow mobile transition shows a profound ignorance. I would love to waste two years and still be (according to
:
Sixth in 2012 mobile ad revenue, slightly behind Apple.
Projected to catapult to second, between Google and Pandora (P) in 2013 and 2014.
A company that has self-admittedly neglected mobile ranks behind only five others in ad revenue. Logic tells me that with a massive user base and a new focus on mobile throughout the organization, Facebook's mobile revenues have nowhere to go but up.
Does
Barron's
really expect advertisers to shun the social platform that serves a billion users around the world? Does the publication believe advertisers will not go where their prospective customers are? Do they think Mark Zuckerberg and the people Facebook hires are complete and total idiots?
Facebook might be setting up the ultimate bear trap. While you can spin its policy of not giving guidance as a negative, it might turn into a positive for longs. When mobile gains traction, it will seemingly come out of nowhere. That's a bear trap in the making.
While the stock could dip on the noise Barron's creates and insider selling, instead of a $15 stock price, I anticipate around $15 worth of upside as Facebook's mobile strategies continue to take shape into 2013.
At the time of publication, the author was long FB and P
.
This article is commentary by an independent contributor, separate from TheStreet's regular news coverage.
Rocco Pendola is a private investor with nearly 20 years experience in various forms of media, ranging from radio to print. His work has appeared in academic journals as well as dozens of online and offline publications. He uses his broad experience to help inform his coverage of the stock market, primarily in the technology, Internet and new media spaces. He has taken a long-term approach to investing, focusing on dividend-paying stocks, since he opened his first account as a teenager. Pendola, 37, is based in Santa Monica, Calif., where he lives with his wife and child.