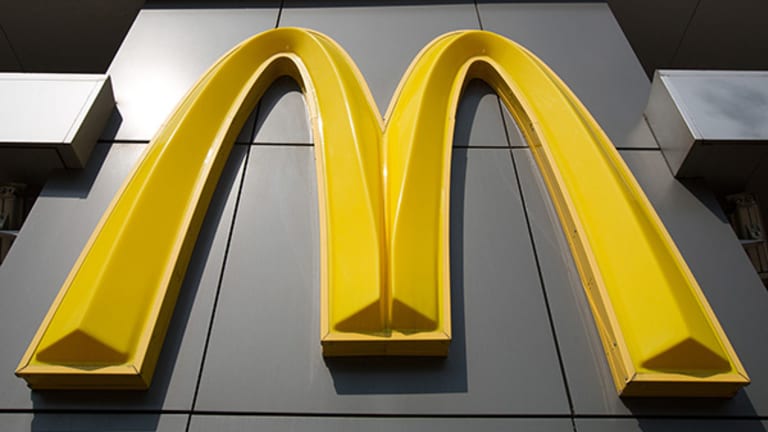 15 Dividend Growth Stocks That Could Trounce the S&P 500
A back-test provides a lineup of companies whose shares look like they could produce annualized returns that beat the market.
With interest rates near all-time lows in the United States and $7 trillion in negatively yielding government bonds around the globe, the search for yield has never been more fierce.
Using portfolio123.com and its screening of my recently updated top 300 brands universe, which was expanded from 200, here is a list of the top 15 companies that must have at least a 2% yield and must have increased their dividends year over year by at least 3%. The rebalance period is every three months.
The stocks have been ranked using a proprietary formula that monitors price momentum on a particular look-back period (to know what the market has been rewarding over the recent past) and high dividend yields.  
Here is the screen shot of the back test. Not bad with a significantly better annualized return compared with the S&P 500 exchange-traded fund. Again, this is a back test and not a strategy being run with live money.
Click here to see the following chart in a new window
Here is the current top 15 brands list:
Click here to see the following chart in a new window
Let's look at three of these, via their charts:
1. McDonald's (MCD) - Get Report
Current yield estimate: 2.8% and growing
McDonald's has had a huge resurgence over the past year. The consensus was that demographics were working against fast-food companies, and McDonald's was going to be just another great brand left behind because of shifting winds and a lack of focus on what customers want.
But this isn't the McDonald's of our youth. The restaurant design has been radically updated, the menu includes more healthy items, and the ordering and check-out processes have been streamlined, via kiosks in many stores.
These trends are great for store margins and customer satisfaction.
The stock has been a monster, and the chart above shows that there is some significant momentum in the golden arches.
2. Phillip Morris International (PM) - Get Report
Current yield estimate: 2.8% and growing
Tens of millions of people around the world smoke. And there is a stealth growth industry within the stagnant cigarette business of which Philip Morris is a part: "vaping" via e-cigarettes.
The 50-and-under crowd, especially millennials have adopted the perceived cleaner way to use in tobacco by using e-cigs, a battery-operated device that delivers liquid nicotine in a way that offers an odorless smoke and more opportunities for smoking in public.
New growth, high dividends, dividends that are growing and pricing power make Philip Morris a great choice for investors looking for stable, predictable dividends. The chart is a winner, too.
3. Vail Resorts (MTN) - Get Report
Current Yield estimate: 2.5%, but it has grown significantly year over year by 66%
Consider this comment from the company's management after the first quarter: "We did not complete any share repurchases in the past quarter but intend to continue to take an opportunistic, yet methodical approach to future buybacks."
Companies are notoriously bad at timing the purchases of their shares, so it is refreshing to hear a management team that cares about the capital allocation process.
Vail Resorts operates primarily in the United States, but that seems to be changing with the purchase of Perisher, Australia's largest ski resort, last year. The company is also spending a huge amount of money at the nation's most popular ski mountain, Breckenridge in Colorado.
In addition, Vail Resorts owns and manages amazing resorts such as Heavenly, Kirkwood and Northstar in Tahoe and Beaver Creek, Breckenridge, Keystone and Vail in Colorado.
Looking at the chart, above, most people could have pay for their next vacation with that gains from owning the stock the past few years.
Turning to ETFs, it is interesting to note that the largest dividend ETF by assets, Vanguard Dividend Appreciation, has also had the poorest performance since the common inception of all these large ETFs, providing more evidence that bigger isn't always better.
Vanguard Dividend Appreciation has a current yield of 2.2%, followed by the next two largest dividend ETFs by assets, iShares Select Dividend, with a current yield of 3.1%, and Proshares S&P 500 Dividend Aristocrats, with a current yield of 2%.
Here is how they have performed since inception:
Click here to see the following chart in a new window
As a bonus pick, consider the Pacer Global High Dividend ETF (PGHD) , with a current yield of 4%.
This one is attractive because the folks at Pacer realize that high free cash flow is a measure of strength.
Who cares if a company pays a high dividend but has a poor balance sheet, sluggish growth or lacks pricing power? Attractive free cash flow yield seems a great factor to use to find superior companies.
The bottom line is that dividends are an important part of the total return offered by stocks. Finding dividend-payers with a history of strong free cash flow that allows them to raise the dividend every year is even better.
Inflation won't stay this low forever, so pricing power and dividend growth should stay a very important part of an investment strategy.
This article is commentary by an independent contributor. At the time of publication, the author held no positions in the stocks mentioned.