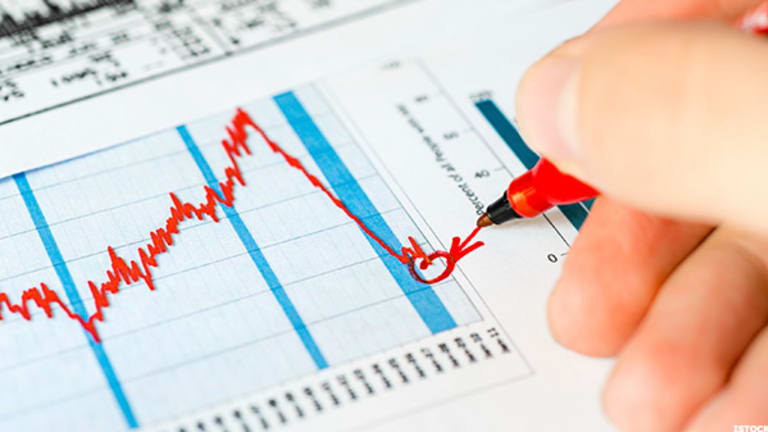 14 Toxic Must-Sell Investments That Will Be Hit Hardest by Brexit
Global markets are plummeting in the wake of the U.K.'s decision to leave the European Union. These dangerous stocks, bonds and ETFs will likely stumble big time.
Six months after oil prices brought companies and the overall markets to their knees, another event wiped out the steady recovery: the U.K.'s decision last week to leave the European Union.
Although it is the general tendency to shun equities and run to the shelter of gold and bonds, not all assets are safe.
Here are some of the riskiest investments to avoid during this time of uncertainty. There are far better places to invest right now.
Equities
1. BlackBerryundefined
This company is a dinosaur that is finally facing extinction. Not too long ago, it was the king of smartphones, but BlackBerry management failed to see the strength of Android.
It failed to capitalize on industry growth opportunities and has so far seen sales languish. The famed restructuring process at this once-popular company hasn't yielded any results, and its only saving grace is the software play.
However, hardware will remain the main reason why anybody invests in Blackberry, and so far, Chief Executive John Chen has been unsuccessful at making a turnaround. The stock is down almost 30%, and earnings are expected to rise a meager 0.7% in the next five years, compared with 6.44% for the industry.
In a technology sector that still offers many market-beating opportunities, there is no reason to invest in BlackBerry.
2. Boston Beer (SAM)
Even though Boston Beer shares are down 20% this year, the stock is still above analysts' median target. The company has lost share to smaller breweries, and the craft brewer is past its prime.
Against bigger peers Anheuser Busch, Constellation Brands and Molson Coors with their financial muscle, Boston Beer simply gets overshadowed. Profits are also likely to be under stress this year as the company tries to stay relevant.
This stock may very well be a value trap.
3. Franklin Resources (BEN)
The asset management company's reliance on broker-sold channels could further pressure the stock, which is already down more than 36% over the past year.
According to UBS, which cut its rating on the stock to sell from neutral and lowered its price target to $28 from $39, outflows in addition to the $100 billion over the past six quarters are expected at Franklin Resources as the Department of Labor 's fiduciary rule takes shape in the first half next year. 
Since the start of the year, Franklin Resources has only witnessed downgrades, with Bank of America-Merrill Lynch and Credit Suisse both cutting their ratings to underperform from neutral.
The recent plunge in oil prices didn't just affect energy firms. Losses spread to companies in other sectors, driving many to the brink of bankruptcy and taking the global corporate default rate to a seven-year high.
The party for junk bonds ended with the fall in crude prices. After rising to 2.8% last year, Standard & Poor's forecasts that the default rate on U.S. speculative-grade corporate bonds will extend to 3.9% by the end of the year, making corporate junk bonds one of the riskiest to own.
Through last month, the number of global defaults this year stood at 72, with more than 66% coming from the U.S.
4. Kohl's (KSS)
Family-oriented department store chain Kohl's is likely to see a significant drop in earnings for the fiscal year ending in January.
But that isn't even the worst news. Weak quarterly results, soft guidance and alarming signs that American consumers are tightening their purse strings are bad signs for old-line retailers such as Kohl's.
This department store has suffered from online competition and discount chains, and the turnaround plan to reverse the damage can take years to bear fruit. This is why Kohl's dividends don't seem well supported by finances and business drifts.
The market still affords enticing options putting money to work, but Kohl's isn't one of them.
5. Morgan Stanley (MS)
Banks naturally suffered in the wake of the Brexit, and Morgan Stanley was among the hardest hit.
According to a report by investment bank Keefe Bruyette & Woods, over the next two years, Morgan Stanley will suffer a drop in earnings per share, with this year's 5.6% decline extending to 9% in 2017.
The biggest reason for this drop will be the depressed capital market activity that the Brexit vote will likely leave in its wake. Also, Morgan Stanley will also have to bear relocation costs for its roughly 5,000 employees based in the U.K.
Outsize gains can still be found, even in this volatile market, so Morgan Stanley isn't worth the risk.
6. UBS  (UBS)
At a price-book ratio of 0.85, Swiss lender UBS is still not the ideal buy, given that it promises little in the way of top line or earnings growth in the next five years. There could be negative surprises in store such as unpalatable developments related to tax evasion and more fines in lawsuits involving UBS' role in mortgage-backed securities.
Also, Swiss banks such as UBS face a specific problem after the Brexit vote, as they have set up massive operations in London. 
7. Valeant Pharmaceuticals (VRX)
This company is the black sheep of the pharma industry. Down 80% already this year, JPMorgan Chase recently downgraded the stock.
Valeant Pharmaceuticals has been mulling steps to cut its mountain of debt and also ramp up growth, but so far nothing has materialized. The embattled drug maker's problems with dermatology drugs seem far from over, while the $1.1 billion sales guidance cut has inspired little confidence.
Unless prized assets are sold, the company's ability to generate profits and stay solvent will always be questioned. Moreover, new Chief Executive Joseph Papa hasn't done enough so far to restore faith in the company.
Bond Exchange-Traded Funds

1. iShares iBoxx $ High Yield Corporate Bond ETF (HYG)
This ETF is the largest junk bond fund that invests in domestic high-yield bonds. Half this ETF's assets comprise the communications and consumer goods sectors.
Although the ETF's price has recovered from the start of the year, losses still stand at about 6.5% on a one-year basis. The yield of 5.7% isn't enough to make up for the one-year total market return of -2.67%, compared with a 2.99% rise growth for the benchmark.
2. SPDR Barclays High Yield Bond ETF (JNK)
This is the second-largest high-yield bond fund, and it even has some exposure to speculative securities rated CCC or lower. The yield may stand at 6.3%, but the 9% price cut is fairly deep, even after the slight recovery.
In terms of one-year trailing returns, it is even worse than the iShares iBoxx $ High Yield Corporate Bond ETF, dropping 4.91% against the same benchmark. This ETF's three-year alpha against standard index (-1.16) is more than double that of iShares (-0.47).
Bonds

1. Avon Products (AVP)
After Fitch's credit rating downgrade last year on the company's Issuer Default Rating (IDR) to B+ and senior unsecured notes to 'B+/RR4' from 'BB-/RR4, the S&P was the latest to cut its corporate credit rating to 'B' from 'B+', citing expectations of debt levels to rise once Avon completes the sale of its North American business to Cerberus Capital Management.
The negative cash flow and inability to manage operational efficiency indicate the downturn trend in the personal product manufacture's performance, which could soon lead the bonds to fall further. The yields on bonds maturing in 2020 and 2023 are more than 10%, compared with the 2018 bond at 6.2% and 2019 bond at 8.2%.
Yields and prices generally move in opposite directions, making long-term Avon bonds a high-risk investment, and short- term investments are an expensive option.
2. Chesapeake Energy (CHK)
As if the more than 60% yearly drop in share prices wasn't enough, Chesapeake Energy has to deal with S&P's latest downgrade on its debt by three levels to 'selective default' from 'CCC.' S&P has also cut ratings on Chesapeake Energy's senior notes due in 2018, 2019, 2021 and 2022 from 'CC' to 'D,' representing a general default.
3. Commonwealth of Puerto Rico Cofina bonds

Last June, Reuters reported that Fitch, Moody's and S&P had all downgraded their ratings on the government of Puerto Rico's debt, as the commonwealth said that it needed a period of bankruptcy to restructure its debt.
A year later, the story is no different as the government is teetering on the brink of its biggest default ever.
Moody's also said that additional lawsuits might further delay Puerto Rico's economic recovery.
4. Sears Holdings (SHLD) bonds
The entire retail industry is suffering, due to competition from online giant Amazon and a shift in consumer preference to cars and electronics from apparel, but Sears Holdings is in a particularly tough spot. Despite a $500 million committed secured loan facility maturing in July 2017 and a $750 million term loan, the company's liquidity remains a concern.
Sears Holdings continues to monetize its asset base by shutting stores, as the company hasn't been able to generate operating profit for at least four years. Given the credit downgrades from Moody's and zero confidence from Fitch, stay away from the company's bonds with unrealistic rising yields.
5. Sprint (S) bonds
Wireless carrier Sprint has a mountain of debt coming due between 2016 and 2020.
Sprint hasn't registered a profit in a decade and may run out of funds in 18 to 24 months, according to Moody's, which downgraded it two notches to B3 last September.
The enthusiasm last witnessed for Sprint's 2013 sale of junk-rated bonds worth $6.5 billion is far from being replicated. S&P also has cut the credit ratings for the company's junk-rated debt over the past 12 months, to B3 in September and then to B in February.
---
Post-Brexit anxiety is crushing global markets. For those who would rather avoid stocks, bonds and funds altogether during this period of extraordinary volatility, here is a way to make a guaranteed $67,548 over the next 12 months. In fact, this moneymaking technique is so successful and simple, those who try it might want to give up conventional investing. Click here to learn more.
See full Brexit coverage here.
This article is commentary by an independent contributor. At the time of publication, the author held no positions in the stocks mentioned.