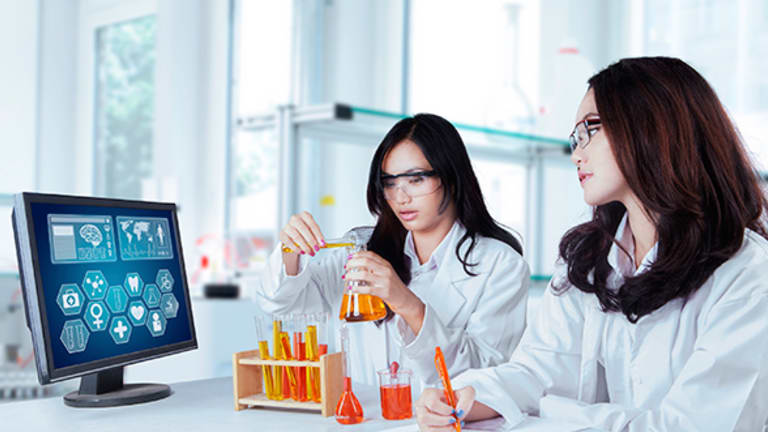 13 Companies to Watch From MIT's Smart 50 List, Including 4 Buys
MIT's Smart 50 list recognizes companies for their combination of innovative technology and effective management, and it includes 13 pharmaceutical and biotech firms this year.
Many investors understandably like to tackle the hottest technology trends and best new ideas.
Pharmaceutical and biotechnology companies offer some of the best options. 
A number of them are developing new therapies that could have a profound impact on the treatment of cancer and other diseases.
The July/August 2016 issue of MIT's Technology Review lists 13 of these companies among its "50 Smartest Companies" report.
The article recognizes companies that best "combine innovative technology with an effective business model."
E-commerce giant Amazon topped the list. 
These companies are developing some of the world's most promising drugs. But they have made strategic decisions about investment in research and development and financing that should allow them to market these products widely.  
The list of 13 includes household names such as Bristol-Myers Squibb (BMY) - Get Report  but also lesser-known companies.
Investors would be wise to consider Bristol-Myers, Spark Therapeutics, T2 Biosystems and 23andMe for their portfolios. 23andMe received a huge round of venture capital funding last fall and is valued at $1 billion.
The upcoming initial public offering next year or in 2018 could be a great investment opportunity.
Here are the 13.
Illumina 
ILMN
(No. 3)

Illumina is the highest-rated health care company on the list at No. 3. That's no surprise. The list is weighted heavily toward companies in the genomics and molecular diagnostics sectors, two areas of strength for Illumina. The San Diego-based company also surfaces as an investor or partner in several other companies further down the list, primarily small-up, earlier stage firms.
Technology Review
cites Illumina's lead in the DNA-sequencing market but also its new venture
Grail
, which is attempting to develop a blood test that would screen for cancer before symptoms appear, using circulating tumor DNA, or ctDNA. Grail's first test, for stage 2 cancers could reach the market as soon as 2019, but meanwhile Illumina's stock has declined this year due to increased competition and cautious capital investment by healthcare providers, and to a lesser extent due to lower earnings stemming from higher R&D expenses to sponsor a number of new projects, including Grail. To capitalize on this idea, investors might be better off waiting two to three years for an IPO from Grail itself, which has a catchy name and some high profile co-investors, including Jeff Bezos of Amazon (#1 on the list) and Bill Gates of Microsoft (#26).
23andMe (Private) (No. 7)
Tech Review includes an in-depth feature on 23andMe in its issue, well-timed to follow the company's resumption of sales of its flagship $199 do-it-yourself genetic test kit late last year after a two-year FDA ban. With over one million customers, 23andMe is already a leader in the "big data" era of the healthcare field. But the real long-term value for 23andMe beyond kit sales may arise from deals with biotech firms, including Genentech, to mine these genetic profiles for insight into therapeutic drugs. After completing a $115 million financing (led by Fidelity) last fall with a $1 billion valuation, 23andMe is most likely in no hurry to float an IPO, but investors who can wait until 2017 or perhaps 2018 when the company decides to go public might see an exciting initial offering for this healthcare unicorn.
Spark Therapeutics (ONCE) - Get Report   (No. 9)
This company, the top biotech on the list, was chosen for its gene therapy products, the most advanced of which is SPK-RPE65, which is in Phase 3 clinical trials for inherited retinal disease, which progressively causes blindness in patients. Spark is preparing regulatory filings for this gene therapy in both the U.S. and European Union over the next six to nine months, and these shares could get an initial boost when the package is complete and filed, and an even bigger boost of the drug can obtain approval, perhaps by 2017 or 2018. Near-term, Spark shares have been relatively flat following an initial bounce after a January 2015 IPO. Longer-term, Spark is working on a deep pipeline of gene therapy products, including additional products in ophthalmology, as well as others for hematological and neurodegenerative diseases. Spark's goal is one commercial product, two in late-stage clinical trials, and 10 programs altogether, by 2018.
Cellectis (CLLS) - Get Report  (No. 13)
Well-funded Cellectis caught Tech Review's eye due to its gene-editing technology. Specifically, Cellectis recently enrolled the first patient in its Phase 1 clinical trial for its UCART19 "off the shelf" gene editing T-Cell product in London in pediatric leukemia patients. Cellectis, with headquarters in both Paris and New York, has recently signed up some top-tier development partners including Servier (Private), Pfizer, Thermo Fisher, MD Anderson and Cornell and has enough cash on hand to last through 2018. As a result, near-term share dilution is not an issue with this stock. Cellectis shares have not gained overall this year, though, as new competitors in the CAR-T space have surfaced to challenge the company's 16-year head start. However, more partnership signings for the Company's other oncology gene-editing products or graduation of its pipeline candidates into late-stage clinical trials could get these shares moving upward again.
Enlitic (Private, No. 14)
The ranking of Enlitic, a privately-held artificial intelligence company based in San Francisco, stems largely from its pilot study where radiologists in Australia are using the company's deep-learning software to analyze chest CT images. Why Australia? Because, Capitol Health, the fastest-growing radiology service provider in Australia, led the most recent financing last October for Enlitic. Enlitic and Capitol Health have a signed a partnership for Asia and Australia, but Enlitic must compete in the U.S. and Europe with IBM, which last year spent over $1 billion to acquire Merge Healthcare and fold it into its Watson Health cloud initiative. If Enlitic remains independent of Capitol Health and can make future inroads into the U.S. market, investors may be able to see an IPO in two to three years for this AI pioneer.
Oxford Nanopore Technologies (Private, No. 22)
U.K.-based Oxford Nanopore was chosen for its new handheld DNA sequencer, the stapler-sized MinION. The company recently parted ways with early investor Illumina, and the two are embroiled in a patent litigation battle over nanopore sequencing technology used in the MinION and PromethION, Oxford's upcoming larger-scale sequencer, which is expected to compete with Illumina's HiSeq DNA-sequencing market stalwart. Oxford's most recent, largest capital raise to date was completed one year ago (without Illumina), and another private round may be planned for later this year. If the company can resolve its patent issues with Illumina and successfully launch new products including PromethION and even-tinier SmidgION (about the size of a matchbox), investors might look for an IPO in 2017 or 2018.
Bristol-Myers Squib (BMY) - Get Report (No. 25)
Tech Review cited Bristol-Myers' immunotherapy drug Opdivo and its clinical results against metastatic melanoma and certain forms of lung cancer to explain its "Smart Company" ranking. Opdivo has already posted close to $1 billion in sales (about 6% of the company's total), and it is forecast to reach $4 billion in three to four years, perhaps fueled by approvals in additional oncology indications. For example, the drug may be effective in treating renal cell carcinoma, a form of kidney cancer. Oncology drugs make up only 25% of Bristol-Myers' sales, but if Opdivo can continue its sales success this could reach 40%-50%. That could forestall the impact of lower pricing, new generics created by competitors and potential biosimilar drugs which are creeping up on older drugs, particularly outside of oncology. Bristol-Myers is notable as the only Big Pharma on the Smart Company list.
Intrexon/Oxitech (XON) - Get Report (No. 31)
This company was cited at #31 by Tech Review specifically for its U.K.-based Oxitech division, which has produced genetically-engineered mosquitoes to reduce the spread of tropical maladies such as Dengue Fever and the Zika virus. The company's Aedes aegypti  has been combatting mosquitoes (against Dengue Fever) in Brazil, but opposition to a similar test program in the Florida Keys has cropped up. Intrexon, which also holds assets in more traditional areas such as synthetic biologics, purchased Oxitec last year for cash and stock, and has plenty of financial resources to help build out Oxitec's business, which has been hampered so far by difficulties in obtaining funding from tropics-based governments. Oxitec faces some competition, including a program funded by the Gates Foundation, but if the company can overcome program adoption fears in the U.S. and other developed areas and grow its business, investors could see a spin-off IPO in two to three years' time.
T2 Biosystems  (TTOO) - Get Report  (No. 34)
This company, long a player in the table-top molecular diagnostics market, was selected for its new T2Bacteria panel, an early-detection test for sepsis, a life-threatening infection often caught during hospital stays. T2 has struggled this year to grow revenues quickly enough to overcome rising costs. As T2 watches its spending more closely, it has pushed back its target for completing the innovative T2Bacteria panel development and filing for FDA approval until mid-year 2017. If ultimately approved, though, the rapid pre-sepsis test could save hospitals and insurers a bundle of money by reducing inpatient hospital stays, providing T2 with its first real breakthrough system. T2 shares are presently hover around all-time lows, and represent the only real value proposition in this year's "Smart company" stock group, so long-term oriented investors might want to look more closely at these shares in the near-term.
Editas Medicine (EDIT) - Get Report (No. 35)
This company's listing stems from its gene repair program, specifically the company's gene editing CRISPR/Cas9 and TALENs technologies. Although early stage, Editas has outlined a broad range of tough-to-solve clinical targets for its R&D programs, including cystic foundation through a new partnership with the Cystic Fibrosis Foundation and cancer, through a collaboration with Juno Therapeutics for engineered T cells. Editas also has programs for Duchenne muscular dystrophy, Leber congenital amaurosis 10, and hematopoietic stem/progenitor cells. Editas is well-funded through a recent IPO and earlier venture financing, and although the company has not needed to sign an industry partner to date, management team members have prior experience in obtaining buy-outs from large pharmaceutical firms, including Bristol-Myers and Celgene. Interested investors should watch this company for news of additional partnerships and scientific presentations and publications as initial clinical trials may be several years away.
Retrosense Therapeutics (Private, No. 37)
Privately held Retrosense was cited by Tech Review for its gene therapy application in optogenetics, or a process of conferring light sensitivity to cells that were not previously light sensitive. In March, the Ann Arbour, Mich.-based company initiated enrollment in a Phase 1/2 clinical trial for its lead compound RST-001 in patients with Retinitis Pigmentosa, a degenerative condition leading to vision loss and blindness. With favorable long-term demographics, Retrosense has been able to raise capital with a number of venture funds and Midwest economic development groups, and at least one specialty pharma, Santen of Japan. However, when Retrosense enters larger, more expensive later-stage clinical trials additional capital will be needed, and the company may pursue an IPO, perhaps in 2017 or 2018.
Veritas Genetics (Private, No. 40)
Also privately held, Veritas Genetics is selling its myGenome low-cost genome test directly to consumers, including breast-cancer related BRCA tests, and in 2015 breached the $1,000 (price) whole genome barrier. Veritas's early partner in development was Eli Lilly through its Lilly Asia ventures group, and accordingly Veritas, recently opened a China base of operations, to accompany its facilities in Massachusetts. If Lilly doesn't purchase this company, look for an IPO in the next year or so from Veritas to help fund expansion of its production and service capabilities in the U.S. and internationally.
Seven Bridges (Private, No. 42)
Seven Bridges has developed a cloud-based bioinformatics discovery platform with a functional suite of graph genome tools. Seven Bridges has already contributed to several high-profile large-scale genomic projects in its brief history, including the U.S. Veteran's Administration Million Veterans Program and a Pediatric Cancer genomic cloud data base. The company completed a $45 million venture-led financing earlier this year, so Seven Bridges may be set for funding for the near term. That said, as it adds new contracts, especially in large international markets such as China, investors may be able to climb aboard an IPO for Seven Bridges in 2018 or 2019.
The smart company list from MIT's Technology Review offers investment options in a number of categories, including conservative, high-dividend stocks, high-growth biotechs and a venture-backed unicorn. Investors may want to purchase shares of the following companies now, or in one case, quickly after the IPO:
Bristol-Myers Squibb for more conservative, yield-seeking investors due to a low beta and solid dividend yield near 2%.
Spark Therapeutics for more aggressive investors, due to the Company's late stage clinical trial programs and deep pipeline.
T2 Biosystems for value-oriented investors looking for stocks nearing new lows but capable of a bounce-back - in the case of T2 as its new sepsis diagnosis panel is developed and launched, if approved; and finally
23andMe for unicorn-chasing investors, as this high-profile consumer-oriented company cashes in on a large customer base and growing number of partnerships.
This article is commentary by an independent contributor. At the time of publication, the author held long positions in IBM and Pfizer.