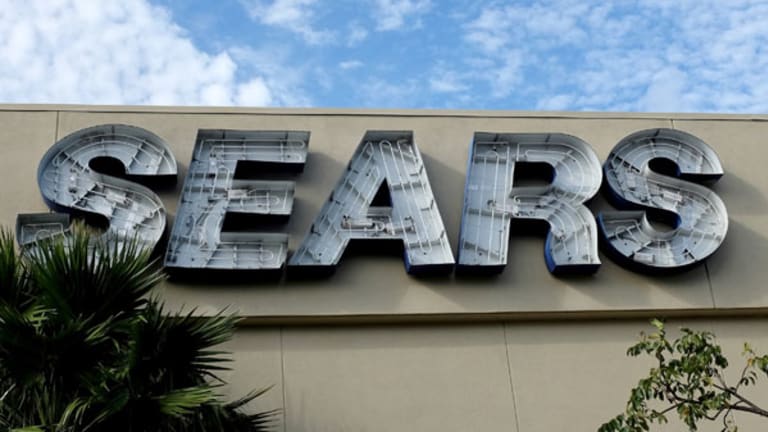 12 Photos That Show How Macy's Is Dismantling Sears
Sears has neglected to invest in its namesake stores through the years. Macy's has gone the complete opposite route. Brian Sozzi shows what's now happening in each of the stores.
NEW YORK (TheStreet) -- There are generally two constants in malls across the U.S. -- food courts and Macy's (M) - Get Macy's Inc Report  and Sears (SHLD)  as anchor tenants.
Although the iconic department stores still sell affordable clothing and accessories, Macy's investments in online infrastructure and the in-store shopping experience are widening its competitive lead relative to a Sears domestic business that is starving for more attention from its executives.
Macy's and Sears serve as anchor retailers in 55.5% of Simon Property's (SPG) - Get Simon Property Group, Inc. Report  malls across the country, per company Securities and Exchange Commission filings. The tallies are only marginally lower at mall sites owned by Macerich (MAC) - Get Macerich Company Report  and General Growth Partners (GGP) , amounting to 40.7% and 51%, respectively. The presence of both stores in malls highlights the possible effect of competition between them.
In terms of investment, Macy's is showing a greater commitment to being a prominent player in the next generation of retailing, revolving around mobile and same-day delivery of merchandise as well as upgraded physical store shopping environments.
According to Bloomberg data, 1.16% of annual revenue at the Sears division in fiscal year 2014 was devoted to capital expenditures, up slightly from 1.01% in fiscal year 2013. Neither Bloomberg nor the company breaks out capital expenditures for Sears U.S. and Sears Canada.
Macy's allocated 2.17% of its fiscal year 2014 revenue to capital expenditures, a decline from 2.51% in fiscal year 2013. Over the past five years, Macy's capital expenditures as a percentage of revenue has averaged 1.93% compared to 1.06% for the Sears division.
Financial results from each company may already be reflecting the disparity in investment allocation. Macy's has realized five straight years of sales growth, per Bloomberg. From fiscal year 2014 to fiscal year 2009, Macy's added 250 basis points to its earnings before interest, taxes, depreciation and amortization (EBITDA) margin with the rate reaching 13.6% last fiscal year. Sears has been in a financial tailspin that has triggered widespread store closures as a means to raise cash -- domestic Sears same-store sales have declined for nine years in a row. The number of Sears domestic stores was 828 in 2013, down from 2,205 in 2011, as noted in the company's 2013 annual report.
Watch More: Fun Facts You Should Know About Macy's History
Where Macy's investments go beyond its highly publicized push to satisfy online orders with merchandise from within its brick and mortar stores. "We even upgraded the cash registers", shared a Macy's spokesman in a recent tour of the flagship Macy's Herald Square in New York City, which is poised to finish an extensive multi-year remodeling by the middle of 2015. As detailed in Macy's 2013 annual report, "large format digital displays are giving our stores renewed energy" and "increasingly our associates are using tablets and other handheld devices for selling in departments such as fine jewelry and shoes."
To its credit, Sears has been channeling its investments into the concept of omnichannel retailing, or as the company refers to it, "integrated retailing." Earlier in the year, Sears launched a new service that allows loyalty members to select curbside pickup for goods ordered online. The company has also begun rolling out tablet devices for use by store associates in 2012. "Capital expenditures during both 2013 and 2012 primarily included investments in online and mobile shopping capabilities, enhancements to the Shop Your Way platform, information technology infrastructure and store maintenance", said the company in its latest annual report.
However, the level of transformation inside a Macy's store outpaces Sears, obvious while visiting numerous locations. The self-produced photos below explain the story, and offer insight into why Sears should be concerned by rival Macy's great re-imagination of the department store.
Macy's has added more expressive mannequins in its apparel departments to show how merchandise could be worn.  Sears continues to use metal mannequin presentations in its stores.
New shops from key, household brands that include Michael Kors (KORS)  and Finish Line (FINL) are being installed at Macy's. That has generally not been the case at Sears.
Below is a new register at Macy's; beneath that is a typical register at Sears.
Macy's has extended its investments to refreshing the exterior facades at new and remodeled locations, with design cues that include more inviting white paint and windows that give a person a glimpse into the stores.  Sears stores continue to pay homage to retailing in year's past -- little attention shown to immediately engaging the customer in a positive way in the parking lot.
At the time of publication, the author held no positions in any of the stocks mentioned.
This article is commentary by an independent contributor, separate from TheStreet's regular news coverage.