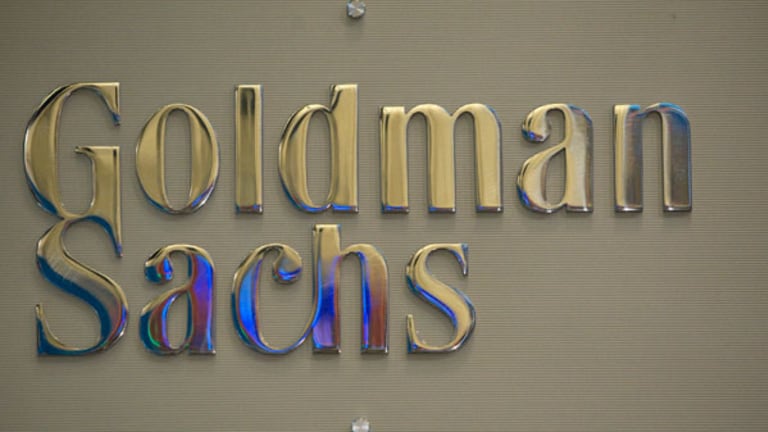 10 Ways to Crack Wall Street In 2014
There are a rising number of ways to gain entry to Wall Street's most exclusive investment vehicles. Here are 10 to watch in 2014.
NEW YORK (TheStreet) - Hedge funds and private equity shops have been expanding their horizons beyond the confines of America's wealthiest investors. In fact, giants of the PE and hedge fund industry have quietly been investing in a push to gain access to ordinary 401k plans and mutual fund investments.
Firms as prominent as Blackstone Group (BX) - Get Blackstone Inc. Report, Goldman Sachs Asset Management (GS) - Get Goldman Sachs Group, Inc. Report, KKR (KKR) - Get KKR & Co. Inc. Report, AQR Capital Management, Avenue Capital Management and The Carlyle Group (CG) - Get Carlyle Group Inc Report have begun to launch investment vehicles that give ordinary, non-accredited investors access to some of the most exclusive investment styles, whether they be direct investments in hedge funds, tracking vehicles for PE-returns, or direct ownership of a company's publicly traded units.
The painful lessons of the financial crisis have tempered the interest of ordinary investors in complex investments such as alternatives. If investors are moving back into stock markets, they are more than likely to put their money into a low-cost index fund.
A five-year bull market since alternative investment funds entered the mutual fund space has also made it hard for hedge funds to keep pace with the S&P 500 Index. Being hedged isn't so fun when the S&P rises nearly 30%. Still, alternative mutual funds are growing at a fast clip from a small base.
"The growth rate of these categories is pretty high," Josh Charney, an alternatives analyst at Morningstar, said in a telephone interview. Active long/short equity mutual funds grew their assets 70% in 2013, while multi-alternative fund assets rose 55%, according to Charney.
This year could be a big test for alternative mutual funds, especially if the S&P 500 and global stock markets stall.
"People, although the market is going straight up, are worried," Charney said. "I would consider it an extremely positive development that people are looking to get to these investments over the long term," he added.
Most asset inflows to alternative mutual funds have come from institutional investors and investment accounts managed by financial advisors. "For good reasons, I don't think that the retail audience is diving into these [funds]," Charney said.
Fees, Fees, Fees
Still, one sticking point is the fees that ordinary investors have to pay to access alternative funds.
Charney said fees have to come down across the board, and he expects they will. Expense ratios of 2.5% are way too high, he added, noting that fees of such magnitude take a big bite out of returns when an alternative fund is only targeting gross returns in the mid-to-high-single digits.
As such, Morningstar only is positive of three of the 15 multi-alternative mutual funds it covers.
Here is a look at 10 ways to get exposure to Wall Street's bright minds in 2014:
Buffett's Kingdom for a Smidgen
If investors want to gain access to Wall Street intrigue and big deals at a low cost, there's no better alternative than Berkshire Hathaway (BRK.B) - Get Berkshire Hathaway Inc. Class B Report.
Class A shares in the insurance and investing conglomerate currently trade at $187,400, a price out of most investors' reach. However, Berkshire split its stock, creating Class B shares in 2010 as it worked to buy railroad BNSF in the company's biggest-ever acquisition.
Berkshire Class B shares currently trade at $125.12 apiece, meaning even the smallest investment accounts can now load up on Berkshire. In fact, B-shares are a bit of a value for those who wish to join the Berkshire cult. Class A and Class B shareholders both get invites to Berkshire's annual shareholder meeting, a weekend event that is known as the Woodstock of capitalism.
In 2013, TheStreetprofiled a new generation of Class B shareholders, many of whom had bought shares for the ability to attend Berkshire's annual meeting.
Capitalist Woodstock's aside, Berkshire is one of the savviest dealmakers in Corporate America. Warren Buffett has access to deals that are unavailable to even the ritziest hedge funds and private equity firms. Berkshire also doesn't charge investors a fee for its access.
That contrasts to PE and hedge fund giants that charge limited partners fees of 2% for assets under management and 20% of certain investment hurdles. Many alternative mutual funds are a way for investors to avoid the latter 20% fee, however, they come with high expense ratios and oftentimes carry a sales charge of 5% and above.

Quinpario Has a Compelling Formula
Quinpario Acquisition Corp. (QPAC) came on the radar earlier in March as the special purpose acquisition company (SPAC) floated by Quinpario Partners agreed to buy automotive parts specialist Jason Inc. for $538.7 million in cash.
SPAC's generally have a mixed track record after any failed to deliver in the years before the financial crisis, however, Quinpario appears to be a compelling way to access specialty manufacturing industries that have reaped giant fortunes on the private equity industry.
Quinpario is no different. Jeffrey Quinn, chairman of Quinpario's SPAC and its investment fund, is a turnaround expert with a strong track-record in the chemical and industrial sectors.
Prior to Quinpario, Quinn orchestrated a turnaround of Solutia, a commodity chemical producer with an unmanageable balance sheet and an uncompetitive legacy cost structure. In eight years' time, Quinn and his management team worked through Solutia's various issues. In 2012, the company was sold to Eastman Chemical (EMN) - Get Eastman Chemical Company Report for an enterprise value of $4.7 billion, a tremendous coup for Quinn and his management team.
After the deal, Quinn and a handful of Solutia executives who orchestrated the company's turnaround formed Quinpario Partners, a private investment firm that has targeted turnarounds at small-to-mid-cap industrial and manufacturing companies. So far, Quinpario Partners has focused its efforts on Zoltek Companies, Toray Industries and Ferro Corp.
In August 2013, Quinpario raised $172.5 million to IPO a SPAC vehicle on public stock markets. Jason Inc. is the SPAC's first deal -- others are likely.
Although Quinpario Acquisition Corp. is buying Jason for $538, the company is financing the transaction. Quinpario took a $40 million revolver, a $300 million first-lien facility and a $120 million second lien facility. The deal valued Jason at 6.75 times Jason Inc.'s pro-forma 2013 EBITDA, TheDealreported.
That financing may allow Quinpario's SPAC to continue to pursue deals. Meanwhile, the price appears to be reasonable.
Chemicals deals like Apollo's takeover of LyondellBasell (LYB) - Get LyondellBasell Industries NV Report, Blackstone's work in restructuring Eastman Kodak (KODK) - Get Eastman Kodak Company Report signal that the manufacturing and industrial sector is one of the areas where PE firms have had particular success.
Watch what Quinpario does in coming years. Other SPAC's such as Martin Franklin-backed Platform Specialty Products (PAH) - Get Element Solutions, Inc. Report are other vehicles that have cut significant acquisitions in 2014.
2014 Could be KKR's Year
The publicly traded shares of KKR (KKR) - Get KKR & Co. Inc. Report could have their year, after competitors Apollo Global Management (APO) - Get Apollo Global Management Inc. Report and The Blackstone Group (BX) - Get Blackstone Inc. Report performed strongly in 2013 as both firms began to successfully many of their biggest pre-crisis investments.
That comes even as the company may see its biggest buyout investment, Energy Future Holdings, enter bankruptcy in 2014. Energy Future's troubles aside, one stock analyst believes KKR is undervalued and that returns from the firm's flagship 2006 fund may translate to gains for the firm's shareholders.
Oppenheimer analyst Chris Kotowski wrote in a recent report that he believes, despite KKR's "black eye" of a buyout in Energy Future, the firm's other investments in its 2006 flagship fund have performed strongly, raising opportunity for public shareholders.
"There are a good many investments in this portfolio that have the ability to appreciate further. We don"t want to put too fine a point on it, but it's pretty easy to see where you could get another 5% or 10% more appreciation from here," Kotowski wrote in a note dated March 6.
Kotowski calculates that if KKR's 2006 fund were liquidated at current prices, it would generate 89 cents in earnings for public shareholders, and notes that KKR's history for conservative investment raises the prospect of additional earnings.
Publicly traded alternative asset managers such as KKR derive their earnings from annual management fees on the assets they manage. The PE firms also generate earnings from the value of residual interests they hold in their funds, which now span private equity, distressed debt and other host of other alternative assets.
Rising assets under management provides shareholders in PE firms with some reliable earnings streams, however, it's the prospect of realized and unrealized gains from fund investments, or so-called 'carry,' that often drives the shares of PE firms.
Over the last 12 months, Blackstone Group and Apollo Management have seen their shares rise over 80% and 40% respectively as both PE firms realize many of their largest investments like Hilton Worldwide and LyondellBasell.
In 2013, Apollo Group accounted for over 10% for the private equity industry's fundraising and investment realization activity, capping a banner year for the Leon Black-led firm.
Oppenheimer's Kotowski now foresees the prospect that 2014 is KKR's year, given many of its yet-to-be realized investments.
Overall, KKR's flagship 2006 fund is marked at an 8.3% internal rate of return, according to Kotowski's calculations, valuing its aggregate investments at $15.1 billion. He suggests those marks could rise 5%-to-10%, generating significant carry for investors.

AQR's Quantitative Strength
Cliff Asness-run AQR Capital Management has been one of the more aggressive entrants into the alternative mutual fund space in recent years, and some of those funds have proven their worth.
Asness, a finance PHD from the University of Chicago, where he studied under Nobel Laureate Eugene Fama, admittedly "feels guilty when trying to beat the market" given his professor's theory that markets are efficient.
Perhaps with a bit of guilt, Asness has some of the most creative alternative mutual fund products. AQR, known as one of the more exclusive hedge funds in the industry, has launched about 20 different mutual funds since entering the space. Those funds include strategies as complex as vehicles that target momentum in small cap stocks, risk parity funds, diversified arbitrage funds and multi-strategy alternative funds.
Some of the funds, such as the Multi-Strategy Alternative Fund, have provided meager returns after fees since their inception.
Others, however, have performed strongly since their inception. AQR's long-short equity fund has provided investors an annualized total return in excess of 10% since inception, while returns from its risk parity fund have been slightly lower.
The firm's AQR Momentum Fund (AMOMX) - Get AQR Large Cap Momentum Style I Report, managed by Asness, has returned 20.44% annually since inception in 2009, a strong return. Class L shares, however, require a minimum investment of $5 million and carry a gross expense ratio of 0.58%. Class N Shares require a minimum investment of $1 million and have a gross expense ratio of 0.82%.
Morningstar analyst Charney said AQR generally does a good job providing investors with diversification opportunities at a low cost. "They tend to offer cheaper products that are pretty well thought out."

Arden's Rare Access
If it is access to hedge funds that land on the front page of The Wall Street Journal, Arden Asset Management's Alternative Strategies Fund [ARDNX] appears to be the best bet among mutual fund products.
The fund, launched in late 2012, currently offers investors direct access to large funds such as CQS Capital Management, D.E. Shaw, Jana Partners, York Capital Management and Babson Capital Management. Other managers in the multi-strategy fund include PEAK6, MatlinPatterson, Chilton Investment, Estlander, and Eclectica Asset Management.
Morningstar gives Arden's Alternative Strategies Fund a bronze star, a rare medal in the multi-strategy universe given the high fees that come with the funds.
Arden charges investors a 1.85% management fee, and has an expense cap of 2.50% for its Class I shares. Since inception, the company's cumulative return has been 5.8% as of November 2013, beating the broader HFRX Absolute Return Index.

Goldman Sachs Multi-Manager Alternatives Fund
In mid-2013, TheStreetreported on the Goldman Sachs Multi-Manager Alternatives Fund Class A Shares [GMAMX] mutual fund, which sought to give ordinary investors direct access to hedge fund investments with an investment of as little as $1,000.
Goldman's alternatives fund, while not a pioneer, appeared to be one of the most compelling alternative funds, given that it promised even small investors direct exposure to hedge funds as prominent as Ares Capital Management, Brigade Capital Management, GAM International, Karsch Capital Management.
To date, the results have been mixed.
Class A shares in Goldman's alternatives fund have posted a negative net return in 2013 when accounting for fees such as an initial 5.5% sales charge. Class C Shares GMAMX, which don't carry a sales charge but contain higher expenses, returned about 3.6% net of fees. On a gross basis, Class A shares returned 5.2% in their 8-months since inception, while Class C shares returned 4.6%.
The S&P 500 by contrast gained nearly 30%. Investors hoping to profit from Wall Street's smartest minds may have been disappointed by the performance of both funds in 2013. The expense ratio of Class A shares is 2.55%, while Class C shares carry an expense ratio of 3.30%, fees that were criticized after TheStreetreported on Goldman's alternatives fund.
However, all wasn't bad for Goldman's fund in 2014. By Goldman's own primary and secondary benchmarks, the BofA Merrill Lynch T-Bill Index and the HFRX Global Hedge Fund Index, the alternatives fund outperformed.
Over $183 million moved into Goldman's multi-strategy alternatives fund, however, only about $26 million of that money moved into Class A or Class C mutual fund shares. Institutional share inflows were greater than $150 million in 2013, filings show.
The performance of GMAMX and GMCMX and a growing number of accessible products designed to give investors exposure to hedge funds, private equity funds and venture capital funds will be an important story to watch in 2014, as the Securities and Exchange Commission eases restrictions on the marketing of alternative assets to non-accredited investors.

Other novel multi-strategy funds to watch are Blackstone Group's Multi-Manager Fund [BXMMX], which launched in mid-2013 and counts managers as prominent as BTG Pactual, Two Sigma Advisors, Cerberus, and Wellington Management as sub-advisors. Other sub-advisors such as Nephila Capital provide access into some of the most arcane parts of Wall Street such as weather trading and reinsurance.
Some funds, such as Guggenheim Partners Multi-Hedge Strategies fund RYMQX, are recovering after sharp losses during the credit crunch.
A recovery in publicly traded private equity firms can also be accessed via PowerShares ETF (PSP) - Get Invesco Global Listed Private Equity ETF Report for listed private equity funds. While the ETF crashed from a pre-crisis peak above $30 a share to the single digits during the crisis, it currently offers an over 13% dividend yield and risen over 7% over the past 12 months.
In terms of credit-focused hedge fund mutual fund vehicles to watch in 2014, Avenue Capital Management's Income Credit Strategies Fund (ACP) - Get Aberdeen Income Credit Strategies Fund Report and Babson Capital Management's Global Short Duration High Yield Fund (BGH) - Get Barings Global Short Duration High Yield Fund Report come to mind.