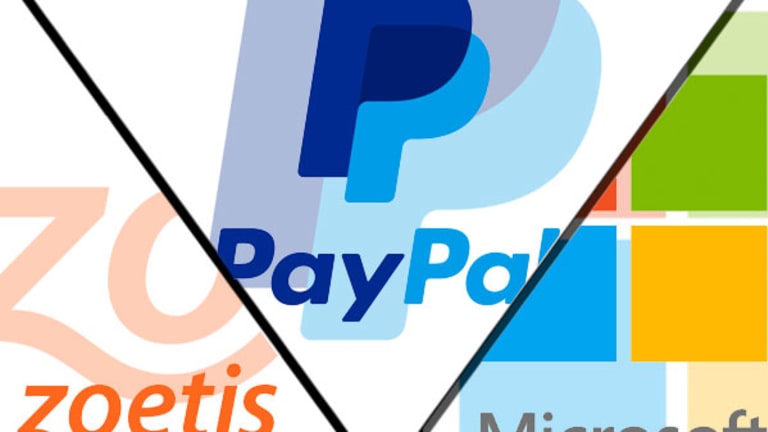 10 Stocks to Buy Now From the World's Best Stock Pickers
Three market-beating mutual fund managers discussed their favorite stocks at the Morningstar Investment Conference this week in Chicago.
Editor's pick: Originally published June 16.
Choosing stocks successfully has been harder than ever over the last few years, but every year, fund research firm Morningstar identifies several "ultimate stock pickers" that manage to consistently beat their benchmarks.
This year, those fund managers were Stephen Yacktman of Yacktman Asset Management, whose AMG Yacktman Service fund (YACKX) - Get AMG Yacktman I Report  has had 10% annualized returns over the last decade; Dennis Lynch of Morgan Stanley Investment Management, whose MS Institutional Growth Fund (MSEGX) - Get MSIF Growth Port A Report  has returned 9.5% annually over the same time frame; and Michael Keller of Brown Brothers Harriman, whose BBH Core Select Fund (BBTEX)  has provided investors with 8.9% annualized returns over the last 10 years.
By contrast, the S&P 500 has returned just 7.4% annually over the same time period.
While each manager takes a very different approach to their investments, there was some overlap in their top picks, particularly among some of the mega-cap technology names such as Oracle (ORCL) - Get Oracle Corporation Report , Amazon (AMZN) - Get Amazon.com, Inc. Report and Alphabet (GOOGL) - Get Alphabet Inc. Class A Report.
But there were also some perhaps lesser-known firms such as Zoetis (ZTS) - Get Zoetis, Inc. Class A Report that tickled their fancies because of the essential nature of their products to their customers' businesses.
The three managers discussed some of their top stock picks at Morningstar's annual investment conference that was held this week in Chicago. Here's a look at 10 of them and the reasons they like them so much, in alphabetical order:
1. 21st Century Fox (FOXA) - Get Fox Corporation Class A Report
At a time when people are cutting their cable cords in large numbers, Yacktman favors 21st Century Fox for its inexpensively-priced stock and its better positioning within the industry. "Fox is fairly insulated from [cord cutting]," Yacktman said. "They do sports, the news -- things that aren't lot of fun to watch on Netflix (NFLX) - Get Netflix, Inc. Report ."
2. Alphabet (GOOGL) - Get Alphabet Inc. Class A Report
Google/Alphabet has been a long-term holding for Lynch because of its online dominance and the seemingly consumer insatiable appetite for all things Internet.
"There were a lot of search engines in the early days but Google leveraged its positioning and...is using [its search dominance] to fund other add-ons," Lynch said.
Of course, there's the Google self-driving car that's being developed, but Lynch points to solid management of businesses such as YouTube that will help the company stay on a growth trajectory. "They're attractively priced given the tailwinds that they have [faced]," he said of Alphabet's trailing price-to-earnings ratio of about 29.
Lynch also believes that Google will be able to capitalize on burgeoning Internet usage through all its advertising. "It still doesn't add up that people spend 55% of their time online vs. 25% of their spending online," he says, referring to how much money spend on products and services online vs. those they get offline. "(Google) is still benefiting [from the fact] that people are spending more time with the Internet." Keller adds: "Very simply, I think it's the best advertising model that ever existed."
Keller is also a big admirer of Google's $5 billion in free cash flow that "will support growth in their core market and better monetization of YouTube," he said. "Their core business is still a tremendous growth runway for them."
Alphabet is a holding in Jim Cramer's Action Alerts PLUS Charitable Trust Portfolio. Want to be alerted before Cramer buys or sells GOOGL? Learn more now.
3. Amazon (AMZN) - Get Amazon.com, Inc. Report
Lynch likes Amazon for its e-commerce dominance, as well as for having an offline, real-world logistics operations that is hard to replicate, since it now has a vast network of physical, distribution centers and warehouses to ship products from. Lynch leans toward buying newer tech companies that he thinks will be disruptors, and Amazon, though its history is longer than some, has done just that. Moreover, Lynch thinks the company's capital allocation is "great" but "sometimes misunderstood" because the investments often come at the expense of near-term profits.
4. Discovery Communications (DISCA) - Get Discovery, Inc. Class A Report
Keller is keen on Discovery for many of the same content-related reasons that Yacktman likes Fox. Discovery's global distribution garners some 3 million viewers daily and he sees that as having nowhere to go but up, considering that its content can easily be dubbed into other languages.
"There's this fear of cord cutting and fear of distribution (issues), but remember that content is the scarce asset in the media space, not bandwidth," he said.
5. Illumina (ILMN) - Get Illumina, Inc. Report
Lynch has been a long-time holder of Illumina, the biotech company known for its gene sequencing, analytics and research. He expects that the firm's startup Grail, funded with $100 million from Bill Gates, Jeff Bezos and others to develop a blood test to spot cancers in the early stages, will be a home run.
"It is the Holy Grail for diagnostic testing and they're well0positioned as the low-cost provider," he said. "They're dominating the research area. The diagnostic market is much bigger than the research market."
6. Microsoft (MSFT) - Get Microsoft Corporation Report
Keller has held Microsoft in his fund in positions of varying sizes for 10 years, and takes umbrage at criticisms of the software giant.
"There's this remarkable cycle of fear and loathing that there's something that's going to destroy this part of Microsoft, or that side of Microsoft, but the underlying growth has happened over time," he said.
Keller points to the company's enterprise software, its software server and its growing database business as strong and sustainable businesses.
"Its cloud business is probably the most unique cloud business in the industry and it's growing at 120%," said Keller, who also considers the Windows Office products to be the go-to program for companies and individuals everywhere.
"Look at the market share," Keller said of Windows Office. "It's still growing and they're adding features and adding value to it for customers and it's doing phenomenally well."
7. Oracle (ORCL) - Get Oracle Corporation Report
"Oracle is the foundation on which customers build their own work codes," said Keller, who's owned shares of it since since 2013 and picked up more in 2014. "When you have that foundational base for someone else, it's hard to replicate."
Yes, the company is facing headwinds from the industry's move to the cloud and away from the software licensing model, but Keller feels Oracle is managing the transition well, with its cloud computing business now growing in the high double-digit percentages.
"There is going to be a switch to cloud-based delivery [of hosted services] and the company certainly is not taking a back seat," Keller said.
8. PayPal (PYPL) - Get PayPal Holdings, Inc. Report
Keller sees PayPal as an onion that has many future layers of value left to peel off, and he believes the firm won't lose its solid place in the payments sector, even with growing competition.
"The market opportunity for payment disruption is absolutely massive -- [it's] in the trillions of dollars," he said. "There's so much market space for so many players and there will be competitors [since] no one is going to leave this market to PayPal."
But 170 million active users make PayPal ubiquitous in the global commerce world. "They have so many shots on goal in terms of financial disruption and the huge sector tailwinds for digital payment," Keller said.
PayPal is a holding in Jim Cramer's Action Alerts PLUS Charitable Trust Portfolio. Want to be alerted before Cramer buys or sells PYPL? Learn more now.
9. Samsung (SSNLF)
Yacktman is a big fan of Samsung's, counting the electronics giant as a double-digit percentage holding in his funds.
"We have been really focusing in on Samsung," he said. "In terms of any valuation metric they give you, it's unbelievably cheap." What's more, Yacktman said if he's going to hold a technology stock, he wants it to be in hardware, rather than a primarily software company like Microsoft.
"Microsoft has a lot of issues in terms of disruptions and we worry about those and would rather be somewhere else that's cheaper or has more of a vision. And Samsung has a vision," Yacktman said.
10. Zoetis  (ZTS) - Get Zoetis, Inc. Class A Report
Health care is a hot spot for investors of all stripes, but Lynch chose animal healthcare giant Zoetis to get into the sector. The reason? He wanted to avoid a raft of issues having to do with regulations, reimbursement, technology, patent protection and products -- that can hamper many health-care companies.
A spinoff of Pfizer (PFE) - Get Pfizer Inc. Report , Zoetis claims it is the world's largest maker of pet and livestock medicines and vaccinations. "They're not exposed to reimbursement risk [or] sudden changes in the political environment that will cost them," Lynch said. "Most of the spending is out-of-pocket spend. There's no drug-specific risk tied to one therapy for the animals."
Keller holds it, too, for all those reasons, as well as its must-have quality. "If you're a rancher or poultry or swine producers, you can't run your business without these products; any infections spread like wild fire," Keller noted. "I love that position when someone uses you in their workflow and can't take you out of it."