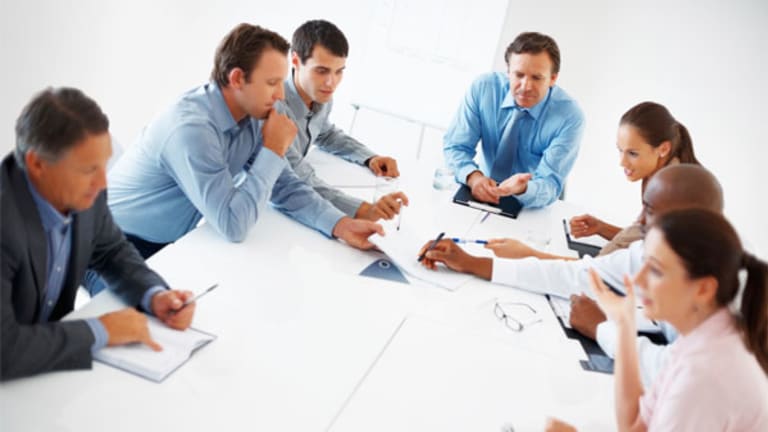 10 Things I Learned From the Jamie Dimon Hearings Today
Nothing of substance about JPMorgan's losses, unfortunately.
NEW YORK (TheStreet) -- Another week, another round of hearings starring JPMorgan (JPM) - Get JPMorgan Chase & Co. Report CEO Jamie Dimon. On June 13, Dimon answered questions at a Senate Banking Committee hearing about the surprise $2 billion trading loss that his "fortress balance sheet" operation announced May 10.
Today, representatives at a less sycophantic House Financial Services hearing put the CEO through another couple hours of questions. And what did we learn? Well, we didn't find out whether that $2 billion loss has gotten any bigger. But we did manage to glean these 10 insights:
10.
Jamie Dimon is a patriot. "The most important thing to me," he told Rep. Scott Garret of New Jersey, "is the United States of America."
9.
When you've got a disastrous federal budget to worry about, there's no reason to waste time worrying about blundering banks. Rep. Jeb Hensarling of Texas spouted off a mini-speech about the "serial trillion-dollar deficits" in the U.S. that are a whole lot bigger than the puny $2 billion lost by JPMorgan. Two billion "seems to pale in comparison," he said, sniffing that he was "somewhat curious" about his colleagues' outrage over JPMorgan's loss.
8.
It's true what they say about silk purses and sows' ears. Georgia "is number one in home foreclosures," said Rep. David Scott of Georgia, and it wasn't easy to tell whether he was bragging or complaining. He did, though, take the opportunity to thank Dimon that JPMorgan didn't foreclose on more homes than it did, with a shout-out for the people who worked at the Chase Home Ownership Center in his state. "Good job," said the congressman.
7.
London is scary. There was much talk about London, because when there's a financial disaster there, "often it comes right back here crashing to our shores," said Gary Gensler, chairman of the U.S. Commodity Futures Trading Commission. Rep. Carolyn Maloney of New York talked about a "disturbing pattern" of London being Ground Zero of trading disasters. Dimon made a case at the Senate hearing last week that stringent regulations in the U.S. would drive business away from the U.S. markets -- the "best" in the world. He never addressed the possibility that they might be "best" because they are subject to more regulation than the competition.
6.
London is more lovable than New York. "I always thought you loved New York," Maloney said to Dimon. "Why all these jobs and all this activity taking place in London?"
5.
The financial markets are sounder. But not quite sound enough. Mary Schapiro, chairman of the Securities and Exchange Commission, said the system was sounder than it was before the financial crisis. What did CFTC's Gensler think? "The American public still isn't safe on these roads."
4.
Oaths are for criminals, not CEOs. Spencer Bachus III, chairman of the financial services committee, was taking some flack from his colleagues because Dimon had not been sworn in. "This is not a criminal proceeding or even a civil proceeding," he said, adding that Dimon had volunteered to testify.
3.
A balance sheet can be a fortress. Or a picket fence. Dimon today and in the past has boasted of his firm's "fortress balance sheet," but what about banks that are scrawny? "Not every institution has a fortress balance sheet," said Massachusetts Democrat Barney Frank. Some have a "picket-fence balance sheet," he said. Or even a "chain link balance sheet." Whatever that means.
2.
America is "a business machine." That's how Dimon describes it, anyway, crowing that the U.S. has "the best capital markets in the world." His idea about regulations is that we need to get regulations "right" so they work for America. Let's hope we don't trash our standards so much that some other country figures out that higher standards can nurture a competitive business machine.
1.
Bankers have rights, too. Dimon was getting some grief that he and his firm had lobbied for exemptions from the Dodd Frank Wall Street Reform Act, but he shot back at Rep. Maxine Waters of California. "Lobbying is a Constitutional right," he said. "We have our right to have our voice heard." And goodness knows that whatever may go wrong for banks and taxpayers, we certainly don't want any of our financial institutions to be giving up any privileges.