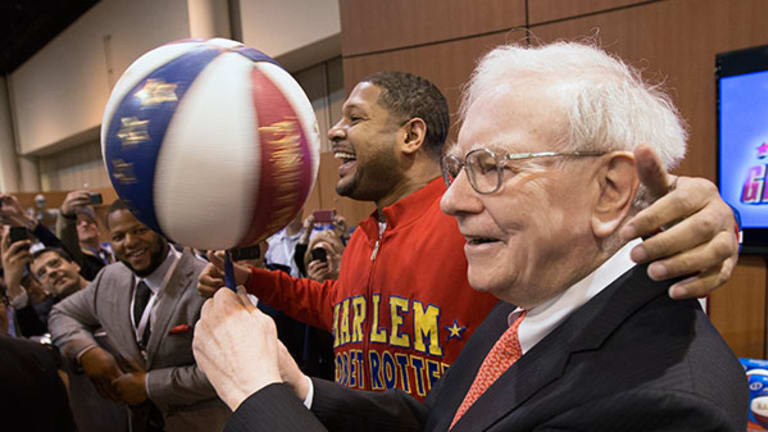 10 Strange Facts About Warren Buffett's Berkshire Hathaway Annual Meeting
Often referred to as the 'Woodstock of Capitalism,' the Berkshire Hathaway annual meeting is one of the most anticipated -- and quirkiest -- events in investing.
NEW YORK (TheStreet) -- The Berkshire Hathaway (BRK.A) - Get Report (BRK.B) - Get Report annual meeting is upon us. Often referred to as the "Woodstock of Capitalism," it is one of the most anticipated -- and quirkiest -- events in investing.
Held in Omaha, Neb., this year's event is especially noteworthy as it marks the completion of Warren Buffett's fifth decade at the helm of Berkshire Hathaway. Themed "50 Years of a Profitable Partnership," the 2015 meeting will be the firm's biggest yet, with over 40,000 people expected to descend on the CenturyLink Center Omaha on Saturday, May 2.
Ahead of the 2015 gathering, here are 10 strange facts you may not have known about Berkshire's annual meeting. 
1. The Meeting Hasn't Always Been Such a Big Deal
For years, it was basically a non-event, just 12 people attended in 1981.
Buffett first put in a plug for the gathering in his 1984 letter to shareholders. He acknowledged that "many annual meetings are a waste of time" but noted that his operation is distinct.
"Berkshire's meetings are a different story," he wrote. "The number of shareholders attending grows a bit each year and we have yet to experience a silly question or an ego-inspired commentary. Instead, we get a wide variety of thoughtful questions about the business. Because the annual meeting is the time and place for these, Charlie and I are happy to answer them all, no matter how long it takes."
Buffett's mention of the meeting spurred 250 of its 3,000 registered shareholders to attend the following year.
2. Candy is Sold by the Pound
At the annual gathering, attendees are encouraged to do their fair share of shopping at stands set up by Berkshire subsidiaries in an adjoining meeting hall. They can pick up products from a number of portfolio companies, including Fruit of the Loom, Kirby Company and The Pampered Chef -- all at steep discounts. Special products, made specifically for the event, are also on sale. 
At the 1994 meeting, Berkshire sold nearly 800 pounds of candy. A decade later, it sold nearly 17 times that amount, 13,440 pounds. Sweets -- specifically, See's Candy -- will be on sale at this year's event as well. But they aren't the only things being hustled. During a nine-hour period at last year's meeting, 1,385 pairs of Justin boots were sold (one pair every 23 seconds), as were 7,276 pairs of Wells Lamont gloves and 10,000 bottles of Heinz ketchup.
3. Buffett Keeps Tabs on Who's Attending
One state had no attendees at Berkshire Hathaway's 1995 meeting, and Buffett was well aware. "Shareholders from 49 states attended our 1995 meeting -- where were you, Vermont?" he wrote in his annual letter to investors.
By 1997, Vermont had gotten its act together, and Buffett celebrated in his annual letter that the event had grown to 7,500 attendees from all 50 states -- as well as 16 countries.
4. Cherry Coke -- Not Coca-Cola -- is the Official Drink
It's no secret Buffett is a big fan of Coca-Cola (KO) - Get Report. He owns 400 million of the company's shares and drinks at least five 12-ounce servings of the beverage every day. Yet it's Cherry Coke that is the official drink of the Berkshire Hathaway Annual Shareholders meeting.
In his 1985 letter to shareholders, the Oracle of Omaha wrote that there would be "only one change" at the 1986 gathering. "After 48 years of allegiance to another soft drink, your Chairman, in an unprecedented display of behavior flexibility, has converted to the new Cherry Coke," he wrote. "Henceforth, it will be the Official Drink of the Berkshire Hathaway Annual Meeting."
5. Buffett Has Moved the Event for Mothers
Berkshire's annual meeting is usually held on the first Saturday in May -- but not always. In 2005, the firm scheduled its gathering for the last Saturday in April to accommodate mothers.
"This year Mother's Day falls on May 8, and it would be unfair to ask the employees of Borsheim's and Gorat's to take care of us at that special time -- so we've moved everything up a week," Buffett wrote in a letter to investors.
6. There's a Newspaper Tossing Contest
At 7:30 a.m. on Saturday, Berkshire Hathaway will host its fourth International Newspaper Tossing Challenge. The target: a Clayton Home porch, located about 35 feet from the throwing line. Shareholders will be able to challenge Warren Buffett to see who gets closest to the doorstep, and anyone who beats him will win a Dilly Bar, one of Dairy Queen's most iconic products. (The ice-cream chain has been a Berkshire company since 1997.)
The Oracle of Omaha tossed about a half a million papers as a newspaper delivery boy growing up, so he is stiff competition. Just ask fellow billionaire Bill Gates, who took part in the contest in 2013. At the time, Gates tweeted that he was "getting better" at the competition.
7. One Question is Off Limits
Each year, Warren Buffett and Charlie Munger field queries from journalists and analysts in a question-and-answer session that lasts for several hours. Fortune's Carol Loomis, CNBC's Becky Quick and the New York Times' Andrew Ross Sorkin will make several inquiries this year, as will analysts from Dowling & Partners, Ruane, Cunniff & Goldfarb and Morningstar. Buffett and Munger will also respond to a handful of lucky shareholders who have won a chance to ask questions themselves, via a raffle.
Essentially any subject is fair game in the Q&A session except one -- what Berkshire Hathaway is buying or selling. Even if the information is public, neither Munger nor Buffett discuss how they arrive at their decisions.
8. Attendees are Advised to Mind Their Manners
The shareholders invited to ask a question during the Q&A period are provided a set of "microphone manners" to follow. They are asked to speak loudly and clearly and to state their names and hometowns. They are requested to avoid asking more than one question or bundling several questions together.
Meeting attendees are also warned about saving seats, and a section of the 2015 Berkshire Hathaway Visitor's Guide is dedicated to the topic: "We have received complains from some shareholders about excessive seat saving in the Arena the morning of the meeting. Reserving a few seats for your group is certainly acceptable, but blocking off entire rows is unfair to the other shareholders. Security will assist in enforcing this policy."
9. Buffett and Munger Will Be Taking It Easy at the 2015 Meeting
The Omaha World-Heraldreported on Monday that Buffett will be less visible at the 2015 Berkshire meeting. His longtime partner, Charlie Munger, has been scaling back his presence for a few years.
This year, Buffett won't be selling jewelry at Borsheim's as he has in the past, nor will he be attending Sunday morning's 5-kilometer downtown run. One Berkshire officer assured the Omaha World-Herald that Buffett is "booked solid from Thursday to Sunday afternoon" with both public and private events. The only opportunity the public will have to see Munger will be on stage at the shareholders meeting on Saturday.
10. Warren Buffett Really Wants Everyone to Go to Dairy Queen
Berkshire Hathaway acquired Dairy Queen for $585 million in 1997. The following year, it sold 4,000 of DQ's ice cream bars at the annual meeting.
Shareholders will surely be able to pick up a Dilly Bar at this Saturday's meeting -- or win one in the newspaper competition against Buffett. But the Oracle of Omaha wants visitors to pay a visit to DQ beyond the event as well. The 2015 Visitors Guide lists 10 local Dairy Queen locations for attendees to stop by while in Omaha.
This article is commentary by an independent contributor. At the time of publication, the author held no positions in the stocks mentioned.