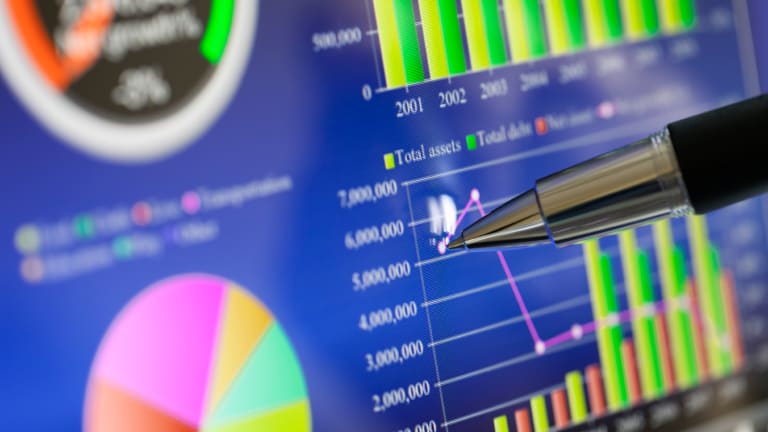 10 Stocks With High Return on Invested Capital -- and Why You Should Care
Here are 10 stocks with high ROIC that you should consider adding to your portfolio -- and why that's a good idea.
NEW YORK (TheStreet) -- In today's environment where technology is driving major business disruption, individual investors should give serious consideration to a company's return on invested capital before they invest in a stock. Companies with higher-than-median ROIC (when viewed in conjunction with their overall capital-expenditure and operating-expenditure strategy) will deliver better returns.
Here is a list of stocks with better-than-median ROIC that you should consider adding to your portfolio:
1. Virgin America (VA) : 128.96% ROIC
2. Gilead Sciences (GILD) - Get Free Report : 95.97% ROIC
3. Marriott International (MAR) - Get Free Report : 94.37% ROIC
4. HD Supply Holdings (HDS) - Get Free Report : 58.12% ROIC
5. United Continental Holdings (UAL) - Get Free Report : 56.25% ROIC
6. NXP Semiconductors (NXPI) - Get Free Report : 39.72% ROIC
7. Brinker International (EAT) - Get Free Report : 29.50% ROIC
8. Amira Nature Foods (ANFI) - Get Free Report : 23.67% ROIC
9. American Axle & Manufacturing (AXL) - Get Free Report : 21.18% ROIC
10. HCA Holdings (HCA) - Get Free Report : 19.04% ROIC
Here is a chart with more information on each stock: 
Now let's look at why stocks with higher ROIC provide better returns.
ROIC is net operating profit minus taxes minus dividends divided by invested capital:
ROIC is a measure of how much cash a company gets back for each dollar it invests in its business. ROIC is a much better predictor of company performance than either return on assets or return on equity. In ROA and ROE, the key metric is net income. Net income often has nothing to do with the profitability of a company. Significant expenses are not included in net income such as interest income, discontinued operations, minority interest, etc. which can make a company look profitable when it is not. Also, ROA measures how much net income a company generates for each dollar of assets on its balance sheet. The problem with using this metric is that companies can carry a lot of assets that have nothing to do with their operations, so ROA isn't always an accurate measure of profitability.
ROE has similar limitations as ROA. ROE is a measure of company profit compared to shareholder equity. Although this might seem a reasonable metric, many companies use financial leverage to raise ROE. Companies often increase debt levels to repurchase shares, thereby increasing ROE. Using this financial leverage to affect ROE does not accurately reflect a company's profitability, returns or long-term prospects.
Net profit margin is another metric that does not accurately reflect investor returns. It may reflect how productive a company is with customer revenue. However, investors need to be concerned with the return on investors' dollars, not customers' dollars. At the end of the day, net margin does not take into consideration other key fundamentals of the company. Companies can and do push cash into operations and processes that positively affect margin, but lower the company's overall profitability. That is not sustainable.
A high ROIC rewards companies that are able to produce the most net operating profit with the least amount of invested capital. Why is this important in today's environment? Technology is disrupting businesses. The convergence of several technologies including cloud computing, software as a service and mobility are disrupting many industry sectors. Amazon (AMZN) - Get Free Report disrupted the book publishing industry, just as Apple (AAPL) - Get Free Report did to the music industry and Sabre's (SABR) - Get Free ReportTravelocity did to the travel industry. Another even more massive round of business disruption is taking place. Examples abound. Uber is disrupting the taxi industry without owning a single vehicle. Successful travel accommodation provider Airbnb owns no real estate.
ROIC is no longer solely a financial metric. It is a leading indicator of whether a company has adopted a strategy to act and react to this environment. For companies to survive and thrive, they must have a continual-transformation operating model. In this model, necessary but nonstrategic business activities and processes are shifted to an ecosystem of partners that provide these services on a consumption basis. These are operating expenses. Capital expenditures are reserved to support only the company's absolute core competency. A company under this model has extreme agility and flexibility. it can enter and exit markets and geographies at will. It can shift from a wholesale or retail strategy to a direct-to-consumer strategy.
In many older companies, more capital assets are needed to generate the same profit as new companies. Investors need to look at the ROIC metric and say to an old company, "Why are you tying up your money or (my money) in all these assets? You're tying up money in assets that aren't related to your core competency, and you're lowering your ROIC. You could perform the same business function with an ecosystem of providers on a consumption model and use the money you would have tied up in capital assets for innovation, acquisitions, or even dividends back to me!"
In my personal stock portfolio, I look at how companies are generating cash flow and on what level of fixed assets. I look very specifically at their return on invested capital relative to their trailing and forward-looking net operating profit. I look at the companies that, in my opinion, are concentrating on their core competencies. If their ROIC is going up, then this is a company that is concentrating solely on its core competency and shedding its non-core competency assets. The company gets it. It is preparing for the future. I personally only invest in companies with a fanatical emphasis on their core competency, a robust ecosystem of partners handling their non-core activities, and a growing cash flow on a low asset base. An above average ROIC that is continuing to improve is paramount.
Looking at a company's ROIC, continual transformation operating model and other attributes such as barriers to entry, large market share, low-cost production, corporate culture, patents, or high customer switching costs will indicate whether the company has surrounded itself with an "economic moat." Economic moat is a term coined by investor Warren Buffett and is defined as the competitive advantage that one company has over other companies in the same industry. A consistently high ROIC can indicate a company has a clear competitive advantage in the marketplace.
When you see a company with an above median ROIC, a continual transformation operating model and economic moat; grab it. It will give you returns above the major indices. 
Scott Stawski is author of Inflection Point: How the Convergence of Cloud, Mobility, Apps, and Data Will Shape the Future of Business.
This article is commentary by an independent contributor. At the time of publication, the author held no positions in the stocks mentioned.