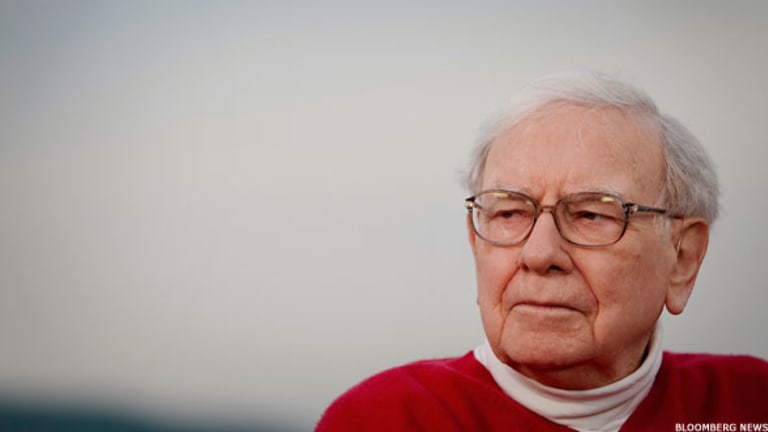 Publish date:
10 Stocks That Big Investors Like Buffett and Soros Are Buying -- Should You, Too?
When investment pros like Warren Buffett, George Soros and Leon Cooperman put money into a company, it's worth noting -- especially when they do so together.
When investment pros like Warren Buffett, George Soros and Leon Cooperman put money into a company, it's worth noting -- especially when they do so together.
NEW YORK (TheStreet) -- When investment pros such as Warren Buffett, George Soros and Leon Cooperman put their money behind a company, it's worth noting -- especially when they do it together.
Of course, Wall Street's best and brightest aren't always in agreement, and when they're not, things can get pretty heated. Take, for example, Bill Ackman and Carl Icahn's epic showdown over Herbalife (HLF) - Get Herbalife Nutrition Ltd. Report or Dan Loeb's sharp criticism of Warren Buffett.
And on a less confrontational front, it is very common for investment pros to move in opposite directions on stocks. While George Soros increased his stake in Alibaba (BABA) - Get Alibaba Group Holding Ltd. Sponsored ADR Report in the first quarter of 2015, John Paulson and Dan Loeb cashed out entirely. Andreas Halvorsen sold out of Visa (V) - Get Visa Inc. Class A Report during the first three months of the year, while fellow "Tiger Cub" Chase Coleman more than quadrupled his holdings.
There are, however, cases where some of the biggest names in hedge funds and investing move in the same direction and buy together. A positive indicator? Perhaps, and at the very least worth looking into.
With that in mind, here are 10 stocks investment pros have been buying together lately.
21st Century Fox
Warren Buffett picked up a stake in 21st Century Fox (FOXA) - Get Fox Corporation Class A Report in late 2014, and in 2015, he has continued to increase his position and now owns over 6.2 million shares.
During the first quarter of the year, Leon Cooperman joined the Oracle of Omaha in betting on FOXA with the purchase of 2.6 million shares, and Chase Coleman's Tiger Global maintained its position of 16.8 million shares.
On June 11, news broke that Rupert Murdoch is preparing to step down as CEO of 21st Century Fox and hand over the reins to his sons, James and Lachlan. The company confirmed Tuesday that James will succeed his father as chief executive.
One interesting fact about how Murdoch's exit will affect Buffett: Once Murdoch steps down, Buffett will increase his lead as the oldest CEO in the S&P 500.
AIG
Andreas Halvorsen's biggest new buy of the first quarter of 2015 was AIG (AIG) - Get American International Group, Inc. Report, of which he picked up 8.4 million shares valued at upwards of $460 million. Fellow hedge funder John Paulson picked up an even bigger stake in the insurance company, purchasing 14.6 million shares. Larry Robbins increased his position to 6.5 million shares, and Dan Loeb left his holdings untouched at 3.5 million shares.
In other words, AIG is pretty popular among Wall Street pros.
AIG made headlines Monday when a federal judge ruled that the U.S. acted beyond the bounds of its authority in its 2008 bailout of the company; however, the judge did not award any damages to former AIG chief executive, Hank Greenberg, who sought to win at least $25 billion for shareholders.
Through market close Wednesday, AIG's stock has climbed more than 10% year-to-date.
Chesapeake Energy
data by
The cheaper Chesapeake Energy (CHK) - Get Chesapeake Energy Corporation Report becomes, the more Carl Icahn buys -- or that's at least how it seems. The vociferous billionaire investor raised eyebrows in March when a regulatory filing revealed he had increased his stake in the energy company. He owns more than 73 million CHK shares, giving him an 11% stake.
Ray Dalio's Bridgewater Associates also upped the ante in Chesapeake Energy this year. In the first quarter, the fund nearly doubled its position. It owns about 450,000 of the company's shares.
Chesapeake, a producer of natural gas, oil and natural gas liquids, has been hit hard by falling oil prices. Through market close Wednesday, its stock has declined 60% over the past year, including about 38% in 2015 alone.
Analysts at Oppenheimer downgraded the stock to perform from outperform on June 11. "Based on the future strip benchmark oil and gas prices, we expect CHK to report losses of $544M this year and $833M next year, or $0.58 per share and $0.84 per share, respectively," the firm said in an analyst note.
Delta Air Lines
Like many airline stocks, Delta Air Lines (DAL) - Get Delta Air Lines, Inc. Report has had a bit of a rough go on the market in 2015, its price declining more than 17% year-to-date. But to some, falling airline stock prices indicate opportunity.
That could certainly be the case for Dan Loeb and David Tepper, both of whom increased their stakes in the company earlier this year. Loeb, the manager of Third Point, upped his position to more than 5 million shares, and Tepper, the founder of Appaloosa Management, increased his stake to upwards of 4.6 million shares.
Delta has experienced a streak of good news in recent weeks. In early June, it reached a tentative agreement with pilot union leaders to increase base pay and add a revision in its profit sharing formula. It also said that it plans to buy 60 new aircraft held by Boeing (BA) - Get Boeing Company Report .
In a May interview, Delta Air Lines CEO Richard Anderson expressed contentment with the company's current situation and what's to come. "We're ready for the summer," he said. "Our reliability's going to be off-the-charts good."
General Motors
David Tepper was one of a group of big-name investors to go after General Motors (GM) - Get General Motors Company (GM) Report earlier this year and back Harry Wilson in standing for election for a seat on the automaker's board. Wilson planned to push for an $8 billion share repurchase program, but dropped his bid when GM announced a $5 billion buyback in March.
Tepper apparently approved of the move and at the start of the year continued to add to his stake, which is now nearly 15.3 million shares. George Soros increased his position in GM for the second consecutive quarter, and Leon Cooperman initiated a new position with the purchase of 1.8 million shares.
General Motors was hit hard by recalls in 2014, and troubles have continued into 2015 as more vehicles have been flagged. However, the landscape has been looking better for the company, which reported stronger-than-expected May sales and has announced plans to re-enter the medium-duty truck business next year.
IBM
Since first investing in 2011, Warren Buffett has overshadowed most other IBM (IBM) - Get International Business Machines (IBM) Report investors. The tech giant, Berkshire Hathaway's third largest holding, is a buy the Oracle of Omaha has addressed on numerous occasions - especially as the company has struggled to perform.
Buffett bought more IBM in the first quarter of 2015 and shed a bit of light into his thoughts on the company in a May interview with CNBC. "IBM is a very trusted organization, it's an innovative organization, and they are competing against a lot of the other people that are innovative, too," he said.
Warren Buffett isn't alone in thinking IBM is a good investment idea. Leon Cooperman bought into the company during the first quarter of the year, picking up upwards of 300,000 shares, and Chase Coleman's Tiger Global purchased 141,000. As for Buffett, he owns nearly 80 million IBM shares.
Manitowoc
On June 1, Larry Robbins' Glenview Capital filed documentation with the SEC indicating that it now has a 7% stake in Manitowoc  (MTW) - Get Manitowoc Company, Inc. Report. The fund first bought into the capital goods manufacturer in the first quarter of the year and now owns 9.6 million of its shares.
Robbins is entering the Manitowoc game just months after Carl Icahn, who in late 2014 amassed a 7.77% stake and called for a breakup. The billionaire called shares "undervalued" and declared intentions to discuss the possibility of separating Manitowoc's crane and food service segments.
It didn't take long for Icahn to rack up another activist victory on Manitowoc. In January, the company announced plans to split, and in February, it conceded two board seats to the investor -- one on its own board, and one on its food service division once it is spun off.
Mohawk Industries
data by
Both analysts and hedge funds appear to like Mohawk Industries (MHK) - Get Mohawk Industries, Inc. (MHK) Report.
On June 9, Barclays reiterated its overweight rating on the stock and raised its price target to $220 from $210. RBC Capital has recently restated its outperform rating on the stock and upped its price target by one dollar to $210. Stifel Nicolaus raised its price target to $212 from $202 and gave it a buy rating in May.
As for hedge funds, well, a number are fans. Dan Loeb bought into the flooring manufacturer during the fourth quarter of 2014, and in the first quarter of 2015 upped his position to more than 1.8 million shares. Andreas Halvorsen increased his stake to nearly 4.4 million shares. David Tepper initiated a new position with the purchase of 202,000 shares, though he had also bought and sold the company in 2014.
Mondelez International
Activist investors Nelson Peltz landed a board seat at Mondelez International (MDLZ) - Get Mondelez International, Inc. Class A (MDLZ) Report in early 2014 and apparently continues to like what he sees in the company. He increased his stake in Mondelez at the end of 2014 and again in early 2015.
Andreas Halvorsen is also upping his bet on the snack food and beverage company. During the first three months of the year, he nearly doubled his holdings to just under 24 million shares. Fellow shareholders Warren Buffett and George Soros left their Mondelez positions untouched.
Analysts have posted optimistic outlooks on the stock in recent days. Credit Suisse upped its price target to $48 to $42 on June 8, and BMO Capital upgraded its rating to outperform from market perform.
But not everything has been coming up roses for Mondelez lately. CEO Irene Rosenfeld acknowledged earlier this year that the company's first-quarter revenue in North America declined modestly "due to a change in a large customer's in-store strategy that reduced merchandising and display opportunities. She was referring to Wal-Mart (WMT) - Get Walmart Inc. Report, which has reduced in-store product displays to cut product costs. Mondelez and Kraft Foods Group (KRFT) have also been accused by the U.S. Commodity Futures Trading omission of trying to manipulate the prices of cash wheat and wheat futures.
Motorola Solutions
data by
Both Leon Cooperman and George Soros have had positions in Motorola Solutions (MSI) - Get Motorola Solutions, Inc. (MOS) Report for years. The former's stake dates back to 2012, and the latter's 2011. Both have upsized and downsized their holdings quarter after quarter, but in early 2015, both bought MSI. Cooperman holds about 2.7 million shares, and Soros 2.5 million.
Motorola Solutions designs, manufactures and sells communications infrastructure, devices, software and applications for both government and enterprise entities. It is one of two companies resulting from Motorola Inc.'s 2011 split. The other, Motorola Mobility, manufactures smartphones and other mobile devices and is now owned by Lenovo (it was previously acquired by Google (GOOGL) - Get Alphabet Inc. Class A Report (GOOG) - Get Alphabet Inc. Class C Report).
Motorola Solutions reported first-quarter GAAP earnings from continuing operations of 40 cents a share on May 6, on sales of $1.2 billion -- flat from the prior year -- and $50 million of unfavorable foreign currency impact. The company also warned that it expected a 3% to 5% revenue decline in the second quarter of the year, due in part to currency headwinds.
This article is commentary by an independent contributor. At the time of publication, the author held no positions in the stocks mentioned.