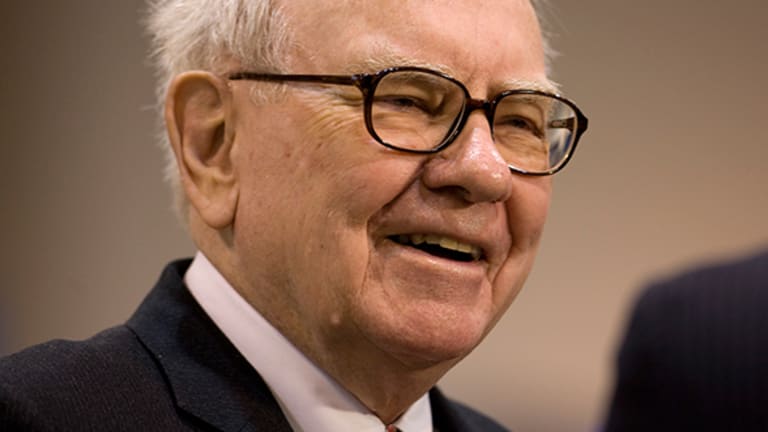 10 Stocks Making Warren Buffett Richer in 2015
The newly-formed Kraft Heinz Company isn't all Warren Buffett has had going for him lately. Here are 10 other investments that are doing well for him in 2015.
NEW YORK (TheStreet) -- You can't win 'em all, but Warren Buffett has stacked up a fair number of victories over the years.
Buffett scored another big win at the start of 2015 when he teamed up with Brazilian private equity firm 3G Capital to invest a combined $10 billion to form the Kraft Heinz Company (KHC) - Get Kraft Heinz Company (KHC) Report . The combined company is now the fifth-largest food and beverage entity in the United States.
Buffett's Berkshire Hathaway (BRK.A) - Get BRK.A Report (BRK.B) - Get Berkshire Hathaway Inc. Class B (BARK.B) Report now owns more than 325 million shares of Kraft Heinz, valued at what Bloombergestimates to be $24 billion when the stock began trading in early July. He also has a seat on the company's board.
And the billionaire has already made money on the stock, which has climbed 9.7% since starting trading through market close Wednesday.
The Kraft Heinz Company isn't all the Oracle of Omaha has had going for him lately. Here are 10 other investments that are doing well for him in 2015.

Chicago Bridge & Iron Company
CBI data by YCharts
Buffett took advantage ofChicago Bridge & Iron Company's (CBI) price plunge in the second quarter of 2014 to pick up more of the engineering and construction company's shares. And in 2015, the maneuver has proven prudent, as CB&I's share price has surged almost 25% this year as of the market close on Wednesday.
Chicago Bridge & Iron Company reported second-quarter earnings on July 23, including net income of $169.5 million, or $1.55 per diluted share, up 14% from the same period the year before.
"We continue to deliver solid performance despite a volatile commodity market and geopolitical issues that create instability in many of the traditional international markets," said CEO Philip Asherman in a statement.
VeriSign
VeriSign (VRSN) - Get VeriSign, Inc. Report has surged 23.8% year-to-date through market close Wednesday.
The Virginia-based company that provides domain name registry and Internet security services has been in Buffett's portfolio since the fourth quarter of 2012, when he picked up 3.7 million shares. Since then, he has more than tripled his stake to nearly 13 million shares. The investment has paid off for Buffett as well, with the stock climbing more than 80% since December 31, 2012.
VeriSign reported second-quarter earnings on July 23. Revenue reached $263 million, a 4.9% increase from the same period in 2014. Net income was $93 million and diluted earnings per share were 70 cents, compared with $100 million and 71 cents the year prior.

Sanofi
Buffett has been a shareholder of French pharmaceutical giant Sanofi (SNY) - Get Sanofi Sponsored ADR Report for years. As of the end of the first quarter of 2015, he owns 3.9 million of the company's shares.
On July 28, Sanofi announced plans to commit up to $2.17 billion with long-time partner and drug developer Regeneron Pharmaceuticals (REGN) - Get Regeneron Pharmaceuticals, Inc. Report to develop new cancer immunotherapies. The deal includes a $640 million upfront payment as well as a one-time milestone of $375 million tied to sales.
Sanofi has climbed 15.4% year-to-date. With a 3% dividend yield, it is also one of Buffett's top dividend stocks.
Mondelez International
When Mondelez International (MDLZ) - Get Mondelez International, Inc. Class A (MDLZ) Report split from Kraft in 2012, Buffett ended up with 12.8 million shares of the company. He has now reduced his stake significantly to just 578,000 shares, valued at $20.8 million as of the end of the first quarter. Though it is not a big position for Buffett, it is a strong-performing one in 2015, its price climbing 18.6% year-to-date.
Mondelez is set to report second-quarter earnings on July 30. It released first-quarter numbers in April, including a 10.2% dip in net revenue (largely due to currency headwinds). Adjusted earnings-per-share, however, jumped 25.6% from the previous year to 41 cents and exceeded analysts' expectations.
Another big name investor -- Nelson Peltz -- has been stirring the pot at Mondelez. He joined the company's board in 2014 and has pushed the company to improve margins and cut costs. The activist investor increased his stake in Mondelez in both the fourth quarter of 2014 and the first quarter of 2015.
Moody's
Buffett has stuck by Moody's  (MCO) - Get Moody's Corporation (MCO) Report through thick and thin, and this year, it appears to have paid off. The ratings company's share price has climbed 15.2% in 2015.
Buffett testified before the U.S. Financial Crisis Inquiry Commission in 2010 regarding the role of credit raters in contributing to the housing collapse. Ahead of his appearance, he told Bloombergthat he wasn't aware of any fraud, though he acknowledged that the company, like many, made mistakes during the housing bubble. "What was once a bullet-proof franchise may not be bullet-proof," he said. "It's still quite a franchise."
The billionaire talked up Moody's again this year in an interview with Fox Business. "It's a fantastic business," he said. "So is S&P incidentally [even though] it's paying a big fine. It takes no capital, it has pricing flexibility. If I sell a bond issue, I need a Moody's rating and I need an S&P rating and I can't negotiate with either of them."
Buffett has reduced his stake over the years. However, he still holds 24.7 million Moody's shares.
Verisk Analytics
The share price of data analytics and risk assessment company Verisk Analytics (VRSK) - Get Verisk Analytics Inc Report has climbed nearly 200% since its 2009 IPO. And in 2015, it has climbed 22.7%.
Berkshire Hathaway had a stake in Verisk before it went public and did not sell any shares in the offering. The stock was first listed in Buffett's 13F filings with the SEC in 2011 when all class B shares were converted to class A shares. As of the end of the first quarter, the billionaire investor holds 1.6 million VRSK shares valued at $111.6 million.
Verisk reported second-quarter earnings on July 28. During the period, total revenue increased 17.5% to $497.6 million, and income jumped 85.4% to 163.3 million. CEO Scott Stephenson called the results "excellent" in a statement and touted the firm's acquisition of Wood Mackenzie, which it bought for $2.8 billion in May.
Visa
Buffett likes his credit card companies, including Visa (V) - Get Visa Inc. Class A Report. As of his most recent regulatory holdings disclosure, he has 9.9 million shares worth $646.6 million.
Visa has had a strong year, its stock price climbing 16.4% year-to-date through market close Wednesday. It exceeded expectations with its second-quarter financial report, out July 23, reporting 74 cents in earnings per share compared with the expected 59 cents.
Visa also raised eyebrows when news broke on July 28 that it had invested in online payments company Stripe, which now has a $5 billion valuation. The same day, Stripe also announced a partnership with Visa through which the two will work on ways to improve digital transactions.
Another Buffett company, American Express (AXP) - Get American Express Company Report, has invested in Stripe as well.
Wabco Holdings
WBC data by YCharts
Buffett first picked up shares of Wabco Holdings (WBC) - Get WABCO Holdings Inc. Report in the third quarter of 2012. At the end of the first quarter, he reported holding 3.9 million Wabco shares valued at $474.7 million. The stock has performed well this year and gained 15.3%.
Headquartered in Brussels, Belgium, Wabco provides commercial vehicle braking, stability, suspension and transmission control systems worldwide.
On July 24, the company reported second-quarter results, and the impact of currency fluctuations was reflected clearly in its numbers. Second quarter sales were $661 million for the period, up 6.4% in local currencies but down 10.1% in dollars from the year before.
"In Q2 2015, we demonstrated yet again Wabco's consistent ability to generate sales growth that strongly outperforms the global commercial vehicle market relative to truck and bus production, as we increased sales by 6.4 percent in local currencies, despite a significant decline of 10 percent in new truck and bus bids globally," said CEO Jacques Esculier in a statement.
Charter Communications
Telecommunications giant Charter Communications (CHTR) - Get Charter Communications, Inc. Class A Report is a relatively new stake for Buffett, who initiated a position in the second quarter of 2014. He increased his position in the third and fourth quarters of the year, but in the first quarter of 2015, he shaved it down slightly. Still, he owns nearly 6 million shares.
Charter has performed well in 2015, its stock climbing 10.6% year-to-date. And it could potentially gain even more thanks to some upcoming acquisitions.
In May, Charter announced plans to acquire Time Warner Cable (TWC) for $78.7 billion. It also said it would buy Bright House Networks for $10.4 billion.

MasterCard
Another Buffett credit card bet, MasterCard (MA) - Get Mastercard Inc. (MA) Report has been in the Oracle of Omaha's portfolio since 2011. Since that time, its share price has climbed more than 200%, including 12.3% in 2015 alone.
Many linked Buffett's MasterCard buy to the hiring of Todd Combs as one of Berkshire's money managers. Combs' previous firm, Castle Point Capital Management, had a major stake in the stock, which was its second-biggest position before his exit.
MasterCard reported earnings on July 29. It hit the mark on earnings expectations but fell short on revenue. It was also hit with a $44 million after-tax charge during the period, knocking its earnings-per-share to 81 cents from what would have been 85 cents.
This article is commentary by an independent contributor. At the time of publication, the author held no positions in the stocks mentioned.