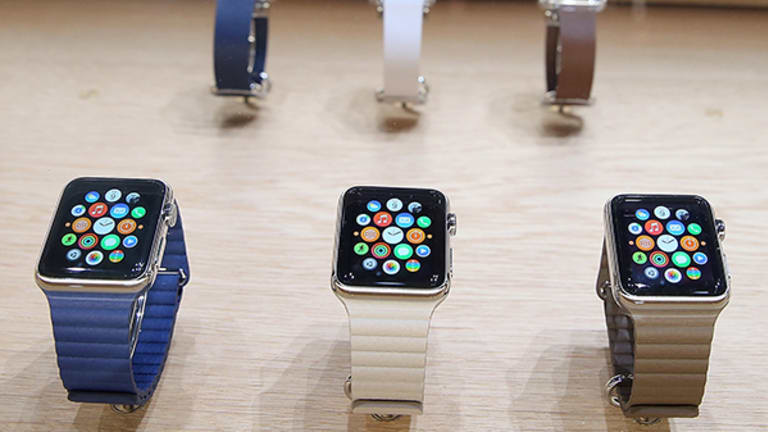 10 Signs You Have an Apple Addiction and Need Immediate Help
Are you finding your iPhone use unmanageable? Are you thinking about an Apple Watch today? Every day? Right now? Here are ten signs you may have become an Apple addict.
NEW YORK (TheStreet) -- The Apple (AAPL) - Get Report Watch is finally ready for pre-order. 
Sounds like good news, especially when you consider the old saw, "An Apple a day keeps the doctor away."
It's certainly true of those that fall from trees, but what about those whose screens break when they fall on their corners?
Are you finding your iPhone use unmanageable? Are you thinking about an Apple Watch today? Every day? Here are ten signs you may have progressively become an Apple addict and might need help.
1. You feel different, maybe euphoric when buying or using an Apple product. You actually dream about the 18-karat yellow gold version of the Apple Watch. Here's the initial list of the stores in the U.S. carrying the gold watch versions, which will go on sale from $10,000 to $17,000. If clicking on that link was tempting, read on.
2. You feel a physical effect when there is chaos or drama around your iPhone. The idea of a missing iPhone or a dead battery starts your sweat glands going; your breathing becomes shallower and you count the minutes until your next iPhone recharge. Think you have more with that increased battery life from the iPhone 6 Plus? It's actually sucking the life out of you.
3. You know where the nearest Apple tore is and you can't avoid going in when you're nearby. (I'm actually walking distance to two stores and consider it one of my top ten reasons for living in San Francisco. I took my daughter for a walk one recent weekend and that was one of the tour highlights. I'm not proud of this. My daughter had to summon Uber on her phone to get me home safely.)
4. You defend Apple against its critics -- in real life and on the Web. Apple consumers love to defend poor Apple on any Web site or blog they can. Another way to measure your problem is to list how many negative blogs or posts you have read about Apple. I've never written one.
5. iTunes and the App Store are your favorite places to shop for media or software. Does your iPhone have 10 screens of useless apps? You might say, "They're not all useless!" If you did, you would be wrong.
6. You're infatuated with the late Steve Jobs and the current Apple CEO Tim Cook. Apple CEO Tim Cook was in Paris this week, likely for the Apple Watch launch. Just letting you know, in case it's important to you.
7. You have dozens of iPhone cases and accessories. Let's be honest: Accessorizing your iPhone as if it's a Barbie doll is unhealthy behavior. It's a phone -- not a toy (well, it's a toy, too, but still a phone, right? Right? Please say I'm right). Plus, like being addicted to Apple's products, it can get expensive.
8. Your communication habits have deteriorated significantly. You are constantly staring into your Apple devices, as if hypnotized. Okay, fine, you are actually hypnotized. How could you not be? They're beautiful. When someone talks directly to you, it is a surprising and unfamiliar sensation. Above all, it's unpleasant. Who is this person distracting me from my beautiful Apple product?
9. Your needs are starting to come second to the needs of your Apple products. Perhaps you have let your personal hygiene go. Maybe you have stopped trying to act like a normal and professional person to those around you; you are often caught murmuring the words "My Precious" to your iPhone. 
10. You depend solely on Apple products for many of your primary needs. You spend much time pining after your phone, wondering if it is thinking about you, too. Will your iPhone alarm will go off on time and wake you for that early morning meeting or deadline? Do you have a crush on Siri, Apple's personal digital assistant? 
Today, there is no cure for an Apple addition. But there is hope.
Until the day a cure does come, try to stay positive and not obsess constantly over that beautiful device on your desk, in your pocket or on your wrist. If you must go to the Apple store, bring a friend, who can help you leave without buying anything else. And, above all, stay positive. Siri would want it that way. 
This article is commentary by an independent contributor. At the time of publication, the author held AAPL.