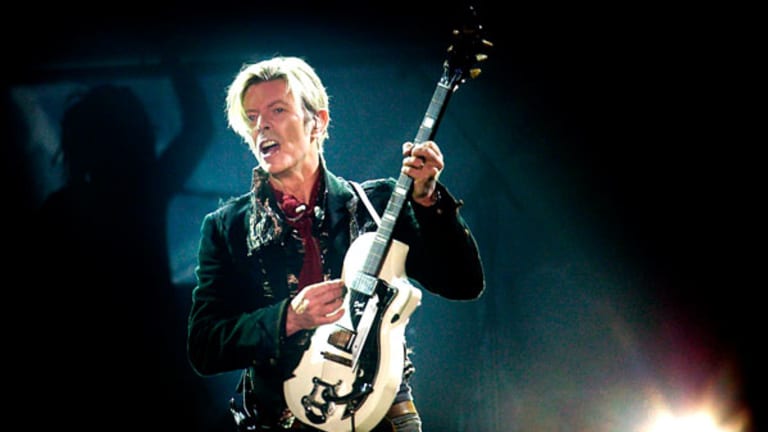 10 Reasons You Should Love David Bowie
The 66-year-old singer has a new album coming out. It's pretty good and <I>TheStreet's</I> Carlton Wilkinson is a die-hard fan.
NEW YORK (
) -- I have 10 good reasons why you should own David Bowie's new album, why
you
as a businessperson, marketer, artist, housewife -- whatever -- should, in fact, pay close attention to everything Bowie does, particularly now.
I'll list those 10 reasons. And they will convince you. But first, I have to tell you a story.
Battery Park, May 10, 2002. The burned-out hole in the ground where the World Trade Center once stood is close by, the hole in the skyline still present no matter where you turn.
Like most people, I knew of David Bowie primarily from his dozen or so megahits, like "Space Oddity," "Rebel, Rebel," "Changes," "Panic in Detroit," "Young Americans," "China Girl" and others, and his smattering of iconic albums, including the 1970s'
The Rise and Fall of Ziggy Stardust and the Spiders from Mars
and the 1980s'
Let's Dance
. I owned both of those albums but I don't think I owned any other -- even though he had put out over 20 albums of original material by then.
So there I am, walking in Battery Park on my lunch hour. I hear some sloppy echoes of live music playing. The bandshell was far away and facing the other direction.
"Sounds like some crappy David Bowie cover band," I muttered to my co-worker. Curious, we trekked around the park, to the other side of the band shell -- and it was David Bowie himself. He and his band were just finishing up a soundcheck; we didn't get to hear any more. But it was him. In the flesh.
The concert was that very evening, a free showcase of many stars who were coming together in a show of support for Lower Manhattan following the terrorist attacks on 9/11. Spearheaded by actor Robert DeNiro, the concert was also the launch of what would become the Tribeca Film Festival organization.
My fiancee (now my wife), a Bowie fan from way back, was in New Jersey driving home when I texted her:
David Bowie. Free concert in Battery Park. Tonight
.
At first, she was less than enthused. Too tired. Long day. Already passed the Holland Tunnel exit. Going home and going to bed. About a half-hour later, I get a phone call: "I can't pass this up," she said. "I'm turning around. Where can I meet you?"
It was a great show. I remember watching a half dozen acts, including Jimmy Fallon, Wyclef Jean and the Counting Crows, as well as Bowie. But Bowie was the standout. His band --
not
crappy, at all -- were the best musicians on the stage all evening.
He played only a handful of songs, including some from a new album. The new songs floored me. Passionate, tinged with a mature sense of fear and alienation wound around a soulful grief that just seemed to speak for the general mood in Lower Manhattan in those days, seemed to speak for everyone in the crowd. He also played an older song, "I'm Afraid of Americans," a brave performance that seemed to question the role America's cultural identity played in making us a terrorist target.
After that concert, I bought the 2002 album,
Heathen
, and found it filled with that same spirit -- an unvarnished determination, an embrace of America's wounds, flaws and joys, not shying away from questions, or from the sense of loss, but with a prevailing sense of endurance and even wonder.
In those months, improbably, David Bowie became my church.
'The Next Day'
Now, does this fit in with your impression of
The Man Who Sold the World
? Of Bowie the glam rocker, or the zoot-suited soul singer of
Young Americans
or the suave heart throb of
Let's Dance
?
Probably not. That's the point. Looking only at his hits, it's easy to have missed the importance of his music and career.
Here are my top 10 reasons why you should pay attention to Bowie:
10. The new album
. Titled
The Next Day
, this collection of songs is really a fine, fine piece of work. You can listen to it streaming for free on
Apple's
(AAPL) - Get Apple Inc. Report
iTunes ahead of its release date on March 12. The album has many allusions to the various periods of his career, a sort of stylistic retrospective, but all of it also sounds very current. Not as good as
Heathen
, but close.
9. These are the "golden years" ("whop, whop, whop")
. He's 66 years old, raising a 12-year-old daughter and has just put out his first album in a decade. Heart problems sidelined him while touring in 2004, after the 2003 release of
Reality
. He's not toured since then, is not touring now and is being very selective about projects. But, particularly with this album, he remains an inspiration to anybody looking down the barrel of life's third act.
8. Rising from the ashes
. Bowie's career was briefly derailed by a drug addiction in the mid-70s after the huge successes of
Ziggy Stardust
,
Young Americans
and
Station to Station
(with its hit single, "Golden Years"). In self-imposed exile in Berlin, he came back with a series of albums, beginning with
Low
that set the standard for electronic pop for the following 10 years. Later he would write about that end-of-childhood period of addiction ("strung out in heavens high, hitting an all-time low") in the song, "Ashes to Ashes."
7. Turning failure into success
. After the wild success of
Let's Dance
in the 1980s, Bowie's career again seemed to spiral off into irrelevancy. Fighting back, he released "Sound + Vision," a 20-year career retrospective, and promised to retire "Ziggy" and his other personas from live performances. Packaging and closing the door on all his past success with one tour worked like a charm, reinvigorating sales of his old albums and current concert tickets as well as the
Sound + Vision
collection.
6. Riding the waves
. Over the next decade, Bowie's popularity bounced crazily as he pushed himself into new areas, some successful, some not. Critical and popular acclaim often seemed to diverge. Yet, each album continued to point in new directions, as if he were committed to success only through adventure. Along the way, he set up a permanent position ahead of the curve in the music business, whether it be with videos, fashion, advocating a new medium or selling bonds based on his music catalog. He embraced the future with a natural and easy grace.
5. Heathen is a masterpiece
. Released in 2002, a direct artistic response to 9/11, it surprised everybody, even ardent fans. In my estimation, it is easily one of the best pop albums ever made.
4. This performer helped change our definitions of sexuality
. A lot of controversy ensued when Bowie came out as gay in 1972 prior to
Ziggy Stardust
. His spangled jumpsuits, makeup and dyed hair helped define what became known as "glam" rock, but it was a style merely of exaggeration, built on a long tradition of androgyny in rock dating back at least to Little Richard.
Bowie's boldness is remarkable; it was only three years after Stonewall, when being openly gay was still quite shocking. He has since swung the door even wider, helping represent the entire, vast spectrum of human sexuality by being comfortable in his complex skin and retaining an appeal that consistently crosses all gender lines.
3. He's still damned good looking.
2. He's currently married to Iman
. The onetime supermodel turned successful businesswoman is his wife of 20 years and mother of his child. She is also one of the few people in the world quantifiably even better looking that he is. (Does that mean he's
not
gay? Glad you asked! Answer: Sexuality is not an on/off switch.)
1. Are we noticing a trend here?
Bowie is often touted as a master of self-invention and re-invention, but the truth is both more subtle and more complex. Beneath all the masks he has donned over the years, he has remained a true voice -- always moving forward with a consistent artistic integrity, a sincerity that is palpable in his music, no matter the subject.
Other acts from the 1960s and 1970s are still kicking but have long since devolved into pleasant self-parodies. I love the Rolling Stones, but I would put them in this category. Ditto Bruce Springsteen: his recordings have become all-too comfortable, like a warm pair of slippers, ceasing to have the explosive, hard-edged creativity they once did.
By contrast, every Bowie album sounds like his life depends on it, like he's starting all over. Even now, an album like
The Next Day
that is supposed to be a satisfying look back at the arc of his career, is actually a look forward at what younger artists will likely be doing five years from now. He sets the trend.
Were we all to approach life and our life's work with this level of commitment, this level of passion, ingenuity and enthusiasm, we could work miracles.
-- Written by Carlton Wilkinson in Asbury Park