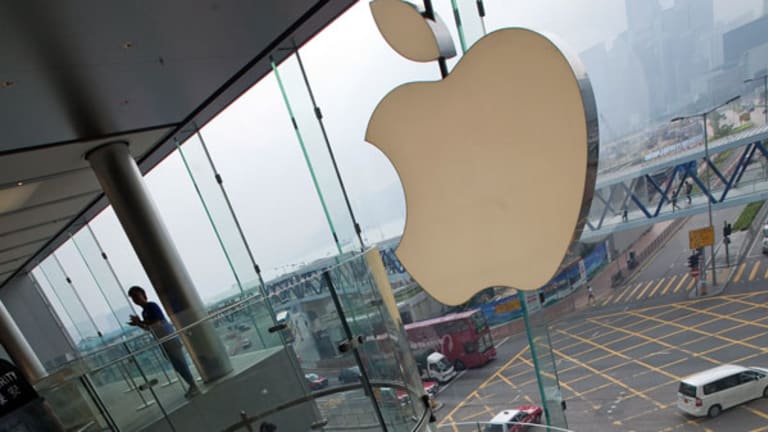 10 Reasons to Own Apple Ahead of iWatch
Wall Street doesn't think Apple's iWatch can become a flagship product, but CEO Tim Cook does.
NEW YORK (TheStreet) -- Can Apple's (AAPL) - Get Apple Inc. Report iWatch become a flagship product? It's a question begging to be answered. Wall Street doesn't think so. Tim Cook does.
It's why he had the audacity to purchase $14 billion in AAPL shares over a recent two-week period. I'd like to make the case that Cook is acting like a confident CEO for good reason. Investors and analysts may have written off iWatch as a niche product incapable of moving the needle but Cook knows better.
This is his moment to become an icon. Everything we hear from the supply chain confirms that iWatch is on track for a fall release. Here are 10 reasons why investors should own every share of Apple stock they can get their hands on ahead of the iWatch launch:
1. The Innovation Premium. Wall Street has never seen a wearable tech device go mainstream. They have no idea what to expect. If Apple can turn the iWatch into a "must have" product it will become the stock story of the decade because of its sub-$300 price point.
We all witnessed the extrapolation of volume and profits as the PC evolved into mobile, a similar extrapolation will occur as mobile evolves into wearable. Tens of millions purchased a Mac, hundreds of millions purchased an iPhone or an iPad, billions will purchase an iWatch. Investors should brace for significant volatility in AAPL throughout 2014 and 2015.
This stock could experience $100 rallies in a day. Activist investor Carl Icahn continues to pound the table that the most important words Tim Cook uttered in the January conference call had to do with his confirmation of new product categories in 2014. This is a big deal. Icahn isn't part of Wall Street's flock. He gets it.
It's why he's investing billions. It's why he tweeted out that at Google's (GOOG) - Get Alphabet Inc. Class C Report multiple, Apple should be worth $1,245. Apple investors have grown weary because it's been four years since a new product category was released. Positive uncertainty from innovation will produce insane volatility. Apple is labeled as a hyper-growth innovator, which is why the stock has lagged over the past 18 months. The tide is about to turn back in Apple's favor.
2. Medical Data. In a recent article, Fortune's Philip Elmer Dewitt commented that we might be looking at the iWatch project from the wrong angle. What if fitness data is a secondary target? What if the more important market -- the one that's ripe for disruption and big enough to warrant Apple's attention -- is health care? "Real-time triage. Long-term observation. Correlation with hospital records. With the baby boom generation about to move en masse into government-subsidized health insurance programs, nursing homes and hospice care, those are serious growth markets," he wrote.

When commenting on the current state of mobile health care, Tim Cook said last May, "There are a lot of problems to solve in this space. It's ripe for exploration." Cook is also quoted as saying last spring, "The whole sensor field is going to explode."
Dewitt reported on Apple's recent hiring spree that includes, among others, Jay Blahnik from Nike's (NKE) - Get NIKE, Inc. Class B Report FuelBand team, Nancy Dougherty from Proteus Digital Health, which developed smart patches and ingestible smart pills, and Ravi Narashamian from Vital Connect, which focuses on sensors for measuring respiration and activity levels with wearable devices.
Hmmmm...I wonder which direction Apple's fitness fanatic CEO plans to take the iWatch? The addressable market for medical data is just a hair over seven billion people! Get ready to change the way you interact with the health care industry.9to5 Mac reported that Apple is developing an app internally being called "Healthbook" as an ecosystem for health app developers and health wearable makers.
3. Fitness. Surviving as a fitness-only device is difficult because it's a "want" rather than a "need." Nevertheless, the iWatch will likely offer all the same fitness tracking apps currently available in the App Store and on Nike's FuelBand. If iWatch stream's music to your Bluetooth headphones it will take the place of an iPod as well.
4. Personal Security. Because iWatch is attached to your arm it is perfectly suited to function as a call for help. Beyond distress calls, it will function as a monitoring/tracking tool for the elderly and for children. Aging parents who live alone are at risk without a responsible caregiver verifying their location and vital signs.
iWatch provides young parents with increased peace of mind knowing exactly where a child might be roaming whether its at Disneyland, at school or out with friends. When you think of iWatch in this context, it's easy to see yourself walking into an Apple store and asking for eight of them.
Analysts are focused on the "Internet of Things" as the next big breakthrough in tech. Perhaps the "Internet of People" is an even larger opportunity because of wearable tech.
5. Wallet Replacement. Constant monitoring of medical data is gaining credibility as the primary function of iWatch, but don't forget about iWallet and mobile payments. Yes, these services will also be available on the iPhone but a system of redundancy must exist in order to protect consumers in case the iPhone is lost, broken or stolen. iWatch will house credit cards and identification in the inevitable evolution away from the clumpy leather wallet.
6. iBeacon. iWatch and iPhone will both sync with iBeacon to revolutionize the retail experience. Time to throw away all of those loyalty cards -- iBeacon will track purchase history and offer tailor made coupons specifically for you. Simply scan your iWatch and get the best deals. Passbook will also be available on iWatch so you no longer have to keep track of hard-copy airline tickets, subway passes, sports tickets, concert tickets, etc.

7. Keys. Goodbye house keys, office keys, car keys and hotel keys. The key app won't be available at launch but eventually the encrypted near field wireless capability of iBeacon will enable the iPhone and iWatch to serve as a key. For a guy who regularly loses keys, this is much needed.
8. Fraud Protection. Fingerprint Touch ID built into the iPhone 5S is the beginning. Authentication enabled by medical sensors built into iWatch has the potential of taking fraud protection to the next level. This isn't just for financial transactions although that is an important one, hospitals and schools want to know exactly who is coming through the front and back doors. Identification provided by iWatch will do the trick.
9. Sync to Apple's Ecosystem. The small screen of iWatch is not ideal for most computing tasks but it may provide access to anything stored on iCloud. Because it's attached to the wrist, iWatch can provide a reliable backup to your digital world. Perhaps remedial social networking will be part of the iWatch experience as well.
10. Revenue Growth. The ultimate genius of iWatch is that it doesn't appear to cannibalize Apple's existing product lineup. Ask Harvard's Clayton Christensen why he's worried about Apple and he'll tell you it's because of the innovator's dilemma in which the innovator must confront self-disruption. iWatch fits into Apple's product lineup seamlessly. Good luck finding anyone on Wall Street who thinks Apple can return to the old days of hyper-growth.
They think the company is too big. Wrong. It can happen. Wearable tech is poised to cause extrapolated growth from mobile. If Apple dominates wearable market share as it has dominated the mp3, smartphone and tablet market share before it, the iWatch will become Apple's first product to sell one billion units.
When the history books look back, it might be concluded that the primary purpose of the iPhone was simply to open up a global distribution channel for Apple's wearable solutions. iPhone got Apple into AT&T (T) - Get AT&T Inc. Report and Verizon (VZ) - Get Verizon Communications Inc. Report stores. It got Apple into China. It's getting Apple into India. iPhone took Apple stock from $80 to $550 (with a brief foray at $700). What will iWatch do? Revenue growth coupled with an aggressive buyback to boost EPS has an explosive element to it. I predict that in 2014 analysts will once again start throwing around the AAPL $1,000 price targets.
Don't listen to the tired critics when it comes to iWatch. They don't understand Apple today -- nor have they ever understood it. The truth of the matter is that iWatch has more potential than the iPhone to change the world.
Apple stock in on the verge of regaining an innovation premium because the iWatch is poised to revolutionize individual health care, fitness and personal security while also serving as a wallet replacement, an iBeacon screen, a key, a source of fraud protection and a convenient sync to Apple's ecosystem.
Success in wearables is more than capable of propelling Apple's revenue into hyper-growth territory.
At the time of publication the author is long AAPL.
Follow @EconomicTiming
This article represents the opinion of a contributor and not necessarily that of TheStreet or its editorial staff.