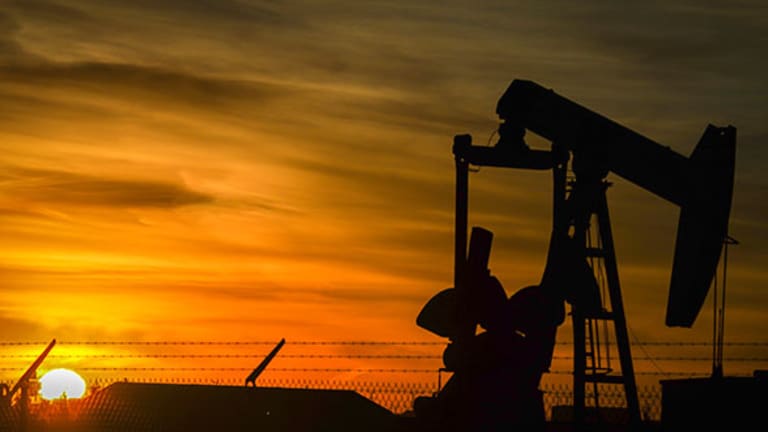 10 Reasons to Love the Oil Price Drop
Stop worrying about falling crude prices. Simon Constable has 10 reasons the decline is a good thing.
New York (TheStreet) -- Don't let tumbling oil prices darken your outlook on stocks or the economy. Yes, U.S. crude prices have dropped into an official bear market, down around 20% since the beginning of June, which will undoubtedly hurt the oil industry and companies like Exxon Mobil (XOM) - Get Exxon Mobil Corporation Report and BP (BP) - Get BP Plc Report.
But there are a number of benefits from the decline. Here are 10 of them:
1. -- Stocks Tend to Rally After Oil Price Drops. When the price of oil goes down, stocks tend to surge. That's the conclusion of a study published in The Journal of Financial Economics in 2008 by professors Gerben Driesprong, Ben Jacobsen, and Benjamin Maat. They found that when oil prices moved down one standard deviation (that's a price movement of about 11%) then stocks would rally by 1% the next month. That's based on three decades of market data. Given the 20% oil price drop, look for a bounce in the S&P 500 and SPDR S&P 500 exchange-traded fund (SPY) - Get SPDR S&P 500 ETF Trust Report.
2. -- The U.S. Economy Will Likely Benefit. Prices for gasoline are intimately linked to the price of crude oil. Given the recent slump, you should expect the amount paid at the pump to drop. That's great for most Americans, since they drive to work and will now have more money in their pockets at the end of the month. They might spend the extra, which would be good for the economy and for stocks. Some of the benefit would be offset by the layoffs and lower profits in the oil industry but overall, look for a bounce in retail stocks like Wal-Mart (WMT) - Get Walmart Inc. Report.
3. -- The European Economy Will Likely Benefit. The oil-price plunge is global. Europeans pay an awful lot for gasoline -- about $7 dollars a gallon last week in the U.K., based on current exchange rates and data from the BBC. Europe needs a boost, and a drop in gasoline prices may help as much as a tax cut. Again, some of the benefits would be offset by layoffs and reduced profits in the energy sector across Europe. Keep an eye on European stocks, like those held in the Vanguard FTSE Europe ETF (VGK) - Get Vanguard FTSE Europe ETF Report.
4. -- Japan's Economy Will Benefit. Japan, despite having a stagnating economy for the past two decades, is the third-largest consumer of oil in the world -- about 4.5 million barrels a day in 2013, according to the Energy Information Administration. It imports 80% of that, which is a drag on economic growth. Lower crude prices should mean less drag on the economy, other things being the same. Watch the iShares MSCI Japan ETF (EWJ) - Get iShares MSCI Japan ETF Report.
5. -- It Hurts Islamic State. The so-called Islamic State makes money off sales of oil from the territories it has conquered. The total is estimated at $1 million a day in revenue, according to a report last year from CNN. Lower oil prices may mean lower revenues  for the terrorist organization, although exactly what's going on inside its borders is murky.  Still, the drop could help the U.S. and its allies.
6. -- It Hurts Russia. Russia's exports of oil and natural gas accounted for 68% of that country's export revenues in 2013, according to data from the EIA. That was when oil prices were much higher than now. Falling oil prices will certainly crimp revenues that the country badly needs. Russia's leader, Vladimir Putin, is widely believed to be behind the separatist-led conflict in Ukraine, and lower revenues from energy exports along with other economic sanctions may subdue an increasingly antagonistic Kremlin. There is of course a risk that a cash-strapped Kremlin may be more unpredictable. 
7. -- It Cools Inflation. As gasoline and heating oil, both derived from crude oil, decline there will be slightly less pressure on inflation. The Bureau of Labor Statistics, which compiles the Consumer Price Index, a measure of inflation, says the energy component is around 8% of the total index for urban residents.
8. -- It Could Make Dollars More Attractive. The U.S. still has net imports of approximately 5 million barrels of oil a day. Lower import costs mean lower trade deficits. "Other things being equal, lower oil prices would be good for the dollar over time," says Nick Bennenbroek, head of currency strategy at Wells Fargo (WFC) - Get Wells Fargo & Company Report in New York. He notes that the effect would likely be marginal, but lower trade deficits are generally beneficial to the greenback. 
9. -- It Could Help Car Companies. Americans love big cars. The truth is most Americans I've met would rather drive a big car than a small one. One of the reasons that they don't is the cost of gasoline -- big cars burn more than small ones. But when the gas price drops, that may prompt some consumers to upsize their vehicles. How does this help the car companies like General Motors (GM) - Get General Motors Company Report and Ford Motor (F) - Get Ford Motor Company Report? They make much more money selling big cars than small ones.
10. -- It Could Help Farmers. Who doesn't love farmers? They usually need all the help they can get financially. Lower diesel and gasoline costs will help tilt the scales slightly in their direction and then maybe some will go out and buy new tractors from Deere (DE) - Get Deere & Company Report.
This article is commentary by an independent contributor. At the time of publication, the author held no positions in the stocks mentioned.