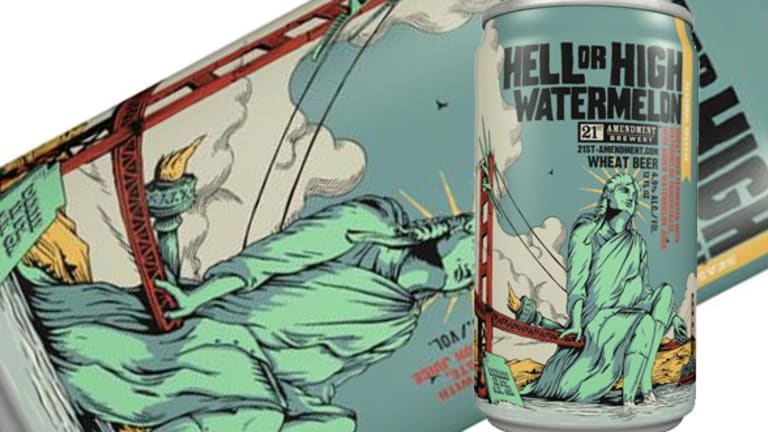 10 Most Patriotic Beers You Can Drink This July 4th
Craft beer brewers may not know their way around a red, white and blue can like the big boys, but they know their history.
NEW YORK (MainStreet) – Filling the July 4th beer cooler should involve more than pulling a package off the red, white and blue beer display at your local packaged goods store or supermarket.
At a time when summer beer styles are already fading out as brewers get ready for fall and try to time demand down to the end of Labor Day vacation (seriously, there are pumpkin beers from Southern Tier and Cigar City out there as we speak). According to the Treasury Department's Alcohol and Tobacco Tax and Trade Bureau, July is the last of the peak summer months for beer sales. Shipments that fester around 14 million to 15 million barrels through spring suddenly jump to about 18.5 million barrels in May and June before settling in a 18 million or so in July. By August, it's down to roughly 17 million barrels before collapsing to as low as 13.6 million by December.
Brewers know you'll drink summer beers as long as you have that warm sun and vacation time to look forward to. That's why summer styles will show up in late March or early April when drinkers are just starting to unfreeze. When back-to-school shopping begins, brewers who started their summer beer push early watch their Labor Day summer beer supply shrink with demand.
With 3,400 brewers throughout the U.S., that's a whole lot of summer beer to get through before the arrival of pumpkin ales and malty fall varieties that may as well just go year-round. Larger craft brewers are still producing the seasonal variety packs that make up nearly 10% of all craft beer volume, but those packs are going to get darker and maltier almost as soon as July 4th weekend ends.
With that in mind, we point you to the the most patriotic summer beers that craft brewers have to offer. Yes, there are some red, white and blue cans in the mix, but there's also a whole lot of U.S. history that doesn't require a lot of fireworks to celebrate:
Left Hand Brewing Co. (Longmont, Colo.), Cigar City (Tampa, Fla.), Perennial Artisan Ales (St. Louis), Center of the Universe Brewing Company (Ashland, Va.), Fremont Brewing Company (Seattle), 21st Amendment (San Francisco), Revolution (Chicago) Palmetto (Charleston, S.C.), Maui (Lahaina, Hawaii) and Stone (San Diego)
Sure, multinational brewers like A-B InBev and SABMiller swaddle their beers in red, white and blue every summer under the pretense of helping U.S. troops. But each Memorial Day, small brewers do their bit as well.
In 2011, Fremont Brewing in Seattle and Center Of The Universe Brewing in Ashland, Va., came up with the idea to make a summery American IPA infused with orange zest and aged on Louisville Slugger maple baseball bats. They donated the proceeds to Operation Homefront, which offers assistance to families of military members and wounded service men and women and raised more than $18,000 for the nonprofit last year alone.
This year, that citrusy IPA was brewed by 11 breweries with donations from Hops Direct (hops), Cargill (malt), Crown Packaging (cans) and Louisville Slugger (bats). Available in 12-ounce cans -- which can be a hard find this late in the year -- Hops For Heroes not only delivers a a refreshing, thirst-quenching, 6.6% alcohol-by-volume IPA, it raises funds for wounded soldiers and their families through Soldiers' Angels.
Boston Beer Company
Boston
Without the inclusion of Samuel Adams -- "brewer, patriot" -- Boston Beer Company's flagship brand and the beer that founder Jim Koch first brewed in his kitchen little more than 30 years ago would be incredibly different.
At this time each year, the founding father and printer whose rest at the Granary Burial Ground is disturbed this time each year by tourists killing time on Boston's Freedom Trail before staking out ground at the Hatch Shell for the fireworks and 1812 Overture. However, if he wasn't on bottles of Boston lager, it would just be a Vienna Lager that drinks like a hoppier Negro Modelo brewed by a Harvard Business graduate from Cincinnati.
However, Sam's visage glowers from each bottle and from signs at Samuel Adams's small-batch brewery and visitor's center at the old Haffenreffer brewery in Boston's Jamaica Plain. He does a fine job of helping tourists connect the beer to both Boston and the American Revolution -- even if Boston Beer's ad partners occasionally get into trouble for their interpretation of history. That's no small feat for a guy who's been dead for 212 years, or for a "Boston" brewery whose largest brewing facilities are in Pennsylvania and Ohio and whose latest projects involve breweries in Vermont, California and Florida.


American Amber Ale
Rogue Ales
Newport, Ore.
Yet another one for beer lovers who wish there was something in those flag-draped cans and bottles beyond light lager.
Rogue brewmaster John Maier has been making this one since the brewery opened in 1988, and, not surprisingly, it has that mellow, malty balance that was the trademark of a whole lot of microbrew of its era. Formerly known as Ashland Amber and brewed at Rogue's first put in Ashland, Ore., it's now brewed with Rogue's proprietary malt and hops from its Rogue Farms in Independence, Ore.
It's maltier and more rich than most summer-specific offerings -- not many toffee notes around this time of year -- but at 5.3% alcohol by volume, it's a nice complement to that steak, salmon or portobello mushroom on your grill.

Union Craft Brewing
Baltimore, Md.
This brewer used the recent 200th Anniversary of Francis Scott Key's "The Star-Spangled Banner," written after a British naval assault on Baltimore's Fort McHenry during the War of 1812, as a fine excuse to brew this classic cream ale.
What better way to salute the national anthem sung to the tune of British social club drinking song "To Anacreon In Heaven" than with an easy-drinking 5% ABV beer made with American grown barley, wheat, corn, oats and a trace amount of Columbus and Mosaic hops. The same rules apply to both this beer and the stanzas in its namesake anthem: It's O.K. to enjoy more than one.

The White House kitchen
Washington, D.C.
The good news is that the beer the White House kitchen staff made a few years back with honey from the South Lawn beehive is readily available. The bad news is that you have to brew it.
As recipes go, however, this one's fairly simple. There's malt extract instead of an more rigorous all-grain recipe, there are fewer than two pounds of actual malt and there are Goldings and Fuggles hops that should be an easy find at any brewing supply store. No, this isn't the most exciting beer you're ever going to drink, but it's the first beer ever brewed at the White House (George Washington was at Mount Vernon when he brewed during his presidency).

Presidential IPA
Diamond Bear Brewing Company
North Little Rock, Ark.
Diamond Bear implies that Bill Clinton really likes this 6.2% ABV India Pale Ale. 
The red, white and blue packaging and the name are more bold than its 57 international bitterness units (there are pale ales that bitter these days), but if the Clinton that isn't running in 2016 enjoys that, he certainly has the right. We're more taken with Diamond Bear's Two Term Double IPA at 9.9% ABV and 90 IBUs, but that's definitely the M80 to Presidential's Roman Candle.

Yards Brewing Company
Philadelphia
Philadelphia's City Tavern dates back to 1773, but the reconstructed restaurant featuring servers in period costume that Philadelphia tourists visit today has only been open since 1976.
Some of the recipes in the Ales of the Revolution series that Philadelphia's Yards Brewing Company has brewed for City Tavern since 2001 go back much further than that. Tavern Spruce is based on Benjamin Franklin's original beer recipe that used only what he could get his hands on at the time. There's barley for malt, molasses for sugar and spruce tips substituting for hops. The result is a rich, smooth and bready ale with just a hint of almost citrusy spruce bitterness. At 5% ABV however, it's a lighter beer than that blend might suggest. Then again, Franklin was always more lighthearted than his complex history suggests.

D.G. Yuengling and Sons
Pottsville, Pa.
Craft beer places almost no value on surviving Prohibition, which is why craft brewers in the Brewers Association didn't consider Yuengling "craft" until changing their rules last year.
Founded in 1829, Yuengling is the oldest brewery still in operation in the U.S. It coasted through Prohibition as a dairy and recently revived the ice cream that helped it survive. However, it didn't revive its Traditional Lager recipe until 1987, when microbreweries showed that American drinkers could handle somewhat darker, heavier beers. At 4.4% ABV, this pale lager isn't exactly the most heavyweight beer Pennsylvania has to offer, but it's a step up from the more corn-fed Yuengling Premium pilsner that the brewery was peddling at the time.
There are more formidable beers in Yuengling's lineup -- its Summer Wheat weizen is a fine seasonal, while its Porter and Black and Tan may be the best year-round beers it offers -- but it's the lager that secured Yuengling's place in beer history.

Anchor Brewing Company
San Francisco
Speaking of history, Anchor first released this beer in 1975 to commemorate the bicentennial of Paul Revere's midnight ride from Boston to Lexington, but ended up creating one of the first post-Prohibition American IPAs instead.
India Pale Ale has been in the U.S. for a good, long time -- with Newark, N.J.-based Ballantine bringing the English style to the masses before Prohibition. However, Anchor helped pioneer single hop brewing by using only the Cascade hop -- critical to the West Coast IPA -- throughout the brewing process. It also was among the first breweries here to revive the dormant practice of dry hopping -- basically steeping hops in beer like tea while it ages for extra aroma and flavor.
By celebrating American history, Anchor and its owner Fritz Maytag went and made some of their own. This is one of the forefathers of the West Coast IPA and is worth making some noise about this Fourth of July.

21st Amendment
San Francisco
We're going to admit that this primarily makes the list because the Statue of Liberty is on the can. There are people out there who not only don't like fruit beers, but will go to great lengths to tell you how sacrilegious a concept they believe it to be and how superior they are for only drinking "real beer." These are among the worst beer drinkers you will ever meet in your lifetime, but at least they won't down your entire six-pack of this lovely summer concoction.
Though usually the domain of brewpubs that stick foot-long wedges of watermelon into pint glasses of hefeweizen and call it a special, watermelon beer has a bit of a bad reputation in beer circles. For wheat beer fans and those who prefer refreshment over fistfuls of hops, 21st Amendment's watermelon wheat is a smooth, malty alternative to more bitter summer beers and has the same light sweetness of a watermelon slice. At only 4.9% ABV, it's just as enjoyable in multiple servings.
This article is commentary by an independent contributor. At the time of publication, the author held TK positions in the stocks mentioned.