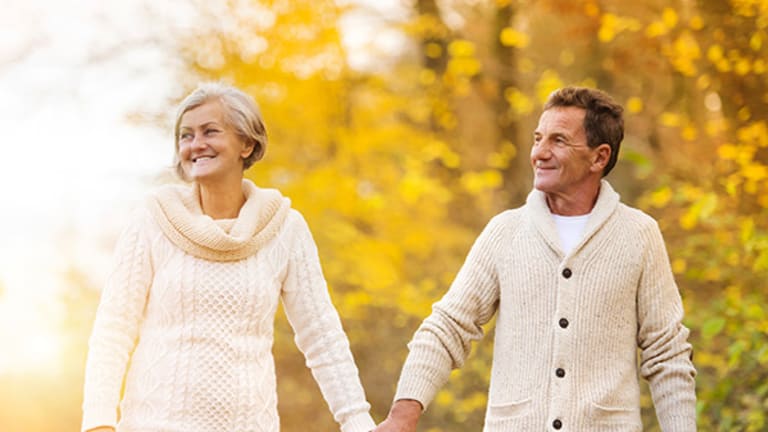 10 Best Dividend Stocks to Own Now for a Safe Retirement
These blue-chip stocks pay safe, generous dividends and form the foundation of a sturdy retirement portfolio.
With interest rates sitting near record lows, the stock market hitting all-time highs, and global growth remaining sluggish, many conservative investors seeking safe retirement income are anxious.
Dividend stocks have been a popular place to hunt for retirement income because they offer yields higher than Treasuries and provide the potential for income growth and capital appreciation.
However, not all dividend stocks are safe -- especially those with high yields and risky fundamentals.
This Conservative Retirees dividend portfolio looks through thousands of companies to find the best dividend stocks that offer a high yield, pay safe dividends, provide dividend growth in excess of the rate of inflation, trade at reasonable valuations, and are more defensive to preserve capital in the event of a market correction.
I found a number of high quality businesses that meet most of my criteria. Here are 10 of the best dividend stocks for safe retirement income:
1. Johnson & Johnson (JNJ) - Get Johnson & Johnson (JNJ) Report
When it comes to the virtues of being dependable, predictable and reliable, there are few companies like Johnson & Johnson. Like many other conservative dividend investors, the company is one of my favorite blue-chip dividend stocks.
Founded way back in 1886 to create antiseptic surgical dressings, today JNJ is a highly diversified $70 billion company; the 8th largest healthcare enterprise according to Fortune Magazine.
The company is organized into three business segments: Consumer (19.2%), Pharmaceutical (44.9%) and Medical Devices (35.9%). A short list of the dozens of everyday brand names includes: Listerine, Band-Aid, Tylenol, Johnson's baby products and Neutrogena. The pharmaceutical segment is unusually diversified. Of the 16 top selling products only Remicade prescribed to the treatment of arthritis represents as much 9% of total J&J business. The medical device business is every bit diversified including Orthopedics, Surgery, Vision Care, Cardiovascular and Diabetes Care.
Johnson & Johnson employs over 127,000 worldwide with the revenues dividend almost equally between the United States and International. For safety in retirement, it is hard to find a better balance.
The Food And Drug Administration in the U.S. and similar bodies in most countries regulate the healthcare industry. Approval requires millions of dollars and many years investment in research and development to prove safety and efficacy. Patents that limit or prevent competition protect most products. The high cost of development as well as increasing government efforts to contain cost inflation has lead to consolidation of the industry.
Johnson & Johnson has raised its dividend for more than 50 consecutive years, making it one of the most reliable dividend-paying stocks in the market as well as a member of the exclusive Dividend Kings list.
The quarterly dividend was last increased in April to an annual rate of $2.40 providing a current yield of 2.6%. Dividend growth has been an above average 8.8% over the past 10 years and 6.9% over the past five.
A safe retirement with JNJ also means a growing payout. Here is why. JNJ pays out just 55% of earnings. The company is highly profitable (25% operating margins) and generates huge amounts of operating cash flow ($19 billion). A payout ratio of as much as 75% would not harm the company's flexibility.
2. Verizon (VZ) - Get Verizon Communications Inc. Report
Verizon is a holding in our Top 20 Dividend Stocks portfolio. When it comes to wireless commutations, Verizon is at the top. Since the 1980's when it was spun off in the breakup of the original AT&T, Verizon has pursued wireless to perfection. These days it represents 93% of operating income on 70% of revenues.
The remaining business comes from the wireline telephone activity that was once the core of AT&T. Within these two broad confines reside a variety of products and services like voice and data, corporate networking, broadband and security solutions. Hundreds of millions of people in the U.S. and around the world are touched everyday by Verizon's highly diversified business.
The wireless business requires considerable capital to establish and to maintain the latest in technology. However, once in place, a digital network generates enormous cash flow. Since there is a limited amount of radio spectrum allocated to mobile wireless, meaningful new entrants for all practical purposes are non-existent.
Verizon has been paying quarterly dividends continuously since the 1984 breakup of AT&T. Increases have been made each year since 2006, qualifying the company as a Dividend Achiever.
Over the past ten years, dividend growth has averaged 3.8% with a 2.6% rate in the past five. The latest quarterly dividend of $0.565 per share was declared on July 6. An increase to $0.575 in the third quarter would be consistent with patterns of previous increases.
Verizon pays out a conservative 50% of earnings while retaining ample reserves for capital expenditures and acquisitions. In the last 12 months, Verizon's operating cash flow amounted to a solid $36 billion thus insuring both the safety of the current dividend and the ability to increase future payouts.
Shares of Verizon currently offer investors a high yield of 4.1%.
3. AT&T (T) - Get AT&T Inc. Report
Both AT&T and Verizon are diversified telecom giants and their highly predictable revenues make them both a solid choice for conservative investors seeking safe income from dividend stocks. But aside from this, the two companies could not be more different in makeup.
While Verizon's profits are derived almost entirely from wireless, AT&T relies on four groups. These include Business Solutions 49%, Entertainment Group 24%, Consumer Mobility 24% and International 3%.
AT&T strategy has been guided by the secular decline in it legacy landline telephone business. A 6.6% average growth in wireless customers however, has more than made up for the wireline decline. The entertainment group is experiencing major expansion from the 2015 acquisition of DirectTV that adds firepower to AT&T U-verse brand.
AT&T is often referred to as an industry giant. This refers to the high barriers to entering both the telecommunications and entertainment industry. The amount of capital equipment, regulatory licenses and approvals provide a heavy coat of armor to existing participants.
For the past three decades the industry has been marked by consolidation of the major industry players. Last years DirectTV buyout is simply the latest example. This phenomenon is quite likely to continue as sectors like wireless and entertainment mature.
Security and predictability are big parts of a safe retirement and AT&T fits this description to a T (pun intended). It has consistently increased the payout in each of the past 32 years, making the company part of the Dividend Aristocrats Index.
During the depths of the 2008 financial crisis, AT&T boosted its dividend 12.7%. The shares offer a current yield of 4.5%. The $1.92 dividend was last increased at year-end 2015 and so we would expect another gain this year as well. The prospective dividend is likely to range between $1.96 and $2.00.
AT&T has been a bit slower in growing its dividend in recent years: 2.3% on average the last five years versus 5.5% the previous five. The combination of a high payout ratio (80%) and the DirectTV acquisition is the reason. However, with over $35 billion in operating cash flow and capital spending coming down, the pace of earnings and dividend growth could notch up in several years.
4. The Southern Company (SO) - Get Southern Company Report
A safe retirement entails knowing there will be money coming in like clockwork, and the utilities sector is one of the best sectors for dividend income because these companies are so predictable.
All the better if the utility serves a growing population with a diverse array of energy resources. That is where The Southern Company stands out. The energy sources are diverse with 33 hydroelectric and 32 fossil fuel generating plants, 16 solar farms, and 1 each wind, biomass and landfill. They are the largest utility serving the vibrant states of Alabama, Georgia, Florida and Mississippi. These are areas where retirees are migrating.
The Federal Energy Regulatory Commission (FERC) regulates the sale and prices of energy sold between Southern Company and other utilities. The right to operate a utility within its service market and the prices charged are regulated the various Public Service Commissions in each state.
Alternative sources like solar and wind supplied by other, non-regulated entities give customers a choice of supply. Thus far there have been enough cost advantages to create a meaningful threat. Rather, companies like The Southern Company has bought or built sources of alternative energy.
Southern Company has paid dividends continuously since 1948, a record that qualifies the company as one of the most reliable dividend-paying stocks in the market. Over the past decade, dividends have grown at a 3.6% average annual rate and 3.1% over the past five.
Effective May 12, the annual payout was raised 6.6% to $2.24 per share. The payout ratio for 2015 was 83% but will drop to 79% based on consensus estimates for 2016 per share profits. A record $7 billion in capital spending in 2015 shows there are good opportunities to invest capital and once this pays off the company's 2.2% historic rate of earnings according to consensus estimates will tick up to 3.3% with dividend growth very likely to match.
5. Spectra Energy Partners LP (SEP)
A safe retirement can be a group of super stable dividend paying companies combined with growth. Here is one company with a superior dividend growth record. It is Spectra Energy Partners MLP, headquartered in Houston.
What makes MLPs and similar types of corporate structures interesting is their appealing payout requirements. They must payout at least 90% of operating cash flow in order to be treated as a tax-free entity. If this is combined with the right amount of growth in cash flow, the results can be very rewarding.
Spectra Energy earning assets include more than 15,000 miles of company owned pipeline network. It also makes good money by charging for the use of its 170 billion cubic feet of natural gas storage and 4.8 million barrels of crude oil storage.
Demand is highly sensitive to the price of crude oil and natural gas. To help mitigate risks and to provide for steady cash flow, over 90% of company revenues come from customer contracts that reserve certain minimum pipeline and storage capacity. This significantly improves the ability to forecast cash flow and reduce overall business risk.
The oil and gas pipeline and storage business is highly competitive. Much like the demand for real estate, the key to success in Spectra's business is pipeline location. Existing operators enjoy some degree of protection from the many regulatory hurdles involved in pipeline and storage building. With heavy capital costs involved in construction, long delays and uncertain outcomes tend to discourage new capital from entering the field.
Spectra Energy Partners MLP was formed in 2007 and has paid consistent dividends ever since. The latest annual payout of $2.43 has grown by 8.9% annually since 2007 and 7.4% over the past five years. The balance sheet holds $250 million in cash, $20 billion in assets producing a 7.5% FFO margin and $4 billion in long term debt there is room for growth in the dividend. Rising crude oil prices add further opportunities for FFO margins to improve.
In addition to some high dividend growth, Spectra Energy shares have a high yield of 5.6%. However, investors should familiarize themselves with the main risks of investing in MLPs.
6. Ventas (VTR) - Get Ventas, Inc. Report
Ventas is the nation's second largest publically own healthcare focused REIT. The company invests predominately through 768 Senior Housing Communities (70%). Next in order are 361 Medical Office Buildings (18%) followed by 46 Specialty Hospitals (4.4%), 53 Skilled Nursing Facilities (2.2%) and 12 General Acute Hospitals (1.8%) The balance (2.6%) is from loans and related investments. The company's investment properties are spread throughout the United States, Canada and the United Kingdom.
The company is not a healthcare operator. Rather it invests in healthcare properties that are leased to operators such as Brookdale Senior Living, Sunrise and others. These operators offer high quality private pay facilities that are not subject to Medicare or similar reimbursement dependency.
The demand for senior healthcare is underscored by the inflow of 10,000 people daily turning 65. Only a fraction of those 65+ are able to afford to pay for this care. Ventas management maintains that even a 1% increase in senior living share of this demographic group would require a doubling in the current number of senior housing units.
In general the business of investing in healthcare facilities is limited by capital availability. Unlike healthcare operators like Brookdale and Sunrise, investors in senior living need only be certain their investment properties conform to various state and local codes. However, on other activities such as skilled nursing and specialty hospitals, Federal, state and local authorities directly regulate the company. Available return on investment depends of property prices, interest rates, occupancy and the cost of maintenance or upgrading facilities.
Current investors are offered a yield of 4.1%. The payout has grown annually by 10% over the past 10 years and 7.3% over the past five. Last year alone, the dividend was increased 12%. The pace of turnover of Ventas existing portfolio will affect future payouts. Some $18 billion in property assets are held at cost less depreciation. This is well below current market for many of these assets.
7. International Business Machine (IBM) - Get International Business Machines (IBM) Report
IBM is one of the most widely recognized names in technology anywhere in the world. By its own declaration, IBM is unique. It claims the distinction as the only company in the industry that has reinvented itself through multiple technology eras and economic cycles. This is why it is one of Warren Buffett's top high-yield dividend stocks. Here is how the current version of the company is configured.
Global operations fit into five main categories and comprise IBM's $82 billion revenues: Global Technology Services (39%), Global Business Services (21%), Software (28%), Systems Hardware (9%), and Global Financing (2%) and Other (1%).
It is accurate to state that IBM's global reach is so wide that IBM products and services reach virtually everyone in the developed world. This includes the 49% in the Americas Group, 32% in the Europe/Middle East/Africa and 21% in Asia/Pacific area.
Technology is one of the most rapidly changing industries in the world today and this is only likely to accelerate in the future. In recent years, the availability of venture and other forms of startup capital has aided in the acceleration of innovation.
Most companies must attract and retain the human talent in order to keep pace. Often this is accomplished by starting in-house venture funding or by acquiring promising young companies. Over the years IBM has been consistently successful in attracting bright talent to help in the ever-reinventing process.
IBM started paying dividends as far back as 1913 and increased its dividend in each of the last 20 years. Over the last 10 years, the annual growth in dividends has averaged 16.7% and 15% over the last five. No wonder IBM is one of Warren Buffett's favorite dividend stocks. And the current payout ratio is still just 40%.
Through it's current $5.20 dividend, investors are offered a 3.5% yield. The current consensus for 2.5% growth suggests that IBM has reached yet another plateau. Nonetheless, with operating margins of 20%, $17 billion in operating cash flow against $33 billion in debt, IBM dividends can grow for a long time.
8. Cisco Systems (CSCO) - Get Cisco Systems, Inc. Report
Where would the information technology world be today were it not for Cisco Systems. It designs, make, and sell Internet IP based networking, video telecommunications and related products that form the backbone of the Internet.
Of course the Internet reaches most everywhere and so does Cisco's business. Management runs the business under 9 categories: Switching 32%, Routing 14%, Collaboration 9%, Data Center 7%, Service Provider Video 7%, Wireless 5%, Security 4%, Services 22% and Other 1%.
Constant innovation is the mantra of the technology industry. Disrupt thyself before someone else disrupts you. Over the last 20 years, there has been an abundance of capital to fund promising startups and a willing market of consumers. The challenge for companies like Cisco is to attract and retain top talent to spark further innovation.
Cisco Systems was once the Cinderella story of the technology churning out quarter after quarter of high double-digit growth as the world quest for greater Internet bandwidth appeared insatiable. As with most all things in technology, times have changed and Cisco's growth has slowed.
Cisco is a holding in Jim Cramer's Action Alerts PLUS Charitable Trust Portfolio. See how Cramer rates the stock here. Want to be alerted before Cramer buys or sells CSCO? Learn more now.
Over the past five years, earnings have moved up at just a 6.6% annual pace with an average of 5% growth expected over the short term. However, Cisco is a huge cash generator.
Last year cash flow from operations was $13 billion while total balance cash stands at $63 billion. The question with Cisco is not dividend safety because the company pays out only 44% of earnings. The question is how fast dividends will grow.
The company paid it first dividend in 2011, so the record is not long. However, if the consensus of earnings forecasts is accurate, a minimum annual increase of 10% would be in order. This type of dividend growth can quickly raise an investor's yield on cost.
Shares of Cisco currently offer a safe dividend yield of 3.4%.
9. Exxon Mobil (XOM) - Get Exxon Mobil Corporation Report
Rooted in the 1870's, Exxon Mobil is the largest energy company in the world with a sterling record of stability and growth. The business touches virtually every region of the world breaking down into three segments: Downstream (44%), Upstream (29%) and Chemical (27%).
The price of crude oil is key to virtually all energy companies, and Exxon is no exception. Some insulation is provided by its diverse resource base and the fact that lower input prices for oil benefits Exxon's petrochemical business.
Exxon started paying dividends in 1911 and has increased the payout in every one of the past 34 years. Earnings have been cut in half lately due to the slump in energy prices.
However, Exxon increased the dividend an average of 7% in each of the past two years and remains fully committed to its dividend. This reliability is unmatched and a great source of comfort for a safe retirement.
Earnings are expected to rebound sharply this year thus the dividend payout ratio should revert to about 60%. Based on consensus earnings projections, dividend growth should keep pace with the 10.6% average annual rate of the past 5 and 10 years.
Shares of Exxon Mobil offer a safe dividend yield of 3.2%.
10. Duke Energy (DUK) - Get Duke Energy Corporation (DUK) Report
Based in Charlotte, Duke Energy Corp. is a diversified energy company operating in three segments of the United States, Canada and Latin America. These include: Regulated Utilities (89%), International Energy (7%), and Commercial (4%). Duke ranks as the largest electric power holding company in America where it does the bulk of its business.
Dukes energy business is connected to heavily regulated utilities in the Carolinas, Ohio, Kentucky and Florida. The outcome of any year's operations is tied to the cost of commodities such as fossil fuels such as oil and coal. Many of the company's power generation come from coal-fired plants. This places the company in the middle of a controversial environmental and regulatory issue.
Duke has paid dividends ever since 1926, and the company's most important financial ratios remain healthy. The payout has increased continuously since 2008. The latest increase of 3.6% took place July 11, reaching an annual level of $3.42. This offers investors a current dividend yield of 4.0%.
Earnings at $2.8 billion in 2015, operating cash flow of $6.7 billion that covers capital expenditures, and a payout ratio of 83% suggest dividend growth will follow a path of future earnings. Analysts expect this growth to be about 4.5% annually.
This article is commentary by an independent contributor. At the time of publication, the author was long JNJ, VZ, CSCO, and XOM.