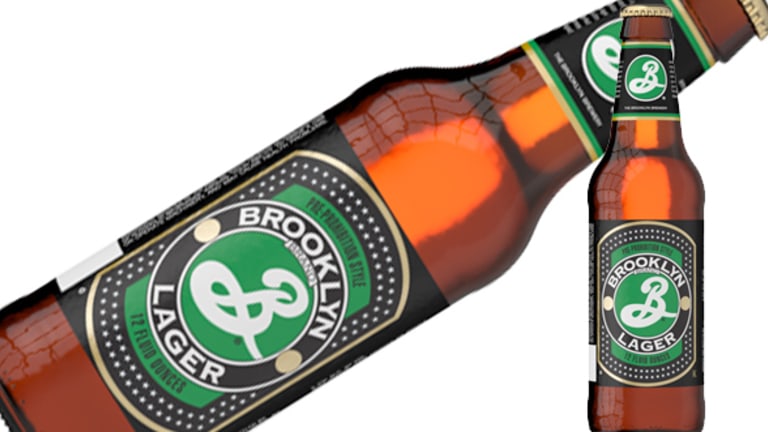 12 Beers That Aren't Made Where You Think They Are: Are You Drinking a Lie?
A successful lawsuit against Anheuser-Busch InBev reinforces the importance of not only where a beer comes from, but where it's brewed.
A successful lawsuit against Anheuser-Busch InBev reinforces the importance of not only where a beer comes from, but where it's brewed.
NEW YORK (MainStreet) –- There are a few million reasons why it matters where your beer is brewed, and brewers are becoming acutely aware of all of them.
Last month, Anheuser-Busch InBev announced that it would offer up to $3.5 million in refunds to beer drinkers who thought the company's Beck's brand was brewed in Germany. Though it originated in Bremen and is still produced at Braueri Beck, the Beck's sold here in the U.S. has been made in St. Louis since 2012.
We've previously discussed the importance of local brewing to the U.S. beer consumer, but a beer's authenticity can still come into question even if it isn't brewed nearby. As large brewers including Anheuser-Busch InBev, SABMiller, MolsonCoors and Heineken buy up brands around the globe, a nation or region's attachment to that brand can be stretched when the new parent company lets logistics dictate where a beer is brewed.
Smaller brewers are facing this issue as well. Sierra Nevada, Lagunitas, Oskar Blues, Green Flash, Stone and New Belgium are all West Coast or Rocky Mountain breweries that have opened brewing facilities a bit farther east in recent years. While Sierra Nevada and Oskar Blues have made a point of putting the names of their new North Carolina homes on the cans and bottles of beers brewed there, the role that California and Colorado play in those brewers' respective narratives hasn't diminished.
There are many ways that brewers can complicate their relationship with a beer's place of origin. They can buy a brewery that exists elsewhere and start producing that brewer's brand in their own facilities. They can opt to employ another brewer beyond their local offices to brew beer that they don't have the facilities or manpower to brew themselves -- a practice known as contract brewing. Or, they can open a secondary facility in another city, state or country that produces beer under the same brand in a different location.
However, as the Beck's example makes clear, there may be consequences to using those strategies in the future. Just to give you some examples of how complicated "local" beer branding can be, we've assembled just 12 examples of beers associated with one region, but brewed in entirely another. The labeling varies for each, thanks to the Treasury Department's Alcohol and Tobacco Tax and Trade Bureau, which allows beer companies to label beers with either their their brewery location, place of production or "principal place of business." Of course, "a TTB officer may disapprove the listing of a principal place of business if its use would create a false or misleading impression as to the geographic origin of the beer," but the basic gist is the same for the following brews. Have you been drinking a lie?

Bass Ale
Supposedly from: Staffordshire or Luton-Bedfordshire, England
Brewed in: Baldwinsville, N.Y.
There is a whole lot of confusion around the Bass brand, and the stateside version is just the least of its worries.
Though the Bass Brewery has been around since 1777, its takeover by Interbrew (now Anheuser-Busch InBev) in 2000 led to the most confusing portion of its history. The U.K. didn't think much of Interbrew's growing presence in its country and, to prevent a monopoly, forced Interbew to sell the Bass brewery to Coors. However, Interbrew still held rights to the brand, and, instead of paying to import what's essentially a Coors product, Anheuser-Busch InBev opted to brew Bass at its Baldwinsville, N.Y. facility starting in 2012. That makes U.S. Bass about as British as Syracuse University basketball or salt potatoes.
Foster's
Supposedly from: Melbourne, Australia
Brewed in: Fort Worth, Texas, and Albany, Ga.
As we noted back in 2011, Foster's isn't Australian for anything anymore.
That year, the iconic Aussie brewer sold to SABMiller for $10.2 billion. However, Miller and Foster's had been marketing Foster's in tandem in the U.S. since 2003 and started brewing Foster's here as early as 2007. When a brand's marketing has revolved around its national identity as long as Foster's has, is it a bit duplicitous to brew the contents of its huge oil cans in the U.S.? Ask Diageo, which transformed Jamaica's Red Stripe from a Jamaican import to a "Jamaican-style lager" when it moved production of that beer's U.S. supply to Latrobe, Pa., in 2012.
Kirin Ichiban
Supposedly from: Nakano-ku, Japan
Brewed in: Williamsburg, Va., and Los Angeles
Hey, the brand dates back to 1888, and the brewery itself was first built in 1907 in Yokohama. Has to be Japanese, right?
Well, the version you're drinking in the U.S. isn't. Anheuser-Busch InBev holds the U.S. distribution rights for Kirin and has been producing Kirin Beers at its Los Angeles facility since 1996. It hasn't made much of a secret of that, considering it sent out press releases saying as much roughly 10 years ago. The beer's label even states "Brewed under Kirin's strict supervision by Anheuser-Busch, Los Angeles, CA and Williamsburg, VA." However, this didn't prevent Kirin drinkers from filing a class-action suit against Anheuser-Busch InBev in 2013, claiming Kirin is "deceptively advertised as being imported from Japan." Now, Kirin buyers are entitled to a $50-per-household payout for their trouble.
Considering Anheuser-Busch InBev alone owns Brazil's Skol and Brahma, Belgium's Stella Artois, Hoegaarden and Leffe, China's Harbin, Germany's Löwenbräu and Beck's, Canada's Labatt's and Alexander Keith, big brewers might have to reconsider how they're marketing their international brand's most marketable feature.

Kona Brewing Company Longboard Lager
Supposedly from: Kona, Hawaii
Brewed in: Portland, Ore., Woodinville, Wash., and Portsmouth, N.H.
Kona is the top-selling brand in the Craft Brew Alliance's stable and accounts for nearly 250,000 barrels of the company's production -- making it a fairly large brewery unto itself. The cost of producing all of that "Liquid Aloha" in Hawaii and sending it to the mainland, however, is fairly prohibitive.
Founded in Kona in 1994, Kona Brewing still maintains a small brewery there, but all of its bottled beer and every keg it produces for the mainland comes from either the Widmer Brothers brewery in Portland, Ore or Redhook Ale Brewery locations in Woodinville, Wash. or Portsmouth, N.H.. They make that pretty clear in their origin story and install systems in each brewery to help mimic the high calcium and chloride content of Hawaiian water. That still gives Hawaiian brewers like Maui Brewing Company bragging rights for shipping their beers over, but Kona will take the huge growth and presence in 40 states.

Goose Island 312 Urban Wheat
Supposedly from: Chicago
Brewed in: Baldwinsville, N.Y. and Fort Collins, Colo.
When Goose Island was sold to Anheuser-Busch InBev for $38.8 million in 2011, it was the first in a series of buyouts that came on quickly with A-B's purchase of the Blue Point, 10 Barrel and Elysian breweries last year. However, it also served as a test case for A-B's foray into craft beer and a sign of what it might do if it bought a craft brewery.
It became clear almost immediately that if A-B thought it could brew more beer more efficiently elsewhere, it would. Three months after buying Goose Island, it moved production of 312 Urban Wheat -- named for Chicago's area code -- to its Baldwinsville, N.Y., brewing facility. A year later, production of 312 and Goose Island's Honkers Ale expanded to the A-B brewery in Fort Collins, Colo., as the Goose Island brand went nationwide. While Goose Island maintains its Chicago brewery for smaller batches and barrel-aged beers, it's been a long time since 312 Urban Wheat called Chicago home.

Rainier and Olympia beers
Supposedly from: Seattle and Olympia, Wash.
Brewed in: Irwindale, Calif.
The Rainier Brewery building along I-5 in Seattle still has the lighted red Rainier R atop it, but Rainier hasn't been brewed there since 1999, and Tully's Coffee was the last company to do any big-time brewing on those premises. Meanwhile, just a bit south on I-5, there are two abandoned Olympia Brewing facilities -- the newer of which hasn't produced a beer since 2003.
So why are 16-ounce tallboy cans of each of those beers still prevalent in the Pacific Northwest. Because Pabst Brewing Company, under the guise of the Kalamanovitz Trust, bought up a whole bunch of defunct beer brands in the 1980s and '90s and has basically been filling their cans with placeholder malt liquor until it determines what to do with them. That portfolio occasionally sees renewed life, as it did during Pabst Blue Ribbon's comeback of the last decade and during the re-emergence of Schlitz's 1960s "Gusto" recipe and the original Ballantine IPA formula. However, those beers are all contract brewed at either MillerCoors facilities or at brewers far removed from the brands' original hometowns -- though Pabst has planned a small "innovation brewery" in Milwaukee. There is a chance that Rainier could come back to Seattle and that both Rainier and Olympia could be restored to their original recipes, but it's as weak as the pale yellow stuff currently filling their cans.


Trumer Pils
Supposedly from: Salzburg, Austria
Brewed in: Berkeley, Calif.
It's Austrian regional pilsner style with nearly 600 years of history behind it, but the U.S. version of it is about as Austrian as U.C. Berkeley.
Little more than a decade ago, Austrian brewery owner Josef Sigl VII teamed up with Texas-based beer company Gambrinus's owner Carlos Alvarez to brew this Obertrum-born pilsner – called Trumer after its birthplace – in Berkeley using Trumer hops, yeast and malt. Since the water in the high Sierras did a great job of impersonating the soft water of the Salzburg alps, brewmaster Lars Larson was able to create a nearly spot-on match for the genuine article.
The California version of Trumer Pils picked up its first medal at the Great American Beer Festival in 2005, with more hardware coming from the World Beer Cup, European Beer Star Awards and Australian International Beer Awards. Josef Sigl himself dropped into Berkeley himself in 2006 just to see how well everything was going. Trumer Pils has since expanded its distribution along the West Coast and into beer hubs including Denver and Chicago. No, it isn't exactly Austrian, but since Gambrinus beers were immediately considered craft after the company stopped importing Corona in the early 2000s -- Trumer just as craft as Shiner Bock or BridgePort IPA.

21st Amendment Brew Free Or Die! IPA
Supposedly from: San Francisco
Brewed in: Cold Spring, Minn.
Sometimes, a brewery's growth gets ahead of it.
When 21st Amendment first opened its San Francisco brewpub in 2000, it didn't foresee either the second tech boom that followed or the craft beer boom that came along with it. By 2008, however, demand created by both forced 21st Amendment to turn to Third Street Brewery in Cold Spring. Its cans of Hell or High Watermelon Wheat and Brew Free Or Die! IPA always made clear where they were brewed, but 21st Amendment dreamt of one day bringing it all back home.
Last month, that happened. 21st Amendment opened a roughly 150,000-square-foot production facility in a former Kellogg's Pop Tarts and Eggos plant in San Leandro with the promise that the 57,000 barrels they were producing in Minnesota were just the beginning. Located basically next door to longtime San Leandro brewer Drake's, 21st Amendment should be able to wrap up production in Cold Spring and shift back to the Bay Area by the end of the year.

Schlafly Pale Ale
Supposedly from: St. Louis
Brewed in: Nashville, Tenn.
(Author's note: We'd originally said that Schlafly Pale Ale was brewed elsewhere, but Schlafly notes that it is brewed solely at their St. Louis facilities. The brewer also notes that Schlafly beers brewed elsewhere are clearly labeled with their point of origin.)
Growth in the beer industry can get messy, and things became particularly untidy for Schlafly in 2012 when it sold a 60% stake to St. Louis investors attached to private equity firm Sage Capital. Just prior to that, however, Schlafly decided to partner with Blackstone Brewing Company in Nashville and Backpocket Brewing in Coralville to accommodate Schlafly's expanding footprint. It helps that former Schlafly head brewer Dave Miller was at Blackstone when Schlafly began brewing there and has intimate knowledge of Schlafly pale ale's formula and specs. Meanwhile, only Schlafly Summer Lager and Oktoberfest are brewed in Coralville, while some of Schlafly's canned offerings are produced at the Stevens Point Brewery in Stevens Point, Wis. 
In fairness, a lot of brewers do this and use Tennessee to help expand their production. Widmer Brothers, Sixpoint and Boston Beer Company's Angry Orchard are just some of the brands produced by the contract brewers at City Brewing in Memphis. Former Schlafly brewmaster James Ottolini is going to get a firsthand look at the process, as he just joined St Louis-based contract brewing and marketing firm Brew Hub earlier this year. With craft beer sales and production expanding by double-digit percentage points each year, Schlafly won't be the last brewer to seek some help, either.

Samuel Adams Boston Lager
Supposedly from: Boston
Brewed in: Cincinnati, Ohio, and Breiningsville, Pa.
Jim Koch may have brewed his first batch of Samuel Adams Boston Lager on his stove in Boston more than 30 years ago, but that beer hasn't been brewed in Boston in many years.
Sure, Samuel Adams himself is still at rest in the Granary Burial Ground along Boston's Freedom Trail, but Boston Beer Company's flagship beer bearing his image isn't typically made at the company's small Jamaica Plain pilot facility and is only marketed from its offices along Boston Harbor. Even in the brand's earliest days, it was produced under contract by Miller in Eden, N.C., by Pittsburgh Brewing Company in Pittsburgh and the Blitz-Weinhard brewery in Portland, Ore. It wasn't until 1997, when Boston Beer purchased the old Hudepohl-Schoenling brewery in Cincinnati, that Boston Lager had a facility of its own.
In 2008, Boston Beer bought an old Schaefer Brewing plant in Breinigsville, Pa. and began producing beer there as well. With help from those two facilities, as well as a contract with City Brewing in Memphis, Boston Beer sold more than 3 million barrels of beer last year, with Boston Lager still accounting for a large portion of that. Boston may have been where that Vienna Lager was born, it's a Pennsylvania and Ohio beer at heart.

Narragansett Lager
Supposedly from: Providence, R.I.
Brewed in: Rochester, N.Y.
Eventually, Narragansett will get around to building a brewery.
Since the brand was bought out of Pabst purgatory in 2005, it's become one of the Top 50 breweries in the U.S. by production. However, all those Del's shandies and Autocrat coffee stouts are brewed at North American Breweries' Genesee Brewing Company facilities in Rochester until Narragansett can find space and capital to open shop in its historic hometown of Providence.
Narragansett owner Mark Hellendrung admits that's going to take a while, especially since the Narragansett plant in Cranston, R.I., that closed in 1981 is long gone and Narragansett's running start requires a 100-barrel brewhouse just to keep up with capacity. That's a massive starter brewery that will require a whole lot of up-front costs. Hellendrung is sniffing out some sites throughout the state, but right now, Narragansett will have to shout "Hi Neighbor" to its New England drinkers from way out in Western New York.

Brooklyn Lager
Supposedly from: Brooklyn
Brewed in: Utica, N.Y.
Do you have any idea what real estate prices are like in Brooklyn?
Probably a lot cheaper when owner Steve Hindy opened shop in 1987, but at that time he only had enough cash to start brewing at the F.X. Matt brewery in Utica, perhaps best known for its Saranac line of beers. Hindy didn't open a brewing facility in Brooklyn until 1996 and he was only able to expand it in 2009 after the housing crisis and ensuing recession sent prices plummeting.
That said, Hindy and brewmaster Garrett Oliver are likely never going to be able to open a facility in Brooklyn that brews all of their beer. It's why the brewery has been in talks to build a production facility on Staten Island to finally bring its beers into the city proper. It isn't Brooklyn, mind you, but it's closer to Brooklyn than Utica and definitely closer than either Wilkes-Barre, Pa., or Memphis, Tenn. (we're looking at you, Sixpoint).
This article is commentary by an independent contributor. At the time of publication, the author held no positions in the stocks mentioned.