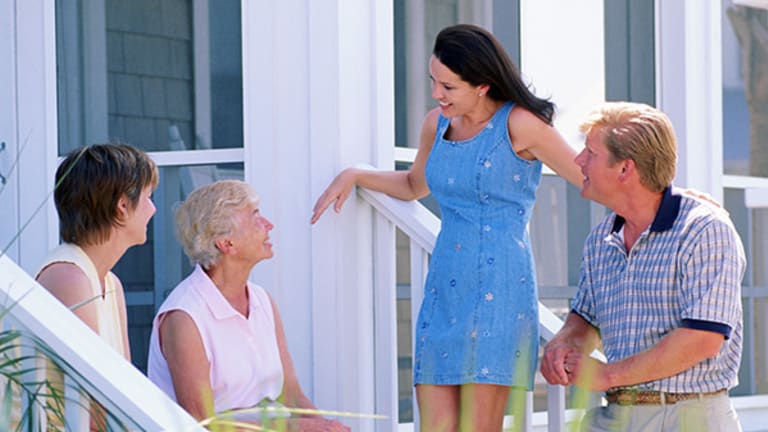 Why You Should Always Talk to Future Neighbors When Buying a Home
Does the neighborhood have hidden problems? Are the restaurants any good? Your future neighbors may be freest to give honest answers.
NEW YORK (MainStreet) — Sales of new homes were up 18% in August — a six-year high of 526,000 homes sold, way ahead of the 426,000 expected to sell, says the U.S. Commerce Department. If it stands — the Commerce Department does revise figures — it would be the highest growth rate for new U.S. homes since 1992.
Compare Today's Low Mortgage Rates
But the news from the residential real estate market isn't all positive. Sales of existing homes slid by 1.8% in August, to 5.05 million, and were down by 5.3% on a year-to-year basis as well, the National Association of Realtors says.
There could be a good explanation: So-called "all cash" investors took some profits and headed for the sideline.
"There was a marked decline in all-cash sales from investors," says Lawrence Yun, the NAR's chief economist. "On the positive side, first-time buyers have a better chance of purchasing a home now that bidding wars are receding and supply constraints have significantly eased in many parts of the country."
"As long as solid job growth continues, wages should eventually pick up to steadily improve purchasing power and help fully release the pent-up demand for buying," he adds.
In the meantime, if you are in the market for either buying or selling a home, boost your chances of getting a better deal by talking to the neighbors. It may seem like an unusual method to cut a great real estate deal, but it really works, says Rhonda Duffy, a listing agent for Realtor.com in Atlanta, Ga.
"The one thing homebuyers and sellers should do — but don't — is ask the neighbors questions," Duffy says.
If you're buying, neighbors can be great sources about:
If the neighborhood (and ideally, the home you're buying) has had flooding problems the seller didn't tell you about.
Where the best community amenities are, including hairstylists, pharmacy, houses of worship, parks and restaurants. Are the closest ones any good, or will you have to drive far for quality or reasonable prices?
Recurring crime or safety problems. Some problems, such as loitering and some cases of vandalism, may not show up on police reports, but you'll still want to know about them.
What they like most or least about living in the neighborhood. Nobody knows the local vibe like a neighbor who's been there awhile.
Another tip from Duffy: Ask neighbors if they know why the seller is letting go of the property. It may be for aboveboard reasons (the kids are off to college, a transfer at work or a divorce, for example). But there may be some hidden reasons you'll want to know about, such as ongoing problems with the home.
If you're selling your home, you can ask a neighbor or two what convinced them to move in and leverage that information.
When you open your home to an open house, invite your neighbors — turn it unto a block party and have them available to answer buyers' questions about the neighborhood.
Neighbors can and should be a key resource in cutting the best home sale deal possible, but too many real estate consumers don't bother to avail themselves of the neighbor angle.
— By Brian O'Connell for MainStreet