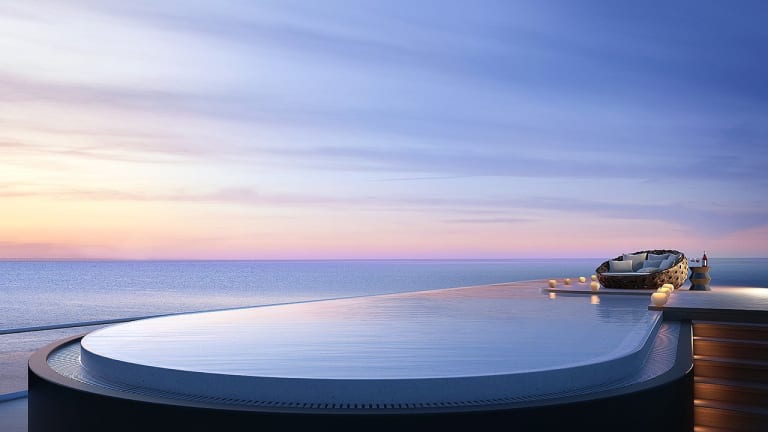 Ultra-Luxury Condo Market Slows in NYC, Heats Up in Miami
The ultra-luxury condominium market, largely fueled by foreign buyers, is showing signs of slowing in New York City, real estate experts say. The situation's quite different in Miami.
NEW YORK (MainStreet) — A listing for a three-bedroom, $27 million apartment at One57, New York's prominent luxury condominium high-rise on "Billionaire's Row," is still on the market after one year.
One57, the prestigious glass tower that boasts and unparalleled vistas of Central Park, the Hudson and East River, sold its penthouse for $100 million but has multiple units available since its opening in 2014.
"Once we see the number of these [ultra-luxury] properties staying on the market for a while, it's a pretty big disincentive from building these types of projects," said Ryan Severino, senior economist at Reis Inc.
The ultra-luxury condominium market, largely fueled by foreign buyers, is showing signs of slowing in New York City, real estate experts say. But as the pace for buying super-luxury condos in Manhattan decelerates, shovels are breaking ground to build luxury high-rises in South Florida.
"New York is probably slowing down from the torrid pace, San Francisco will be a hot for a while and Miami is on an upswing given the recent entrance of the Chinese into the market." Severino said.
Party in the City Where the Heat Is On
Miami's Faena House, a luxury 18-floor tower designed by star architect Norman Foster and developed by Argentine Alan Faena, fetched a price tag north of $50 million for its penthouse. The luxury building, with hotel-style amenities and views of the Atlantic Ocean, is still under construction and sold out.
"Buildings like the Faena are raising the bar and there are other pre-construction programs out there, so we are just getting into the ultra-luxury market," said Bill Hernandez, founding member of the "Bill and Bryan Team" and director of luxury sales for Douglas Elliman in Miami.
Two years ago, few properties in Miami sold above $15 million, local real estate brokers say. Now, new super-luxe penthouses are smashing previous records.
But, local real estate agents say the Miami luxury market is still a bargain compared to other international cities.
The average square foot costs for luxury condo in New York ranges from $900 to $2,000, whereas a very high-end condo in Miami fetches around $650 per square foot according to Wells Fargo, the largest U.S. home lender.
"The price points that you hit in a place like Miami are different than New York, and that's contributing to the slowdown," said Severino.
Buyers are more attracted to the slightly lower price points, the Reis economist added.
"The $10 to 20 million dollar prices in New York are similar to our $5 million dollar listings," said Hernandez, who says there is an increase in high net worth New Yorkers migrating to South Florida to buy its luxury condos. "The luxury market [here] starts between $5 and $7 million and anything up to $10 million is considered ultra-luxury."
Driving Luxury
San Francisco, Los Angeles, Boston, New York and Miami are the largest metropolitan markets with a very high-end ultra-luxury segment, according to Jason Will, vice president and national condominium manager at Wells Fargo.
"Although Miami is much less mature than what I would call San Francisco, it's made significant strides and laying the infrastructure and foundation to be a top tier international city," Will said.
The key driver for most of those major metropolitan cities for the past couple years has been the foreign influence, he said. The U.S. dollar has been low, oil prices have been strong and currency trades have been favorable for foreign buyers to bring their money to the U.S. and cash dollars into luxury condominiums.
High-net-worth Russian buyers are credited for influencing the luxury real estate market in the U.S. over the last five years, especially in New York. But, buyers from Russia are now recoiling from the U.S. market, faced with cratering oil prices, a plummeting ruble and international sanctions.
Insulated from the fall of Russian buyers, the luxury condo market in Miami has been driven mainly by offshore buyers from Latin America for the last three years.
"The Brazilians have really been the leaders in buying in the top end of the market," said Philip Spiegelman, principal at International Realty Services, who characterized the buyers as a mix of Latin Americans, Europeans, Americans and a small number of Chinese.
Foreign buyers accounted for nearly one-third of real estate transactions last year in Miami-Dade and Broward counties, according to National Association of Realtors report. Some 81%paid cash, and 72% bought a condo or townhouse, the report found.
Domestic investors from the Northeast are increasing and represent around 20% of the luxury market, according to Spiegelman, who said most Americans purchase lower luxury price points between $8 and $10 million.
"Right now, Miami is still driven primarily by South Americans because of the way the projects are financed," said Will, with regard to the hefty 70% security deposits required by most Miami luxury developers before breaking ground.
Eastern Promises
But the entrance of Chinese entering the Miami market has just begun.
Chinese are becoming one of the fastest-growing segments of foreign buyers, according to the Miami Association of Realtors.
The largest construction in Miami is the $1.05 billion dollar mixed-used development by the name if Brickell City Centre, financed by Hong Kong–based Swire Properties. The plan will develop 2.9 million square feet near Miami's Sunny Isles Beach for mixed-use space with two high-rise, premiere condominium towers -- the Reach and the Rise.
Real estate brokers predict that Miami International Airport will offer direct flights to Beijing in the coming year.
"Once that happens you'll see a tremendous surge and we will have many buyers in the ultra-luxury market in Miami," Hernandez said.
Of course, although the pace of ultra-luxury market in New York is winding down, property in New York will hold value because of its supply constraints, real estate analysts say.
"New York is still New York," Severino said. "It's just some foreign buyers are starting to realize the benefits of other metropolitan markets."
--Written by Farran Powell for MainStreet