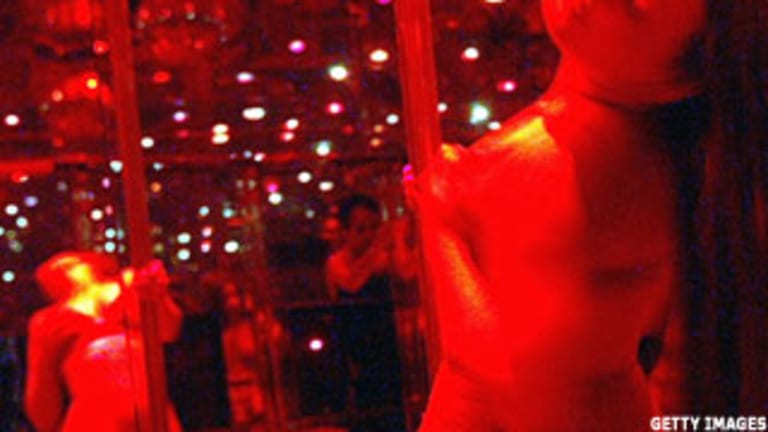 Stripper Loans and Mortgage Smoking Guns
Documents supporting claims by monoline insurance companies against securitizers reveal scantily-clad documentation.
NEW YORK (
) -- Just looking at one example of a busted loan cited in a mortgage putback claim by bond insurer
MBIA
(MBI) - Get Free Report
illustrates just how complicated it is for regulators to figure out who to blame -- or if there's anyone not to blame -- for the multi-trillion dollar mortgage mess.
Several state attorneys general are investigating the banking industry in regards to shoddy mortgage
underwriting and have reportedly subpoenaed monline insurers such as MBIA and
Ambac
undefined
in order to use those private claims as a jumping-off point for a public prosecution.
The exhibits suppoprting the MBIA lawsuit against
Credit Suisse
(CS) - Get Free Report
units Credit Suisse Securities (USA) LLC, DLJ Mortgage Capital and Select Portfolio Servicing in New York State Supreme Court, include the now-infamous "stripper loan application," where the borrower claimed to earn $142,800, a year.
Dollar "tips" for one borrower added up to a sizable home loan.
According the filings, the applicaton was for a "stated income loan," which didn't require the "adult entertainer" to document her earnings, but left the underwriters free to put on their thinking caps and voice any concerns.
The filings, which are located on MBIA's Web site, say that then appraised of suspicions over the amount of the applicant's stated income, a Credit Suisse employee said in an email "entertainers typically operate in cash. Its high end club in charlotte. Not the pink pony in backwoods area. Its Upscale. Ask mahar hahaha"
In a reply nine minutes later another Credit Suisse employee considered the logistics of operating on a cash-only basis, according to the filing.
"So she mails out cash to pay her bills? Those envelopes could get heavy full of small $ bills."
Regarding the above loan application, a Credit Suisse spokesman told
TheStreet
that "the bank evaluated and rejected the loan for the securitization that MBIA wrapped."
But dicey income representation are not the only issues regulators will need to deal with when it comes to the mind-boggling, pre-bubble mortgage underwriting process.
In claiming that Credit Suisse securitized mortgages made by third parties even when it knew of substandard underwriting, MBIA cited another securitized mortgage -- a $1 million refinancing -- where the borrower defaulted by never even making the first loan payment.
According to documents on MBIA's web site, a Credit Suisse employee emailed the loan servicer saying that the situation was "fishy all the way," with three loans to the same borrower, secured by two properties, and no current contact information for the borrower.
The borrower originally purchased the home securing the $1 million loan in August or September 2006 for $800,000, which was a "red flag" according to the loan servicer, since the property "was listed for $729,000 reduced to $695,000." The borrower's original $1 million financing consisted of an $800,000 first mortgage and a $200,000 second mortgage. Since "the real sales price" that the borrower had paid "was probably less than $695,000," the loan servicer said it was likely that the borrower "pocketed $300,000," in the borrower's "first fraud."
The loan that Credit Suisse securitized was a $1 million refinancing that took place in December 2006, which resulted in the "first payment default." The borrower stated on the refinance application that the property would be their primary residence, and the servicer said appeared that the refinancing didn't require an appraisal.
The property was vacant.
Under its agreement with MBIA, Credit Suisse was required to notify the securitization trustee of the loan defects, and repurchase the loan, without being prodded to do so.
These two examples illustrate just how many corners were being cut at the height of the real estate boom, including the lack of an appraisal for a large primary residence refinancing and the common practice of securitizing loans before the first payment was even expected to be made.
When reviewing a delinquent mortgage loan, it's not surprising to discover sloppy underwriting, insufficient documentation or a silly credit policy to begin with, but the surprising thing about MBIA's putback claim against Credit Suisse is the high percentage of loans that the insurer claims violated the representations and warranties of Credit Suisse unit DLJ Mortgage Capital.
MIBA claims that through "October 31, 2009, loans representing more than 51% of the original loan balance" that the insurer guaranteed for Credit Suisse in April 2007, "or "approximately 464 million," had "defaulted and been charged-off, requiring MBIA to make $296 million in claim payments."
While a third-party consultant retained by MBIA found breaches of representations and warranties in 87% of a sample of 1,386 defaulted loans in the Credit Suisse pool, a random sample of 477 loans in the pool - including performing loans - also found a remarkably high 79% that breached representations and warranties.
Among the defects found in the samples according to MIBA, were "pervasive violations of the originators' actual underwriting standards, and prudent and customary origination and underwriting practices," including approving reduced-documentation loans to borrowers who didn't qualify for those programs, failure to conduct "income-reasonableness analysis" for stated-income loans, and lending to borrowers whose debt-to-income ratios exceeded agreed-upon limits.
MBIA also cited "rampant fraud" in the sample, which included borrowers misstating their income and other loans, and also indicating the underlying properties would be primary residences rather than investments.
A call to Credit Suisse seeking comment wasn't immediately returned.
With an endless array of poor credit policy decisions, lack of compliance with agreed-upon credit policies and underwriting standards, sloppy documentation and other cutting-of-corners, not to mention various types of fraud, it is no wonder that the process of working through the mortgage mess is taking so long.
The largest U.S. bank holding companies have huge mortgage securitization exposure, and although we are likely to see an easing of regulatory pressure as the big banks settle with the federal regulatory agencies and states' attorneys general, the mortgage putback claims will take many more years to work through the courts.
The large banks' potential exposure on securitized mortgages is huge. According to its regulatory Consolidated Financial Statements for bank holding companies (FR Y-9C) filed with the
,
Bank of America
(BAC) - Get Free Report
had $96.9 billion in one-to-four family mortgages serviced for others that were in the process of foreclosure as of March 31.
JPMorgan Chase
(JPM) - Get Free Report
reported $63.2 billion in one-to-four family mortgages serviced for others that were in the process of foreclosure as of March 31.
Wells Fargo
(WFC) - Get Free Report
reported $35.9 billion in one-to-four family mortgages serviced for others that were in the process of foreclosure as of March 31.
Citigroup
(C) - Get Free Report
reported $10.2 billion in one-to-four family mortgages serviced for others that were in the process of foreclosure as of March 31.
It looks like there's plenty of blame to go around.
--
Written by Philip van Doorn in Jupiter, Fla.
To contact the writer, click here:
.
To follow the writer on Twitter, go to
http://twitter.com/PhilipvanDoorn
.
To submit a news tip, send an email to:
.
Philip W. van Doorn is a member of TheStreet's banking and finance team, commenting on industry and regulatory trends. He previously served as the senior analyst for TheStreet.com Ratings, responsible for assigning financial strength ratings to banks and savings and loan institutions. Mr. van Doorn previously served as a loan operations officer at Riverside National Bank in Fort Pierce, Fla., and as a credit analyst at the Federal Home Loan Bank of New York, where he monitored banks in New York, New Jersey and Puerto Rico. Mr. van Doorn has additional experience in the mutual fund and computer software industries. He holds a bachelor of science in business administration from Long Island University.