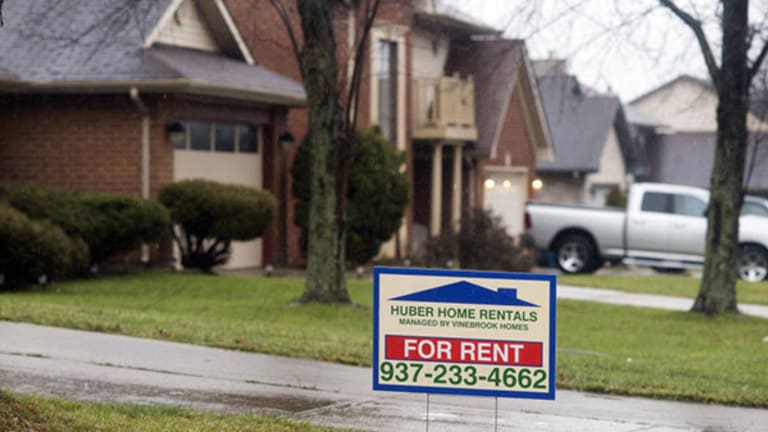 How Millennials May Have Given Up on Owning the American Dream
Is 'Generation Rent' a choice or a necessity?
NEW YORK (MainStreet) — Are Millennials giving up on the American Dream? Two recent housing studies found real estate isn't what it used to be.
Many Millennials are in the sweet spot for first time home buying – between the ages of 25 and 34, when Americans have traditionally moved into homeownership – but first-time homebuyer rates are down. According to a study by the Harvard Joint Center for Housing Studies, first time homebuyer rates dropped from the historical average of 40% dating back to 1981, to 38% in 2013.
The JCHS also found 30% of Millennials across 85 urban areas can afford to buy a home, but aren't. A survey conducted by Rocket Lawyer found 24.1% of Millennial respondents were renters.
Studies like these may have dubbed Millennials "Generation Rent," but have we really given up, or do we just not think the American Dream is a reachable as it once was?
The Desire for Homeownership Is There
Phrases like Generation Rent conjure up images of young adults flocking to urban areas and over paying for a lease on a modern condo. And while there may be some truth to that – Rocket Lawyer found 18.2% of renting Millennials would pay over the asking price – not everyone wants to be a longtime renter.
"I think about buying often," says Justin Reynolds, a copyeditor from Westport, Conn. "I'm 30, aren't you supposed to have a house by now?" 
For many in this generation, homeownership isn't something to take lightly, either. They get the value of transitioning out of renting.
"Buying a home is supposed to be a win for so many reasons, right?" Reynolds says. "You pay yourself rent. You get to learn how to take care of property. And you get to invest in something that has value that will ostensibly increase over time." 
Price Is an Obstacle
Being a first-time homebuyer has always been scary. Being a first time homebuyer in a post-recession world with tightened lending regulations and ever-rising student loan debt is downright terrifying. Many Millennials worry they can't afford the recommended 20% down payment, let alone the cost of a home.
"I definitely do want to buy," Reynolds says. "It's just so expensive. At least around these parts."
Then there's qualifying for a mortgage, a whole other financial beast to tackle. Most Millennials are too young to really remember the country pre-Great Recession, but they've heard tale of lenders handing out mortgages like Costco hands out free samples. They know housing went bust and qualification rules got a lot tougher; as a result, they think the system will shut them out.
Education Is Another Obstacle
"Mortgage lending rules have changed. The housing market is constantly changing. It's hard for buyers and sellers to keep up," says Darbi McGlone, a Baton Rouge-based Realtor.
The ever-changing financial world is causing Millennials to shy away from homebuying. "I find a lot of Millennials are scared to make the big purchase, because they are not educated when it comes to the home buying process," McGlone says.
Thankfully, this may be the one area where there is an easy answer: "Educate yourself," McGlone says. If you're mentally ready to buy, getting financially ready to buy might be easier than you think. "Speak with a trusted lender," she says. "You know what you are comfortable paying each month so make sure when you are pre-approved you are comfortable paying that note every month."
Cosigners Are More Important Now
While asking your parents to cosign your first home loan isn't a revolutionary concept, for many Millennials, it may be the only option.
"I hated apartment living and constantly moving," says Alessandra Cusimano, an insurance representative from Metarie, La. Cusimano and her husband bought their first house two years ago after years of renting. Finding a home and securing a loan wasn't as hard as she thought it would be, "Our agent was amazing and really held our hand with most of it," she says. "Once we had the house he pointed us where to go and had connections with banks." 
But Cusimano faced a situation many Millennials are finding themselves in. "My parents helped a lot," she says. "We wouldn't have been to do it without their help."
For younger adults who don't have – or don't want to ask for – a parent or more established adult for help, needing a cosigner might be a difficult roadblock in face of stricter credit score requirements.
Homeownership Doesn't Have the Same Appeal
Traditionally, buying a home was one of the most secure financial decisions you could make, but growing into adulthood in the Great Recession taught many young adults to be more cautious of big purchases, sometimes going as far as avoiding them all together.
"I think paying rent is considered less of an obligation than purchasing a home to this generation. This is where the lack of education comes in play. This generation would rather pay rent not knowing it's actually cheaper to just buy," McGlone says.
For Millennials who don't want to avoid bigger financial commitments, making the plunge still may not seem as attractive now as it once did.
"We've seen that property is no longer the kind of secure investment it was a few years ago," Reynolds says. "On top of that, there's not as much of an incentive to owning. A few years back, you had the first-time homebuyer's credit. That's gone."
Frustration
While there is good news on some fronts – like lower interest rates and slow trickle toward a lower unemployment rate – many Millennials are still struggling to keep up with rising rents, stagnate pays and tougher lending rules, which is leading to some understandable frustration. Especially from young adults like Reynolds who would like to buy a home.
"As taxes increase and our purchasing power decreases, no one's getting huge raises," Reynolds says. "Who the hell has the money to buy a house, particularly with an economic future that's cloudy at best? I'll tell you who: Honey Boo Boo."
-Written by Angela Colley for MainStreet.