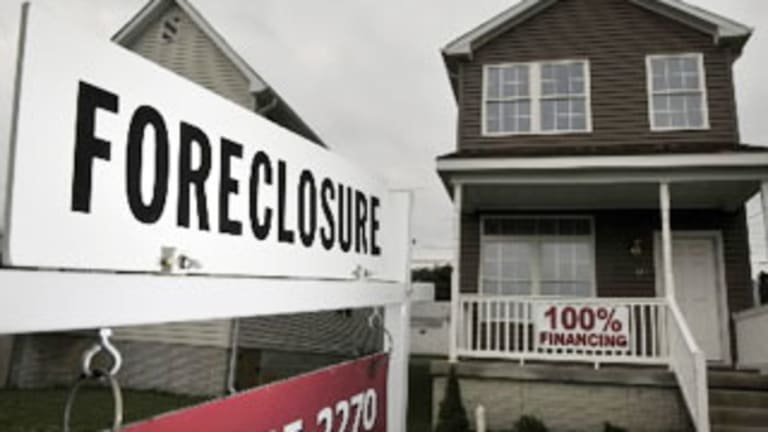 Freddie Borrows From U.S. to Pay U.S.
The mortgage giant -- effectively a ward of the state since September 2008 -- seeks to borrow an additional $6 billion from the U.S.
NEW YORK (
) -- Freddie Mac
(FMCC)
on Thursday reported a third-quarter net loss of $4.4 billion and said its regulator would request a "$6.0 billion draw" for the third quarter from the U.S. Treasury Department.
In comparison, Freddie Mac reported a net loss of $2.1 billion in the second quarter, with additional government borrowings of $1.5 billion. In the third quarter of 2010, the net loss was $2.5 billion, with a government borrowing request of $100 million.
Freddie's shares were down 3.5% in early trading, to 25 cents.
The mortgage giant -- seized by the federal government in September 2008 along with fellow government-sponsored mortgage competitor
Fannie May
(FNMA)
-- paid $1.6 billion in dividends to the government during the third quarter, and said its regulatory, the Federal Housing Finance Agency, or FHFA, "as Conservator, will submit a $6.0 billion draw request to Treasury."
This will increase the government's preferred stake in Freddie Mac to an "aggregate liquidation preference" of $72.2 billion, as of Dec 31.
With the government's stake in Freddie Mac continuing to grow, the company's 10% preferred dividend to the Treasury will increase Freddie's annual dividend payout to $7.2 billion, "which exceeds the company's annual historical earnings in all but one period." Since it was put under FHFA conservatorship, the company has paid the government $14.9 billion cash dividends.
Freddie said that the increased third-quarter loss reflected "the impact of further declines in long-term interest rates on the fair value of derivatives," with long-term rates declining "by approximately 125 basis points in the third quarter, compared to a decrease of about 30 basis points in the second quarter." Freddie said in late September what
mortgage rates were at their lowest levels on record
.
The larger second-quarter loss also reflected increased credit costs, with a $3.6 billion provision for credit losses, increasing from $2.5 billion in the second quarter, but down slightly from $3.7 billion a year earlier.
Freddie Mac CEO Charles Haldeman said that the company "was a stabilizing force in the mortgage market, ensuring the continuous flow of funds to lenders and borrowers and helping families avoid foreclosure," and had "made further progress this year on becoming a stronger and more efficient company - adding high quality loans to our book and streamlining operations," to maximize "the value of our assets for America's taxpayers, and
reinforce the housing finance system."
Over time, Freddie Mac may recoup some of its losses as the FHFA's slew of lawsuits against large mortgage lenders whose mortgage-backed securities were purchased by the government-sponsored mortgage companies, play out.
The FHFA in September
-- including
Bank of America
(BAC)
,
JPMorgan Chase
(JPM)
,
Goldman Sachs
(GS)
,
Morgan Stanley
(MS)
, and
Citigroup
(C)
-- to demand full rescission and recovery of losses sustained by the GSEs from the purchase of nearly $200 billion in mortgage-backed securities from the banks.
The mortgage-backed securities sales to the GSEs by Bank of America -- including sales by Countrywide and Merrill Lynch before both companies were acquired by Bank of America -- alone totaled $57.5 billion, while the FHFA said JPMorgan's securities sales to Freddie and Fannie - including those by Washington Mutual before the thrift failed and was sold by the Federal Deposit Insurance Corp. to JPMorgan in Sept. 2008 -- totaled $33 billion.
For Citigroup, the mortgage-backed securities sales to Fannie and Freddie described in the FHFA lawsuit totaled $3.5 billion, while securities sales to the GSEs totaled $11.1 billion for Goldman, $10.6 billion for Morgan Stanley, and $3.5 billion for Citigroup.
With
President Obama's expansion of the Home Affordable Refinance Program, or HARP
-- which beginning early in 2012 will remove the current 125% loan-to-value ratio for refinancing of mortgage loans held by Freddie Mac and Fannie Mae -- refinancing activity is expected to accelerate, putting pressure on the government-sponsored mortgage giants' interest income and margins.
RELATED STORIES:
Obama's Refinance Plan Is a Lifeline Everyone Should Grab >
How You Can Save By Refinancing Now >
U.S. Sues 17 Banks Over Mortgage Losses >
--
Written by Philip van Doorn in Jupiter, Fla.
To contact the writer, click here:
.
To follow the writer on Twitter, go to
http://twitter.com/PhilipvanDoorn
.
Philip W. van Doorn is a member of TheStreet's banking and finance team, commenting on industry and regulatory trends. He previously served as the senior analyst for TheStreet.com Ratings, responsible for assigning financial strength ratings to banks and savings and loan institutions. Mr. van Doorn previously served as a loan operations officer at Riverside National Bank in Fort Pierce, Fla., and as a credit analyst at the Federal Home Loan Bank of New York, where he monitored banks in New York, New Jersey and Puerto Rico. Mr. van Doorn has additional experience in the mutual fund and computer software industries. He holds a bachelor of science in business administration from Long Island University.