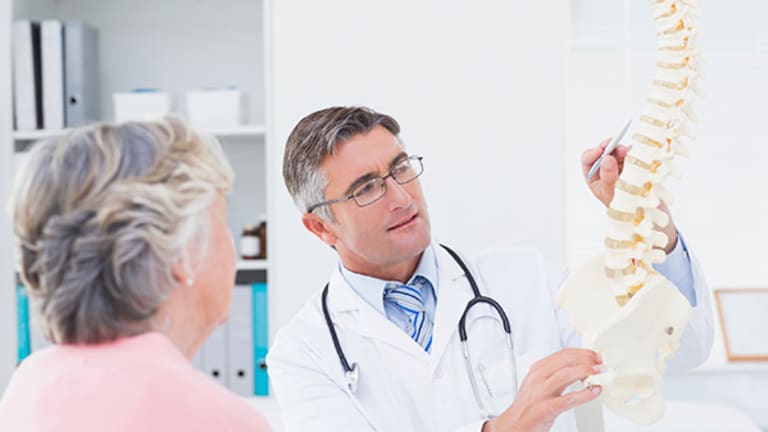 Cramer Says Buy NuVasive on Heels of Zimmer's LDR Deal
The target's shares soar on heels of latest back treatment acquisition.
In a move to bulk up its spine segment, Zimmer Biomet (ZBH) - Get Zimmer Biomet Holdings, Inc. Report has agreed to takeout medical device company LDR (LDRH) for approximately $1 billion in cash.
Warsaw, Indiana-based Zimmer said Tuesday, June 7, that its board of directors has approved an agreement under which Zimmer will commence a tender offer to purchase LDR for about $37 a share in cash, or about $1 billion.
The news sent shares of LDR up about 63.57% to $36.94 in Tuesday's trading shares, falling just short of the offer price. Zimmer Biomet shares slid about 2.5% to $118.45.
Zimmer's deal for LDR comes hours after NuVasive (NUVA) - Get NuVasive, Inc. Report , a medical device company focused on transforming spine surgery, announced a $98 million deal for patient monitoring business Biotronic NeuroNetwork. In an even larger play, NuVasive in January announced plans to buy Ellipse Technologies Inc. for up to $410 million, gaining access to noninvasive magnetically adjustable implant systems for spinal and niche orthopedic surgeries. 
The continuance of dealmaking among medical device players in the spine treatment space, and especially Zimmer's Tuesday purchase, are further confirmation of the opportunity in the sector.
Private equity has also expressed interest in the spinal segment. Kohlberg & Co. in May purchased a majority stake in Amendia, which makes medical devices used in spinal surgical procedures. Financial terms of the deal weren't disclose, but one industry source said the deal was valued at about $170 million.
According to TheStreet's Jim Cramer, Zimmer's Tuesday deal is further reason investors should consider buying shares of money-making NuVasive.
"The core business at Zimmer Biomet is doing incredibly well, so they add cervical," said Cramer. "This was a really interesting acquisition, because I want people to buy Nuvasive off this." 
For Zimmer--whose medical device offerings include everything from orthopedic reconstructive products and sports medicine to bone healing and dental implants--the LDR deal will position it as a leader in the cervical disc replacement market, a segment within the $10 billion spine industry, the company said in the Tuesday announcement.
Founded in 2000 in France, LDR makes and commercializes technologies used for surgical procedures in the treatment of spine disorders. LDR's Mobi-C CDR device represents the first and only FDA-approved device that treats both one- and two-level adjacent damaged cervical discs.
Zimmer said it will finance the transaction with a combination of cash on hand and availability under its revolving credit facility. The company plans to issue $750 million of senior unsecured noted following completion of the deal, proceeds of which will be used to repay the credit facility.
Zimmer CFO Daniel Florin told investors on a Tuesday morning conference call that while the LDR deal in the near-term limits larger transactions, the company will continue to have "some capacity from a bolt-on M&A perspective so we're going to continue to look for complementary areas." 
The medical device company is committed to achieving its leverage target of 2.5 times gross debt by the end of 2018, the CFO reiterated on the call. 
LDR will be rolled into Zimmer's Spine and CMF segment, led by Zimmer's Adam Johnson, who serves as group president of that segment as well as those of Thoracic and Dental.
The transaction is expected to have no impact on adjusted and diluted EPS in 2017 and add to them thereafter.
LDR co-founder, chairman, president and CEO, Christophe Lavigne, as well as LDR co-founder and executive vice president and general manager of LDR Medical, Patrick Richard, will remain employed by Zimmer in key leadership positions, though the acquirer didn't specify what those will be.
The transaction remains subject to customary closing conditions, clearance under the Hart-Scott-Rodino Antitrust Improvements Act and the tender of a majority of the outstanding LDR shares. The deal is expected to close in the third quarter.
Tuesday's acquisition comes about a year after Zimmer completed its $14 billion cash and stock acquisition of Biomet, following which it changed its corporate name to Zimmer Biomet. The deal was consummated in June 2015 after undergoing antitrust review in the U.S. for nearly a year.