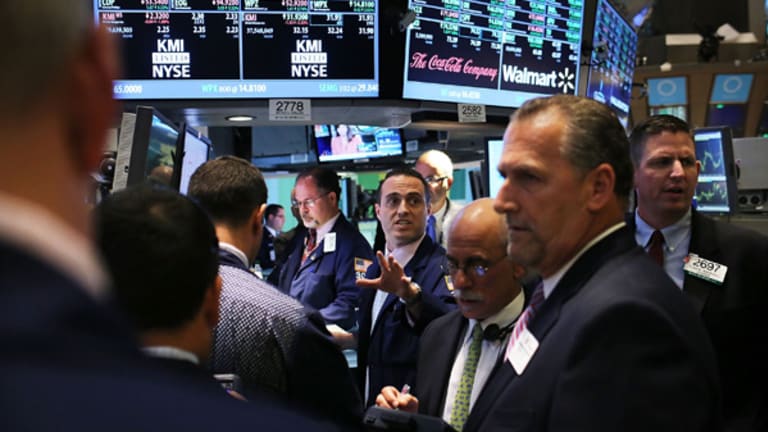 Yield Spike Pricks Stocks
The Dow ends down 0.3%, while the Nasdaq sheds 0.4%.
Updated from 4:09 p.m. EDT
Stocks ended another volatile session lower Wednesday, as spiking bond yields and more weakness in energy-company shares scared off buyers.
The
Dow Jones Industrial Average
fell 32.89 points, or 0.32%, to 10,344.98, while the
lost 5.16 points, or 0.43%, to 1191.38. The
Nasdaq Composite
was down 9.40 points, or 0.45%, at 2100.05.
DuPont
(DD) - Get Free Report
was the Dow's best gainer, finishing up 1.7%, while
Boeing
(BA) - Get Free Report
, which reported earnings Wednesday, was the main drag.
In other markets, the 10-year Treasury was down 14/32 in price to yield 4.59%, while the dollar rose against the yen and euro.
"Today was a reflection of interest rates going up," said Art Hogan, chief market analyst with Jefferies. "There's also an overhang from the earnings season because there's more bad news than we've been used to for the last 13 quarters. Guidance has been opaque."
Oil closed sharply lower after a choppy trading session. An Energy Department report showed U.S. crude inventories rose by 4.4 million barrels last week, about twice the expected gain, while gasoline stocks were little changed and distillates fell. The December crude contract finished up $1.78 to $60.66 a barrel, while gasoline futures were down 6 cents at $1.59 a gallon in Nymex floor trading.
"The market ignored falling oil prices," said Peter Cardillo, chief market analyst with S.W. Bach & Co. "All of the market's attention was focused on rising yields. We were driven by the fact that yields were touching six-month highs."
The decline in crude sent several big oil stocks lower, including
Exxon
(XOM) - Get Free Report
, which lost 1.8%, and
Chevron
(CVX) - Get Free Report
, which fell 1.7%.
About 1.78 billion shares traded on the
, with decliners beating advancers by a 2-to-1 margin. Trading volume on the Nasdaq was 1.84 billion shares, with decliners outpacing advancers 3 to 2.
Corporate earnings continued to dominate the news flow, and the day's reports were mostly decent. Postclose results from
Amazon.com
(AMZN) - Get Free Report
, however, weighed on the market and hammered the Internet retailer's shares.
Amazon's third-quarter earnings fell 44% from a year ago because of a litigation charge and lower margins. At 12 cents a share, Amazon's precharge earnings beat estimates by 2 cents, but traders sold the stock down because of a 25% rise in shipping costs. Amazon dropped $6.42, or 13.9%, to $39.75.
Dow component Boeing posted third-quarter earnings of $1.01 billion, or $1.26 a share, up from $456 million, or 56 cents a share, a year ago. Revenue fell 4% to $12.63 billion from a year earlier. The Thomson First Call consensus was for EPS of 80 cents on revenue of $13.34 billion. Shares of Boeing fell by $1.87, or 2.8%, to $65.10.
Wednesday's earnings included hotel operator
Starwood
(HOT)
, which said third-quarter earnings fell to $39 million, or 17 cents a share, because of a charge to repatriate overseas earnings. Before the charge, Starwood earned 58 cents a share, 6 cents ahead of Wall Street estimates.
Starwood also said it plans to sell as much as $4 billion of properties. Shares of Starwood lost $1.26, or 2.1%, to $57.76.
Health insurer
WellPoint
(WPT)
earned $640.7 million, or $1.02 a share, in the third quarter, compared with $242.1 million, or 85 cents a share, a year ago. The results beat analysts' consensus estimate by a penny, and the company guided its full-year earnings in line. WellPoint tumbled $4.37, or 5.7%, to $71.72.
Shares of
Cardinal Health
(CAH) - Get Free Report
traded lower after the company reported weaker-than-expected third-quarter revenue. Earnings were $228.3 million, or 53 cents a share, up from $213.3 million, or 49 cents a share, last year. Before items, the company had a profit from continuing operations of 75 cents a share.
Revenue rose 9% to $19.4 billion from a year ago, but analysts were calling for a top line of $19.6 billion. Cardinal was down 58 cents, or 0.9%, to close at $63.80.
Sprint Nextel
(S) - Get Free Report
swung to a third-quarter profit of $516 million, or 23 cents a share, reversing a year-ago loss of $1.91 billion, or $1.32 a share. Excluding items, the company earned $655 million, or 29 cents a share. Operating revenue rose 35% to $9.34 billion from last year.
On a pro forma basis, which assumes Sprint owned the recently acquired Nextel in both quarters, the company posted adjusted earnings of $737 million, or 25 cents a share, on revenue of $11.2 billion. The stock was lower by 65 cents, or 2.8%, to finish at $23.
Lucent Technologies
( LU) posted fiscal fourth-quarter earnings of $374 million, or 8 cents a share, falling from $1.21 billion, or 23 cents, a year ago. Year-ago results included a gain of $1 billion, or 19 cents a share, from a tax benefit. Sales climbed to $2.43 billion from $2.4 billion a year ago. Analysts expected EPS of 5 cents on sales of $2.46 billion, according to Thomson First Call. Lucent was down 18 cents, or 5.8%, to $2.93.
Retailer
OfficeMax
(OMX)
swung to a third-quarter loss of $3.9 million, or 7 cents a share, compared with a profit of $62.2 million, or 64 cents a share, a year ago. Basing results on continuing operations, OfficeMax lost $380,000, or 2 cents a share.
Sales fell to $2.29 billion from $3.65 billion last year. The Thomson First Call consensus was for earnings of 29 cents a share on sales of $2.34 billion. The stock lost $1.03, or 3.6%, to $27.38.
Jones Apparel
(JNY)
said that third-quarter earnings fell to $76.8 million, or 65 cents a share, from $95.8 million, or 77 cents a share, a year earlier. Adjusted earnings for the company came to 76 cents a share, beating the Thomson First Call average estimate for adjusted earnings of 66 cents a share. Revenue climbed slightly to $1.31 billion. Jones Apparel added $1.40, or 5.2%, to $28.24.
European semiconductor company
STMicroelectronics
(STM) - Get Free Report
reported a 53% decline in third-quarter profit, a slightly better-than-expected performance that lifted the shares in overseas trading.
On Thursday, earnings reports are expected from
Microsoft
(MSFT) - Get Free Report
, Exxon Mobil,
Coca-Cola Enterprises
(CCE)
,
Gateway
( GTW),
Wendy's
(WEN) - Get Free Report
and
Phelps Dodge
( PD).
Away from earnings,
Guidant
( GDT) was off 3.5% after the company said it has received subpoenas from the U.S. attorney's offices in Boston and Minneapolis requesting documents related to its pacemakers and other related products. Guidant fell by $2.25 to close at $62.45.
Research In Motion
( RIMM) was dealt another blow Wednesday as the U.S. Supreme Court denied the company's request to delay proceedings in the dispute with
NTP
. RIM's shares finished up 92 cents, or 1.6%, to $58.32.
St. Jude
(STJ)
and
Medtronic
(MDT) - Get Free Report
, themselves device makers, also received subpoenas.
In ratings actions, Banc of America cut shares of
Circuit City
(CC) - Get Free Report
to sell, citing concerns about the strength of consumer spending and a more competitive selling environment. Circuit City was lower by $1.09, or 6%, to $16.96.
Citigroup upgraded
International Paper
(IP) - Get Free Report
to buy from hold, a day after the company swung to a third-quarter profit that beat expectations. The firm based the upgrade on the stock's valuation. International Paper added 68 cents, or 2.4%, to $28.68.
Overseas equities were stronger, with London's FTSE 100 up 0.9% to 5228 and Germany's Xetra DAX adding 0.6% to 4901. In Asia, Japan's Nikkei rose 0.9% overnight to 13,395, while Hong Kong's Hang Seng added 0.2% to 14,458.
Stocks had another volatile session Tuesday in which the Dow erased most of a 50-point decline in the final hour to end down just 0.1%.
"The bulls needn't panic over yesterday's lack of follow-through, but it certainly wasn't bullish," said Ken Tower, chief market strategist with CyberTrader. "Last week the market took two days to digest Wednesday's big up-move before the bulls took control. This time I think it will only take one."
Part of Tuesday's recovery was attributable to a turnaround in shares of
Intel
(INTC) - Get Free Report
, which went as low as $22.83 before ending the day flat at $23.11.