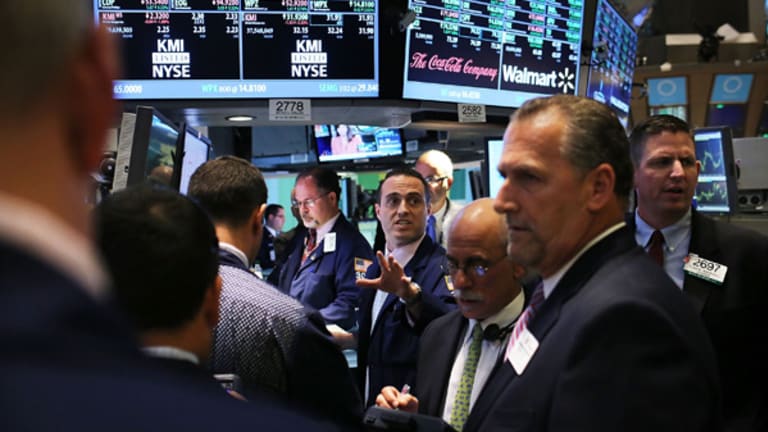 Publish date:
Yellen Warning About Overvalued Stocks Spooks Wall Street
Stocks slump in the final hour of trading as markets weigh comments from Federal Reserve Chair Janet Yellen that warned of potentially overstretched equity valuations.
Stocks slump in the final hour of trading as markets weigh comments from Federal Reserve Chair Janet Yellen that warned of potentially overstretched equity valuations.
NEW YORK (TheStreet) -- Stocks recovered from heavy losses by market close, though remained in the red as markets weighed comments from Federal Reserve Chair Janet Yellen that warned of potentially overstretched equity valuations.
Equities also were under pressure as weaker private payrolls numbers from ADP triggered fears ahead of the official U.S. jobs report on Friday and amid a global selloff of government bonds.
The S&P 500 was down 0.44%, the Dow Jones Industrial Average fell 0.48%, and the Nasdaq slid 0.4%.
Yellen said market valuations were "generally quite high," though noted the Fed was not seeing signs of a bubble. Yellen's comments came in a joint appearance with International Monetary Fund managing director, Christine Lagarde, at a conference in Washington.
Separately, Atlanta Fed President told an audience in Baton Rouge, La., that he was not "overly concerned" with weakness in the first quarter which saw the U.S. economy expand at a rate of just 0.2%.
"I am not taking much of a signal from the first quarter in my forecast for the second quarter and the rest of the year," he said, noting that the dollar and oil have stabilized in recent weeks, which should cause less of a drag on the economy.
Crude prices hit fresh 2015 highs earlier after oil inventories showed a surprise drop, the first in 17 weeks. Supplies were down 3.9 million barrels for the week ended May 1. Economists had forecast an increase of 1 million barrels. West Texas Intermediate crude oil closed 0.9% higher to $60.93 a barrel after touching $62 earlier.
ADP reported 169,000 jobs were added to private payrolls in April, lower than 189,000 jobs in March. Economists had expected 193,000 jobs to have been added last month.
"ADP's estimated April gain in private payrolls was 169K, the weakest since Jan 2014. Its predictive power for the BLS monthly employment report has been poor in recent months," cautioned RBS Securities' Guy Berger. "It's flubbed the call four of the past six months."
U.S. Treasury yields were trading close to recent highs. Yields reached their highest point since early March on Tuesday as U.S. Treasuries sold off alongside German, Spanish, Italian and U.K. bonds.
"The most important thing to me is what's causing people to sell bonds," Art Hogan, chief market strategist at Wunderlich Securities, told CNBC. "The 10-year moving higher (adds to) the picture the global economy is improving and that's going to factor itself into the market at some point."
Herbalife (HLF) - Get Report surged 16.5% after earning $1.29 a share in its recent quarter, rocketing past estimates of $1.01. Sales were down nearly 13% to $1.11 billion, though beat forecasts of $1.09 billion. The nutrition company has been under pressure since hedge fund investor Bill Ackman accused it of operating a pyramid scheme.
Cablevision (CVC) surged after CEO James Dolan said he'd like to do a deal with Time Warner Cable (TWC) , which was contacted by Charter Communications (CHTR) - Get Report last month about a potential merger. Consolidation among pay-TV operators continued to gain speed following regulators' decision not to approve Comcast's (CMCSA) - Get Report bid to acquire Time Warner Cable.
Speaking at a cable-TV industry conference, Dolan said he'd like to consolidate the New York market. Cablevision shares rose 2.2% to $20.80.
Wendy's (WEN) - Get Report was higher after reporting an increase in same-restaurant sales. The chain sees high-single digit earnings growth through to 2017.
Western Union (WU) - Get Report jumped on reports the payment services company is in talks to buy smaller rival MoneyGram (MGI) - Get Report. The reports are as yet unconfirmed.
Fossil Group (FOSL) - Get Report plummeted despite beating quarterly estimates. The watch company issued full-year earnings guidance on the soft side as currency hits sales.
Groupon (GRPN) - Get Report fell 7.6% after reporting a first-quarter loss of $14.3 million, narrower than a year-ago loss of $37.8 million. Second-quarter guidance came in light with earnings expectations of between 1 cent to 3 cents a share missing estimates.
Apple (AAPL) - Get Report shares were on watch after reports the Federal Trade Commission is investigating the company's Beats Music. According to reports, the company used its iTunes platform to undercut competitors.
Twitter (TWTR) - Get Report is reportedly about to undergo another C-suite shakeup. The social network is set to appoint Chief Financial Officer Anthony Noto as head of the marketing department, replacing Senior Vice President of Product Kevin Weil, according to TheWall Street Journal. Noto is reportedly now in charge of corporate development, strategy and finance.
Alexion Pharmaceuticals (ALXN) - Get Report was lower after agreeing to acquireSynageva BioPharma (GEVA) in a cash-and-stock deal worth $230 a share, or $8.4 billion. Alexion expects the acquisition to achieve cost synergies this year. Synageva rocketed 112% higher.
Stocks sold off on Tuesday, with the Nasdaq and S&P 500 down more than 1%, after weak trade data prompted worries that revised macro numbers could show the U.S. economy contracted in the first quarter.