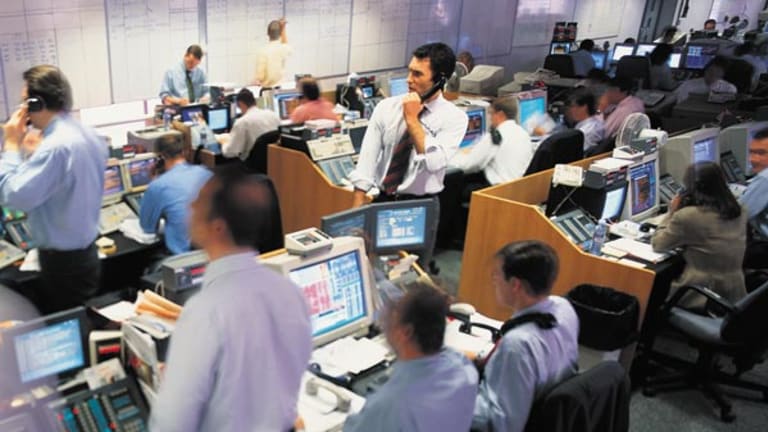 Yahoo! Still Not a Buy
Traders realized that even with a new CEO, it's not that great a company right now.
This column was originally published on RealMoney on June 20 at 10:55 a.m. EDT. It's being republished as a bonus for TheStreet.com readers. For more information about subscribing to RealMoney, please click here.
On Tuesday, we considered the
challenges of trading without sufficient capital. Without sufficient trading capital, you've got to swing for the fences on every trade. Unfortunately, the market just isn't that bad a pitcher, and the inevitable strikeouts will usually take you out of the game before you even get on base.
Simply put, you need money to make money.
But let's look at the other side of that coin. What about the trader who comes into the game with plenty of money -- money made in another profession? Perhaps you are a successful real estate investor looking to diversify. Maybe you sold your business and are now embarking on a new endeavor in the world of trading. After all, if you were successful in one business, how difficult can it be to make money trading stocks? Buy low, sell high. Hello?! How tough can that be?
But therein lies the problem. Many folks walking into the trading arena with plenty of money and confidence risk paying steep tuition to learn an inevitable reality of trading -- the market doesn't care about your track record or reputation. The market is going to do what it is going to do. If you are long a stock that is dropping in price, your negotiating skills and self-confidence will not make a dent in that downtrend. You may believe that persistence and stubbornness will pay off in trading, just as it did in your prior profession.
Wrong!
All the determination in the world will not convince the market of the rightness of your convictions. You may appreciate the underlying value of your stock and believe that the market is really missing the trade. Here is where your prior business experience works against you. In your prior ventures, you have come out on top. You've got a reputation as a winner, and you expect to live up to it in the world of trading, right?
Unfortunately, the market doesn't put much stake in reputations. The market doesn't care whether you are long or short. This inevitable reality of trading leaves you at a disadvantage. You'd be better off if you simply admitted defeat, closed the trade and looked for the next opportunity. But your prior business experience tells you that nobody ever made any money by quitting.
So, you stick with the position and ride it into the ground, making a small fortune ... from a large one. The self-confidence you bring to trading from another business can be a tremendous asset; but it can also be a huge liability if you allow it to morph into a sense of invincibility. Trading humbles the best of us, but if you bring humility into the market along with your sense of self-confidence, you can avoid learning some hard lessons.
Let's get to some reader requests.
Yahoo!
(YHOO)
gapped up Tuesday morning on news of a management shake-up. Many have been clamoring for Terry Semel to step down as CEO. But when he finally decided to do so, the stock gapped higher on strong demand, and then proceeded to fall back to Monday's price level as the market realized that with or without Semel, Yahoo! was still Yahoo! -- almost like
Google
(GOOG) - Get Report
, only not as good.
If the stock falls below $27, I'd close the browser on Yahoo! and move on. But if it moves back above $29.50, then I'd look for a challenge of the May high.
U.S. Steel
(X) - Get Report
has been on a pretty nice run since January, moving from $70 up to $125. But the stock has recently fallen back to test the bottom of the trading channel, setting up a low-risk buying opportunity. If the bears can push it down below $110, I'd be a seller. But as long as U.S. Steel stays in the uptrending channel, there's no reason not to own this stock.
Hardinge
(HDNG)
has been in a tight volatility squeeze since mid-May. On Monday, the stock broke above prior resistance on relatively heavy volume. I'd expect this stock to keep moving higher as buyers start chasing the price action. But I'd also use a protective stop back in congestion -- just in case the breakout fails.
Clearwire
(CLWR)
had been trading between $17 and $20 for the past couple of months before gapping up to $22 last week. With one very strong day under its belt, the stock has been pulling back for the past three days. I'd look for support at $22. Those who missed the opportunity to buy on the breakout last week will likely be waiting around for a second chance. And if those buyers don't materialize, I'd sell just under $22.
Kyphon
(KYPH)
has been gradually moving higher along the 50-day moving average. But over the past month, the stock had been bumping up against $48 without any success moving higher.
Last week, we saw resistance break down and KYPH moved up above $50. Now the stock has fallen back to test the breakout level and seems to be holding up. If you like KYPH, now is a good chance to buy. Any fall below the 50-day moving average would be my signal to sell.
Be careful out there.
At the time of publication, Fitzpatrick had no positions in the stocks mentioned, though positions may change at any time.
Dan Fitzpatrick is the publisher of
, an advisory newsletter and educational forum dedicated to teaching effective risk management and trading methodologies to aspiring traders and investors. He is a former hedge fund manager and a member of the Market Technicians Association, and he now trades from his home in San Diego, Calif. While Fitzpatrick holds various securities licenses, he does not give recommendations to buy or sell stocks. Under no circumstances does the information in this column represent a recommendation to buy or sell stocks. He appreciates your feedback;
to send him an email.