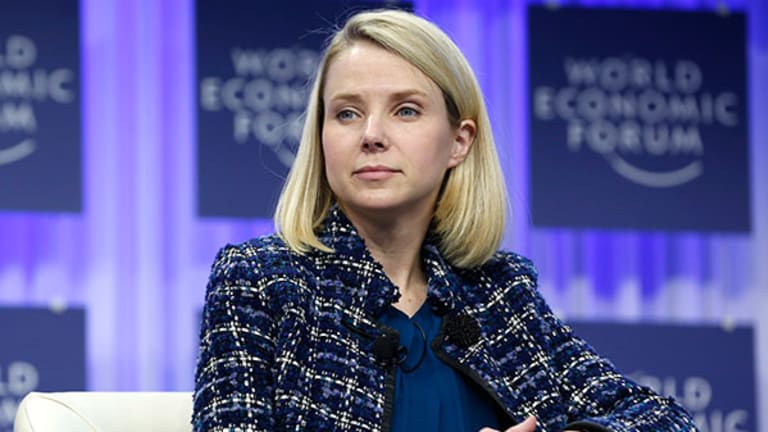 Yahoo! Has Had a Staggering Number of Board Members Since 1995
The troubled internet company's unusually high level of director churn raises concerns about oversight. And its newest board members may not help.
Yahoo!'s (YHOO)  board has held 47 directors over the past 20 years, representing a staggering level of turnover and one that suggests a failure of oversight.
"For a board to do its job effectively, it has to understand the company's operations," said Charles Elson, chief of the University of Delaware's Center for Corporate Governance. "And while a group of directors being there forever isn't good because they become stale and entrenched, having a board that turn overs so frequently isn't good either, because, 'how do you know the details of the operation?' "
The churn rate increased Wednesday after Yahoo! announced it had reached a settlement with Starboard Value LP's Jeff Smith to install a minority slate of four dissident directors onto its board. That brings to an end the largest proxy fight of 2016 so far, in a move that will put additional pressure on the company and CEO Marissa Mayer to complete an ongoing sale process. Yahoo!'s stock was down 0.62% in premarket trading Thursday morning, to $36.72, or 18% off its 52-week high.
Also read Carleton English's take, on Real Money: Rick Hill the Trojan Horse on Yahoo! Board
As part of the deal, two Yahoo! board members are expected to step down, leaving the body with 11 directors, including the four dissident Starboard-backed ones. In a key victory for Starboard, the fund's founder, Smith, will be included on both the technology company's board and its strategic review committee.
According to a review completed by TheDeal affiliate BoardEx, and taking into account the four new directors installed Wednesday, Yahoo! has had 47 directors since 1995, 39 of whom joined from 2007 onward.
Pat McGurn, special counsel at proxy adviser Institutional Shareholder Services, notes that before the new directors were installed Wednesday, the average tenure of the current directors was 3.3 years. He added that 13 of Yahoo!'s recent directors spent two or fewer years on the board. And a ISS research bulletin issued in March suggests that "Yahoo! may have become the test case for whether any company, particularly one in a rapidly changing, competitive industry, can succeed once boardroom refreshment devolves into churn."
A key reason for the high churn rate? Yahoo! has been the recipient of three director-election proxy fights in less than 10 years, which is extremely unusual, particularly for such a large market capitalization company. Before Starboard's Smith put Yahoo! in his crosshairs, the technology company faced contests engineered by Carl Icahn and Third Point's Dan Loeb in 2008 and 2012 respectively. Loeb, for example, relinquished his board position on Yahoo! in 2013, roughly a year after he took the directorship. Icahn joined Yahoo!'s board August 2008, according to BoardEx, and left October 2009.
Such short stints, said Elson, suggest that the board members don't understand the company well enough to do their jobs, and, perhaps more fundamentally, that there is something wrong with the business. "It's very, very unusual," Elson added. 
There are additional issues being raised about the most recent cadre of directors to get seats on Yahoo!'s board. Proxy advisory firms, which make influential recommendations to institutional investors, are increasingly taking issue with directors who are "overboarded," meaning they sit on too many boards to execute their duties effectively.
That characterization may apply to some of the newly installed directors. In addition to Smith, Yahoo! will add to its board former DirecTV (DTV) CEO Eddy Hartenstein, Tor Braham, an ex-chief of Deutsche Bank (DB) - Get Deutsche Bank AG Report Securities mergers & acquisitions, and Richard Hill, a director at Tessera Technologies (TSRA)   who was a key player in that company's turnaround.
In addition to Yahoo!, a BoardEx analysis notes that Hartenstein sits on five public-company boards and one private one. Among them are Broadcomundefined , Rovi (ROVI) , Sirius XM (SIRI) - Get Sirius XM Holdings, Inc. Report  and Sandisk (SNDK) .
"I do find that someone who sits on five or six boards is troubling," Elson said.
Braham sits on the board of Viavi Solutions (VIAV) - Get Viavi Solutions Inc Report  and Sigma Designs (SIGM) . In addition to Yahoo!, Hill sits on four public-company boards, including Tessera Technologies, Cabot Microelectronics (CCMP) - Get CMC Materials, Inc. Report , AutoDesk  (ADSK) - Get Autodesk, Inc. Reportand Arrow Electronics (ARW) - Get Arrow Electronics, Inc. Report .