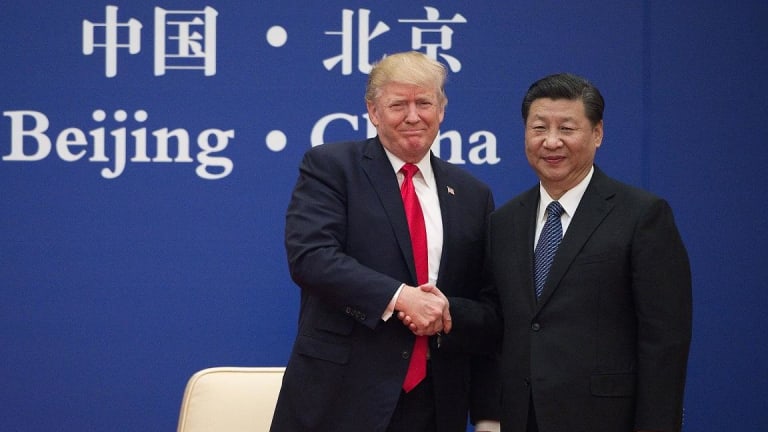 China's Xi, Mark Zuckerberg, Wells Fargo and Nvidia - 5 Things You Must Know
U.S. stock futures surge on Tuesday, after Chinese President Xi Jinping pledges to open more sectors to foreign companies; Facebook CEO Mark Zuckerberg is scheduled to address Congress about the Cambridge Analytica scandal on Tuesday; the CFPB reportedly is seeking a record fine against Wells Fargo.
Here are five things you must know for Tuesday, April 10:  
1. -- Stocks Rally on Xi's Pledge to Open China's Markets
U.S. stock futures surged on Tuesday, April 10, after Chinese President Xi Jinping pledged to open more sectors to foreign companies but also warned against a "Cold War mentality" amid a trade dispute with the U.S.
Contracts tied to the Dow Jones Industrial Average jumped 263 points, while those linked to the broader S&P 500 rose 28.50 points. Futures for the Nasdaq gained 96.75 points.
In a speech Tuesday at the Boao Forum for Asia, an event hosted by the Chinese government, Xi spoke of increasing imports, lowering foreign-ownership limits on manufacturing and expanding protection to intellectual property.
Xi said the Chinese government was seeking to "broaden market access" for financial services companies, and also pledged to reduce the limits on foreign investment in the automotive, shipbuilding and aviation sectors.
Xi pledged to significantly lower tariffs on imported vehicles, which came hours after Donald Trump on Monday tweeted about China's 25% tariff on cars from the U.S.
Without making specific references to Trump, Xi painted China as the defender of globalization and multilateralism.
The surge in futures Tuesday followed gains made on Wall Street Monday after Trump appeared to indicate the U.S. was softening its approach in its trade battle with China. The Dow Jones Industrial Average rose 46 points, or 0.19%, to 23,979. The S&P 500 gained 0.33% and the Nasdaq was up 0.51% as tech stocks were a standout Monday. 
On Tuesday, the U.S. economic calendar includes the Producer Price Index for March at 8:30 a.m. ET.
If you'd like to receive the free "5 Things You Must Know" newsletter, please register here.
2. -- Facebook's Zuckerberg Goes to Washington
Facebook Inc. (FB) CEO Mark Zuckerberg is scheduled to address Congress about the Cambridge Analytica scandal on Tuesday, the first of two hearings in front of congressional committees. 
Sen. Bill Nelson, D-Fla., met with Zuckerberg on Monday and told reporters after the meeting that the CEO was "forthright and honest to the degree that he could" be. 
"My sense is that [Zuckerberg] takes it seriously because he knows that there is going to be a hard look at regulation," Nelson said. 
Zuckerberg will appear in front of the Senate Judiciary Committee and the Senate Commerce, Science, and Transportation Committee at 2:15 p.m. on Tuesday. He will testify before the House Energy and Commerce Committee on Wednesday, April 11, at 10 a.m.
Prepared remarks of Zuckerberg's testimony were released on Monday. In them, Zuckerberg said: "It's clear now that we didn't do enough to prevent these tools from being used for harm as well. That goes for fake news, foreign interference in elections, and hate speech, as well as developers and data privacy. We didn't take a broad enough view of our responsibility, and that was a big mistake. It was my mistake, and I'm sorry. I started Facebook, I run it, and I'm responsible for what happens here."
Facebook is a holding in Jim Cramer's Action Alerts PLUS Charitable Trust Portfolio. Want to be alerted before Cramer buys or sells the stock? Learn more now.
Retirement is coming. It's never too early -- or too late -- to plan, save and invest for the retirement you want and deserve. Let TheStreet's new premium subscription newsletter, Retirement Daily, give you the insider's edge on how to maximize and protect your most important investment, your retirement savings. Learn more about Retirement Daily and get a free trial subscription.
3. -- Wells Fargo Faces a Record Fine
The Consumer Financial Protection Bureau is seeking a record fine against Wells Fargo & Co. (WFC) that could exceed several hundred million dollars for auto insurance and mortgage lending abuses, Reuters reported, citing three sources with knowledge of the plans.
The penalty would be the first issued by Mick Mulvaney, whom Donald Trump tapped in November to head the CFPB, the top U.S. watchdog for consumer finance.
The fine would fulfill Trump's vow to come down hard on Wells Fargo, the country's third-largest lender, which has been grappling with a sales practices scandal since September 2016, Reuters noted.
Despite the report, Wells Fargo shares were rising 1.3% in premarket trading on Tuesday.
4. -- VeriFone to Be Taken Private
Shares of VeriFone Systems Inc. (PAY) were rising 51.7% to $22.75 in premarket trading after the payments technology company agreed to be acquired by an investor group led by private-equity firm Francisco Partners for about $3.4 billion including debt. 
Francisco Partners will pay $23.04 in cash per VeriFone share, a premium of about 54% over VeriFone's closing price on Monday of $15.
VeriFone will become a private company after the deal is completed. The companies said they expect to close the deal in the third quarter.
5. -- Nvidia Gets an Upgrade
Nvidia Corp. (NVDA) shares were rising 4% to $224 in premarket trading on Tuesday after Morgan Stanley analyst Joseph Moore upgraded the stock to "overweight" from "equal weight" and kept his $258 price target.
Barron's reported that Moore said concerns he's recently expressed about the cryptocurrency business at Action Alerts PLUS holding Nvidia getting hit were now "clearly in sight," making him think "this is a solid entry point" to buy the stock.
After surveying trends in artificial intelligence, Moore said, "As Nvidia's footprint continues to expand, it's increasingly clear that all roads lead back to Nvidia as the most direct beneficiary of trends in machine learning."
(This article has been updated with fresh stock market prices).