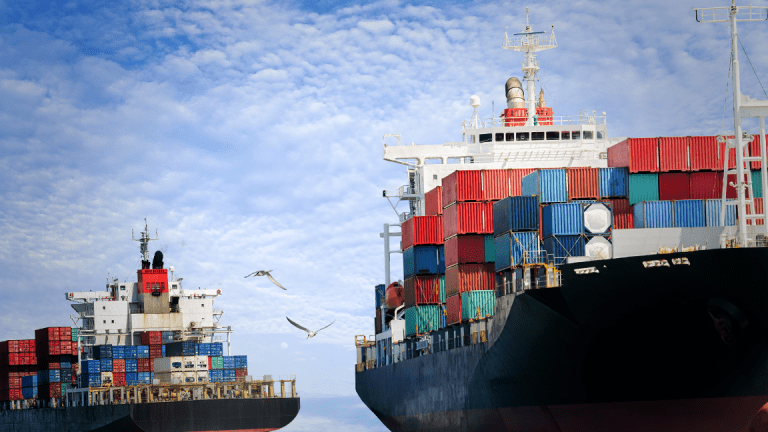 WTO Warns on Trade as Trump Chides 'Spoiled' Allies Ahead of China Talks
The World Trade Organization said global activity is expected to slow this year and next, warning "tit-for-tat" trade tariffs could escalate the decline.
President Donald Trump's "America First" trade policy was hit from all sides Friday as European officials moved to protect Continental companies from U.S. sanctions and China dismissed talk of a $200 billion package aimed at reducing its massive surplus with the world's biggest economy.
The twin moves arrived on the President's lap Friday just hours after he dismissed them as "spoiled" from years of unfair trade agreements with previous administration that he promised would not be allowed to continue. They also suggest investors could become increasing concerned that a global trade war may undermine broader confidence in American equities just as markets appear to be re-adjusting to higher interest rates and a firmer U.S. dollar. 
"The reason I doubt (the outcome of the talks) is because China has become very spoiled. The European Union has become very spoiled," Trump told reporters in the Oval Office. "Other countries have become very spoiled because they always got 100% of whatever they wanted from the United States. But we can't allow that to happen anymore."
Asia stocks had recorded relatively even gains across the board Friday amid reports that China was prepared to offer a package worth around $200 billion to U.S. officials during trade talks in Washington that would include accelerated imports of key American goods, such as Boeing Co. (BA) - Get Boeing Company Report airplanes and softer tariffs on U.S. agricultural products.
That report, however, was firmly dismissed by China's foreign ministry spokesman Lu Kang, who told the media Friday that "This rumour is not true ... as I understand, the relevant consultations are ongoing and they are constructive."
European Commission officials, meanwhile, said it had "launched the formal process to activate the Blocking Statute", a method it says will protect European companies doing business with Iran from U.S. sanctions.
Germany's Chancellor, Angela Merkel, also confirmed plans to travel to Beijing for a two-day meeting with Chinese officials next week to discuss trade ties between the second and fourth largest economies in the world. 
The collective moves have investors concerned that Trump's trade policies could crimp global activity in the months ahead, removing one of the key planks of the current bull market structure: synchronized global growth.
The World Trade Organisation said Friday that its benchmark outlook indicator is slowing thanks to softer export orders "which may be linked to rising economic uncertainty due to increased trade tensions".
The WTO said it sees global trade slowing to 4.4% this year (from 4.7% in 2017) and to 4% in 2019 as headwinds around the world, including higher U.S. interest rates and a firmer dollar -- which hit a fresh five month high of 93.63 on an index basis Friday -- affect trading activity. Those figures, however, remain firmly above the post-financial crisis average of 3%.
"The strong trade growth that we are seeing today will be vital for continued economic growth and recovery and to support job creation," the WTO said. "However this important progress could be quickly undermined if governments resort to restrictive trade policies, especially in a tit-for-tat process that could lead to an unmanageable escalation."
******
TheStreet presents on May 22: "How to Stomach Market Volatility." Hosted by Fisher Investments, the exclusive live webinar will give you the tools to successfully navigate market volatility and discuss why having a wealth manager is more critical than ever before. Quickly register for the event here.