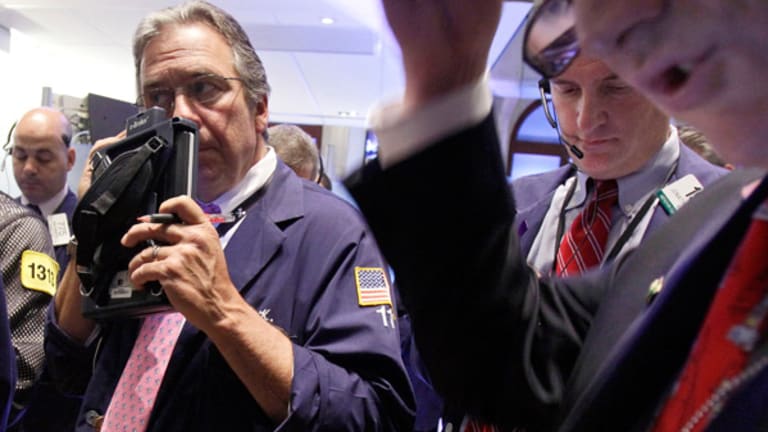 Wrong-Way Indicator Says Buy
The ISE Index shows a short-term climax in bearishness -- the market can't help but advance.
The ISE Index shows a short-term climax in bearishness -- the market can't help but advance.
This column was originally published on RealMoney on May 16 at 11:11 a.m. EDT. It's being republished as a bonus for TheStreet.com readers.
I believe that the market is poised to bounce back in the near-term, but the picture is cloudier going forward.
My opinion is based largely on the ISE Sentiment Index, or ISEE. It isn't a put/call ratio, it's a ratio of calls to puts bought on the ISE. It's unique in that it only counts trades where the customer is opening a new position, and trades by market makers are tossed out. Therefore, it's more of a gauge of retail option activity, and history tells us that when the retail crowd tests the extremes in one direction, a reversal is at hand.
High ISEE readings indicate excessive call buying, while low readings are due to increased put buying. Traders buy calls when they think the market is going higher and they buy puts when they think the market is going lower (although most retail traders rarely buy puts). Because the retail crowd tends to be wrong at sentiment extremes, it pays to watch the outliers. The 52-week ISEE range is 295 to 102.
Guess what Monday's reading was. Yep, a new 52-week low of 102. That's just 102 calls for every 100 puts -- a lot of bearishness. But what a difference a week makes! Just last Monday, the reading was up at 206 -- smack-dab in the middle of the 52-week range.
That's a sharp shift in sentiment in a very short period of time. But just as it pays to smooth out indicators such as RSI, stochastics and price via moving averages, the ISEE is much more useful when we smooth the data with moving averages. When we smooth out the extreme swings in the ISEE over the last 20 days, the reading is up at 165, which is very benign.
As I noted
Monday, the
S&P 500's
pullback over the last few days has been much sharper than previous drops. I believe Monday's ISEE reading marks a short-term climax in bearishness and the market can't help but advance over the next few days. All the aggressive selling was completed Monday.
Longer-term, though, the 20-day moving average of the ISEE is still quite high -- too high to mark a major peak in bearishness. Over the next week, I believe the broader market will advance, but I'll be paying particularly close attention to where the next peak in the S&P 500 is. A lower high would be a significant sell signal.
Let's look at the S&P 500 again, as well as a few other charts.
The S&P 500 may have dropped beneath the support line in the chart above, but Monday's reversal takes away the sting. I'd be a buyer right now, with a stop beneath Monday's low. The fast stochastic line now has an oversold reading. A sub-20 reading has typically preceded a snapback.
Whole Foods Market's
(WFMI)
first-quarter numbers blew the estimates out of the water and the stock quickly gapped above prior resistance. The stock peaked a week ago and fell all the way back to test the $68 level. Monday's low establishes a short-term support level -- I'd keep a stop just south of $68.
A reader has asked for a quick update on
XM Satellite Radio
(XMSR)
-- he's long and in pain. I took a look at its
ugly multiyear chart a few weeks ago.
I've drawn the breakdown level at $20 -- that's where it dropped beneath the March low of around $20. The stock is now oversold and due for some relief. I'd use any test of that $20 level as an opportunity to sell some stock. It doesn't pay to fight the trend.
When I last wrote about
Goldman Sachs
(GS) - Get Report
at the
end of April, when the stock was around $164, I noted that the uptrend was intact, unless it fell beneath the April low.
That's exactly what happened. After a lower high and lower low in May, I wouldn't buy it right now. The next support level is down at around $145. That's not to say that the stock will necessarily fall that low, but that's where I'd be waiting to buy.
CSX
(CSX) - Get Report
presents a rare low-risk entry after such a prolonged ramp. I've highlighted the change in character at the beginning of March. The slope of the pre-March uptrend was much more gradual than the post-March trend. When the uptrend of a stock starts accelerating, it becomes tough to buy because pullbacks are few and far between. Last week's decline appears to have been halted by Monday's reversal.
When you buy a pullback on an uptrending stock, you decrease your risk. Why? Because you can set your stop much closer to your entry price and exit for a small loss if the stock rolls over. The pullback to the middle Bollinger band offers this type of trade. I'd hop on this train, but would keep a stop right beneath Monday's low.
Be careful out there.
P.S. from TheStreet.com Editor-in-Chief, Dave Morrow:
It's always been my opinion that it pays to have more -- not fewer -- expert market views and analyses when you're making investing or trading decisions. That's why I recommend you take advantage of our
to TheStreet.com's
RealMoney
premium Web site, where you'll get in-depth commentary
and
money-making strategies from over 50 Wall Street pros, including Jim Cramer. Take my advice --
Dan Fitzpatrick is a freelance writer and trading consultant who trades for his own account in Encinitas, Calif. He is a former co-manager of a hedge fund and teaches seminars on technical analysis, options trading and asset-protection strategies for traders and business owners.
Fitzpatrick graduated from the McGeorge School of Law and was a fellow at the Pacific Legal Foundation, a nonprofit public interest firm specializing in constitutional law. He also practiced law in the private sector before pursuing trading as a full-time career. Under no circumstances does the information in this column represent a recommendation to buy or sell stocks. While Fitzpatrick cannot provide investment advice or recommendations, he appreciates your feedback;
to send him an email.