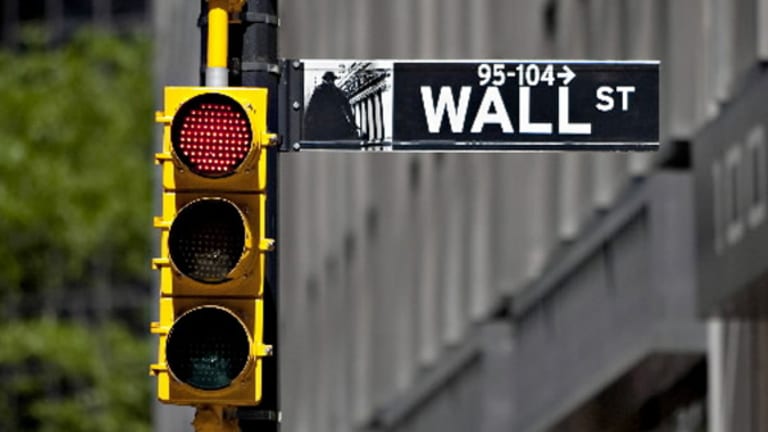 Dow, S&P 500 and Nasdaq Fall as Technology Sector Pulls Markets Down
Stocks moved mostly lower on the final day of trading of 2016, but all three indices are poised to close 2016 with gains.
Updated from 1:47 p.m.
Despite stocks moving mostly lower on the last day of the year, the Dow is expected to post a double-digit annual increase, its best in three years. All three indices are poised to close 2016 with gains.
The S&P 500 was down 0.61%, the Dow Jones Industrial Average was 0.44% lower, and the Nasdaq was over 1% lower.
Although, trading volumes are light, the information technology sector was dragging markets down, falling 1% on Friday. Goldman Sachs (GS) - Get Goldman Sachs Group, Inc. (GS) Report led the Dow, adding 0.5%, while Apple (AAPL) - Get Apple Inc. (AAPL) Report, Microsoft (MSFT) - Get Microsoft Corporation (MSFT) ReportandIntel (INTC) - Get Intel Corporation (INTC) Reportfell over 1%, dragging it lower. 
Of the 11 S&P 500 sectors, the top gainer for the year was energy, up 23.4%. Financials jumped 19.1% and telecommunications services increased 17.1%. The only sector that declined this year was health care, down 4.2%.
"U.S. equities are ending 2016 in a reasonably good position," Terry Sandven, chief equity strategist at U.S. Bank Wealth Management, wrote in an email. "Prices have been remarkably resilient throughout the year, overcoming early-year weakness and ongoing uncertainty to end the year near all-time highs; the U.S. economy appears to be in a Goldilocks zone; and earnings are on the cusp of increasing."
The Brexit vote and the election of Donald Trump were market movers this year as investors weighed the benefits and costs of these actions. Trump's campaign promised to reduce financial regulations and cut taxes. That, combined with his Wall Street Cabinet selections, moved markets further into positive territory after Nov. 8.
Currently, the Dow is up 13.2% in 2016, a double-digit percentage gain which has happened only four times in the last 10 years and is the highest increase since 2013. The Dow was on track to hit the 20,000 milestone but retreated after hitting a record high of 19,988 on Dec. 20.
The S&P 500 is on track to close with a gain of 9.5% for the year, moving away the double-digit percentage gain, which would have been the sixth in the last decade. The Nasdaq is poised to close the year with a gain of 7.3%.
There were not many tech IPOs this year, though Snap, the maker of the Snapchat app, is said to be in talks about an IPO.
Markets were expecting at least two interest rate hikes by the Federal Reserve in 2017 as the economy improved. Unemployment declined and consumer confidence increased, but inflation didn't quite hit the Fed's 2% target.
West Texas Intermediate crude oil settled down 0.1% at $53.72 a barrel on Friday and has seen an increase of 45% in 2016. Brent crude, the global benchmark, traded at $56.72, down 0.23%. This comes after the U.S. Energy Information Administration's weekly petroleum status report showed that last week crude oil inventories rose by 600,000 barrels, less than estimated.
The Chicago PMI for December fell three points to 54.6.
Apple shares dropped 1% after the Nikkei Asian Review reported that the technology company will cut its iPhone production by 10%, using suppler data calculate the drop. Apple suppliers fell following the news. Micron Technology (MU) - Get Micron Technology, Inc. (MU) Report  dropped 1.3%, Qualcomm (QCOM) - Get QUALCOMM Incorporated Report  declined 1.4%, and Analog Devices (ADI) - Get Analog Devices, Inc. Report  was down 1.4%. 
Walmart (WMT) - Get Walmart Inc. Reportand its subsidiary Jet.com, along with Amazon (AMZN) - Get Amazon.com, Inc. Report , are being sued by hip-hop group Run-DMC for $50 million. The suit says that the companies profited from selling products using the group's trademarked name and logos. Other retailers were listed in the lawsuit.
Amazon shares fell 2% and Walmart's stock saw a 0.6% drop.
Opko Health (OPK) - Get OPKO Health, Inc. Report shares tumbled Friday, after the health care company announced that its human growth hormone product clinical programs had "no statistical difference" between its product and the placebo. These upsetting results caused the stock to fall 20.7%.
Shares of outdoor retailer Cabela's (CAB) dropped 4.7%, after the company said in its regulatory filing Friday that the Federal Trade Commission requested additional information about its merger with Bass Pro Shops. Cabela's said the request "does not indicate that the FTC has concluded that the transaction raises competition concerns." The deal is worth $4.5 billion.
Iconix Brand Group (ICON) - Get Iconix Brand Group, Inc. Report shares rose after the company announced it would sell the rights of its Sharper Image brand to ThreeSixty for $100 million. Shares of Iconix were up 3.6% to $9.28.
Innocoll Holdings (INNL) received a "refusal to file letter" from the FDA for its drug Xaracoll, used for post-surgical pain. The FDA said the application needed more information as the drug should be cataloged as a "drug/device combination." Shares of the pharmaceutical company plummeted over 62%.
Mylan (MYL) - Get Mylan N.V. (MYL) Report shares were up 1.8% after the company launched a generic drug, Concerta, used to treat attention deficit hyperactivity disorder, or ADHD, after receiving final approval from the FDA.
Markets will be closed on Monday, Jan. 2.