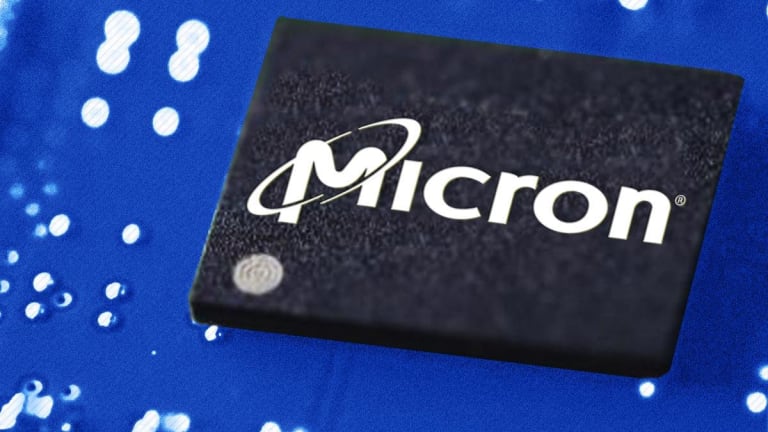 Will Micron Buy Back $10 Billion in Stock? Analyst Says Yes
Nomura analyst notes that a $2 billion revolving credit line was overlooked after China ordered Micron to stop selling certain products.
Way to bury the lede, Micron Technology Inc. (MU)  .
The tech company quietly opened a $2 billion credit line. The news was overshadowed when the Fuzhou Intermediate People's Court "ordered Micron Technology to stop selling certain products in China as part of a patent infringement," according to a note from Nomura Instinet.
Nomura analyst, Romit Shah, believes that the credit line is interesting because "at the analyst meeting in May, Micron guided to a target liquidity model in the low $30% range of sales. Adding [$2 billion] in revolving credit to an estimated $8 billion in total cash would put Micron's liquidity at $10 billion, or roughly 33% of revenues, exiting the month of August. This, to us, strongly suggests that every dollar of free cash flow could be used to repurchase the stock."
Shah thinks that the company will be interested in buy backs because "management has repeatedly indicated" that the stock is "cheap at current levels."
Nomura states, "The punch line is that if earnings don't grow from the August period, Micron could repurchase $10 billion of the stock (15%) over the next four quarters, boosting earnings per share by an estimated $1.50 year over year."
However, Nomura notes that Wall Street forecasts the EPS to decline to $11.69 in 2019 from $11.77 in 2018. "We think this means that consensus is either not factoring in the buyback or contemplating a 10%-15% decline in profit next year, which appeals overly conservative in our estimation," stated the note.
Nomura rates Micron as a buy with a target price of $100. 
Micron shares fell slightly to $56.29 a share. Over the past year, Micron's soared over 76%.