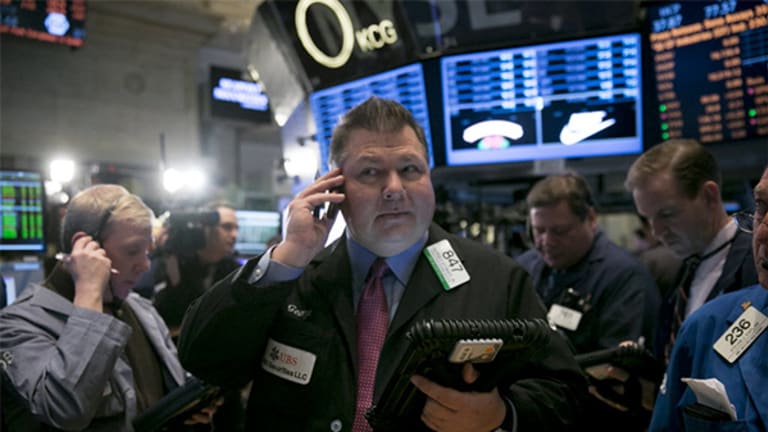 Will Hewlett-Packard (HPQ) Stock be Impacted Today by Aruba Networks Acquisition Speculation?
Hewlett-Packard (HPQ) is said to be in talks regarding its acquisition of Aruba Networks (ARUN).
NEW YORK (TheStreet) --Hewlett-Packard Co. (HPQ) is said it be in talks regarding the acquisition of Aruba Networks Inc. (ARUN) , which would be the computer makers largest deal in over three years.
It is possible that a purchase of Aruba, a provider of next generation network access solutions for mobile enterprise networks with a market value of almost $2.4 billion, could be announced as soon as next week, sources told Bloomberg.
Hewlett-Packard CEO Margaret Whitman is looking to get the Aruba deal moving forward in order to take on the challenges of lower profit guidance, concerns about the company's ability to adapt to an evolving corporate market, and its upcoming split into two companies, Bloomberg noted.

Exclusive Report:Jim Cramer's Best Stocks for 2015
Earlier this week Hewlett-Packard reported its fiscal 2015 first quarter earnings results and said its adjusted earnings were 92 cents per share, beating analysts estimated by 1 cent. Revenue for the most recent quarter declined by 4.7% to $26.84 million.
The company also issued weak outlook for the fiscal 2015 full year and is expecting earnings to come in between $3.53 and $3.75 per share, while analysts have forecast for full year earnings of 3.95 per share.
Shares of Hewlett-Packard are down by 0.14% to $34.62 at the start of trading on Thursday morning.
Shares of Aruba Networks are lower by 0.36 to $22.16 this morning. 
Recently, TheStreet's Chris Laudani penned his thoughts regarding Hewlett-Packard's earnings performance on RealMoneyPro.com and whether or not he agrees with analysts' opinions that the stock is a "strong buy." Here is a snippet from his piece 'Hewlett-Packard Does Not Compute':
"Look, I know there are a bunch of wise guys out there who thinks HPQ is a "strong buy" due to its low valuation, because the company is splitting in half, or because its business has "stabilized," but to me, the company is a mess. I know the stock is up 30% over the last year, but sometimes you just have to say no."
Want more information like this from Chris Laudani and 40 more of Wall Street's sharpest minds BEFORE your stock moves? Learn more about RealMoneyPro.com now.
data by